Black to Berry: Fran Wilson Mood Matcher Lipstick Black
Hello Gorgeous,
I love Monthly Beauty Bag Subscriptions because you never know what are you going to receive in it and also you get a chance to try some of awesome makeup stuff. That happened when I saw these fun lip colors in the August Fab Bag. At first, I thought the Crazy Lip Color Trend has hit the Indian shores and we can play with some weird lip colors but they turned out to be totally different.. I am talking about Fran Wilson Mood Matcher Black Lipsticks. I got it in the shade black, so let's checkout which color it matched me to, Fran Wilson Mood Matcher Lipstick Black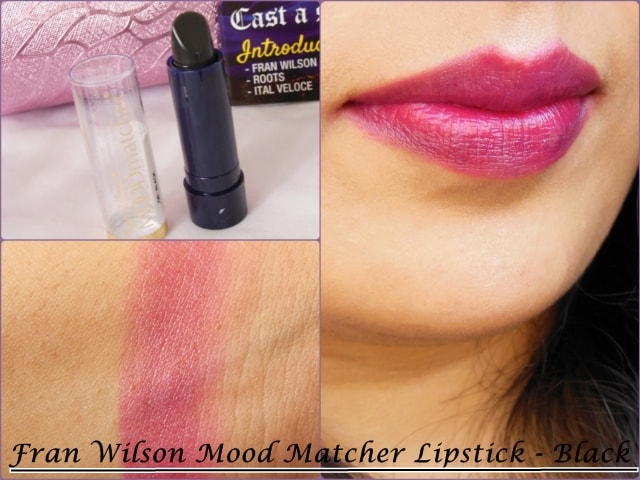 Product Claims: Each shade changes according to your body chemistry for a truly "personalized" lip color! Super-long-lasting 12-hour formula won't wear off, even when eating, drinking or kissing! Experience the rich, natural moisturizing powers of Aloe Vera and Vitamin E.
Direction for Use: Line the lips with help of lip liner and fill it with the lipstick.
Ingredients: Ricinus communis(castor) seed oil, Caprylic triglyceride, Petrolatum, Cetyl acetate, Acetylated lanolin alcohol, Lanoiin, Czokerite, Propylene glycol, Isopropyl lanolate, Aloe barbadensis leaf, Propylparaben, Propyl gallate, Tocopheryl acetate, Fragrance, Benzyl benzoate, Iso eugenol.
Price: Rs.590 for 3.5gms
Packaging: Fran Wilson Mood Matcher Lipstick comes in a Blackish-blue swivel packaging with a slant tip bullet and a clear plastic cap which lets you peek through shade of the lipstick. I can makeout the color from the bullet but is not mentioned anywhere on the packaging itself
My experience with Fran Wilson Mood Matcher Lipstick Black:-
Shade: It is a classic black in bullet but on lips it starts as a pinkish tint which then intensifies to a bright fuschia pink in summers and to an intense reddish berry pink n winters. It is more of a stain than cream but I love the amazing Satin Glossy finish it imparts. This formula can be worn in many ways – as a stain, Matte lip color or under lip gloss for super glossy lips.
Formula: Fran Wilson Mood Matcher Lipstick has a very thin creamy texture which glides on beautifully on lips and feels absolutely weightless. The formula is prone to bleeding so using a lip liner will help in getting a cleaner finish or clean the edges with a concealer post application. Usually, such staining lip colors tend to dry out lips but this one was super- moisturizing to the lips which is why  love it even more in winters.
Pigmentation: The color may vary from lip to lip (person to person), on my pigmented lips I swiped it just twice and within few minutes it transformed from a pink stain to a super intense berry pink with a watery glossy shine. It is claimed to change the color with moods and your body chemistry but I feel it is the weather that made it transform fro Fuchsia to Berry.
Longevity: The Staying Power of the lipstick left me amazed as it stays put whole day on me even with loads of food and drinks. The formula is like a stain which sets to an almost transfer-proof finish which was quite surprising considering how moisturizing it is. But I have to struggle to get the color off my lips because it stains lips so bad but so good.
Recommendation: Fran Wilson Mood Matcher Lipstick Black comes up as an deep berry red on lip around this time of the year while it pulled more fuchsia in summers. The formula is super nourishing and super staining at the same time. It goes on evenly and gives a beautiful glossy stained finish to lips. The staying power is super amazing as it stays put on my lips through the day with all the eating and drinking. However, it is a pain to remove the stain from lips. It is one of the most amazing lip formulas I have ever tried which is moisturizing, staining, Glossy and kiss proof at the same time! I can easily flaunt these lippies and scrae people pretending that I am going apply these scary shade .. Heheheh.

There are lots of shades to choose from and I am eying to grab the Green one 😀
Rating: 4.5/5
Have you tried Fran Wilson Mood Matcher Lipstick? Would you love to try these fun colored lipsticks?