Birthday Makeup Haul – Part 1: Lipsticks / Lip Glosses
Hello Everyone,
If you are on a shopping ban than I would suggest to skip this post or you must not blame me for making you drool over the stuff.. 😉
I have been hit hard in the head and the "Stop", even the "Pause" buttons have been damaged completely and that the reason I am shopping uncontrollably, like there is no tomorrow. I have lost the count of the lipsticks, I have added in the last month to my vanity box but still if you ask me for my wish list, I have a big one ready with me.. 😛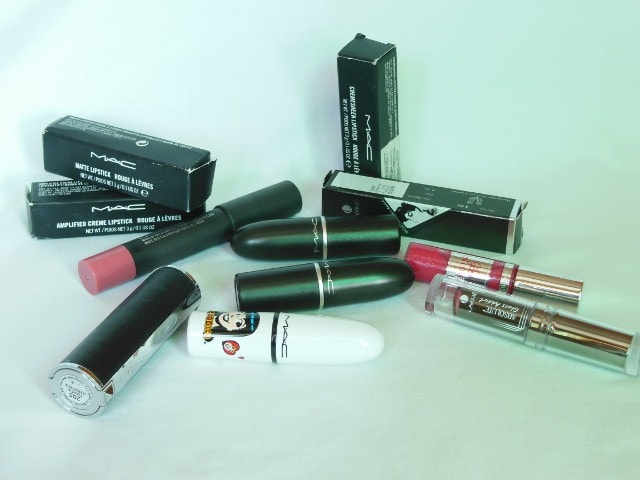 Lets checkout who all are the new members in my Lipstick Stash.. ( God please maintain your your kindness and keep my stash growing at this pace.. :Greedy Me:)
Givenchy Le Rouge Fuchsia Irresistible Lipstick: Yeeyyee.. yipee. woohhoo.. my first Givenchy Lipstick!! A bold fuschia Pink lipstick has been missing from my stash.. like seriously.. i didn't have even a single shade like this but now I dont think i need more with this Givenchy lipstick adoring my lipstick collection.
MAC Happy Go Lucky Lipstick ( Limited Edition) – Happy Go Luck is a cool toned medium pink in creamy finsih with slightly sheer formula. It somewhat looks similar to MAC Candy Yum Yum, will do a comparison soon.
MAC Ronnie Red Lipstick (Limited Edition) – Ronnie Red is a dark blue toned Red from the limited edition Archies collection. The gorgeous packaging is tos die for.. <3
MAC Crosswires Lipstick: I got CrossWires because of my love to coral lipsticks and it is such a pretty orangey-coral.. how could I have skipped.. 😛
MAC Potent Lip Polish – Kittenish – One of the best shades from the collection, I am eyeing that Orange shade too.. 😉
Lakme Gloss Addict Desert Rose Lipstick: Another coral lipstick but its a Pinky Coral in a sheer glossy finish. I have never been tempted towards Lakme lipsticks but this one is an exception.. 😉
Lancome Gloss in Love Lip Gloss #385: I am not much of a gloss person and prefer lipsticks as they only provide amplecoverage to my pigmented lips but Lancome glosses are something that I have always coveted to own, so just one for now to re invent my love for Lip glosses
Don't Miss to Checkout:
Hope I will sustain through my self-imposed lipstick ban from now on… I got enough colors to paint my lips for a while now! 🙂 🙂
Have you been addicted to lipsticks lately? Which is by far the most expensive lipstick in your collection?