Birthday Haul – Part 3: Skin Care
I promised you people in my last haul post that there will be no more hauls for months but guess I missed the new skin care Items that I have bought along with makeup.. 😉 .
My skin care regime has been on a toss for months and my skin was surviving on just the Cetaphil Dry skin Moisturizer which wasn't that great, thankfully it didn't gave me any bumps but I really wish it had absorbed better and no oily layer on skin but yeah finally some treat for my skin with quite a few of expensive creams and serums to start with.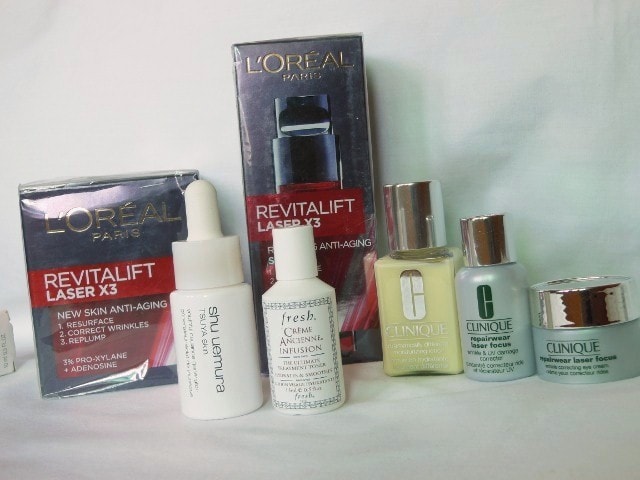 Shu Umera Tsuya Skin Serum – I have no idea what it claims to do for skin neither I have read any of its review.. added it to my list just because it is from Shu Umera.. the luxurious Japanese brands.. known for its mascara and false eye lashes.
Clinique Repair Wear Laser Focus UV Damage Corrector: I have reading quite amazing reviews for Clinique skin care products, so I have got this face creams which claims to correct skin
amage caused by harmful UV rays. Sun God has been kind for last many days so I have been skipping on sunscreen but UV rays are always there so lets see if it can bring back my skin to the previous state.
Clinique Repair Wear Laser Focus Wrinkle Corrector Eye Cream – I was in dire need of an eye cream. I have been ignoring my under eye area and just recently emptied my much loved Lancome Genefique Eye Serum.. i love that metal-tip applictor 😉
L'oreal Revitalift Laser X3 Renewing Anti-Ageing Serum – I have all my eyes on this combo since their launch their tempting red packaging and all the positive reviews around the blogosphere were more than enough convincing.. If you are just wondering I do not find Lakme skin care that good and hence its Glossy skin care range failed to even get my attention.. 😉
L'oreal Revitalift Laser X3 Renewing Anti-Ageing Night Cream: This night is to compliemnt the Serum, I am going to use both together on me to see how well they work on my dry skin.
So, officially this is my last haul post of all sorts for sometime, No more makeup and skin care for months except essentials. 😉
Humble request to all the beautiful ladies around.. don't put any haul posts especially makeup that will make me drool or put lust worthy stuff on sale … pleasee dont make it hard for me to follow ban. 😉
Have you bought any new skin care item lately? Are you with me on a Makeup ban or you are going to splurge?