Birthday Haul – Part 2 : Eye Liners, Highlighters, Primers and More
I have been spending almost all of my money on makeup these days, don't know what's wrong with me but I am finding it really hard to control 😛 . I wish I could go uncontrollable until I wish but my wallet is crying out loud and have to pay to pay heed to her pleas.. and gotta stop shopping from now on.. Especially makeup, Period.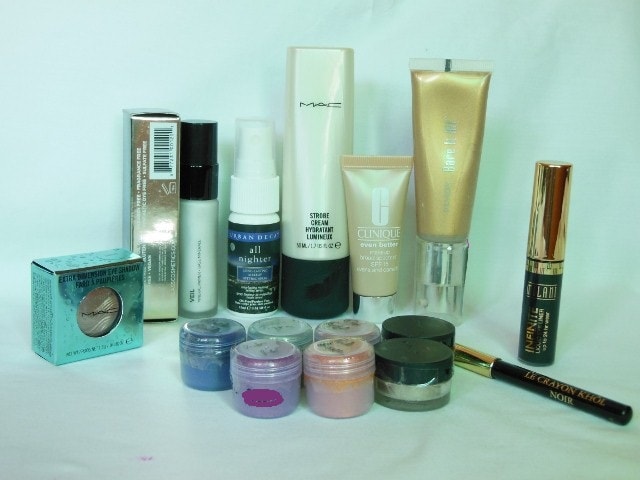 But before that lets checkout what all is new in the stash, Well, I have been wanting to do an essence Eye makeup haul mainly Colored Eye Pencils and Gel Eye liners but blame it to the Luxury brands and their prices ( and my lust to buy them), i am not able to spare any amount to go ahead with the purchase :P.. !
Eye Makeup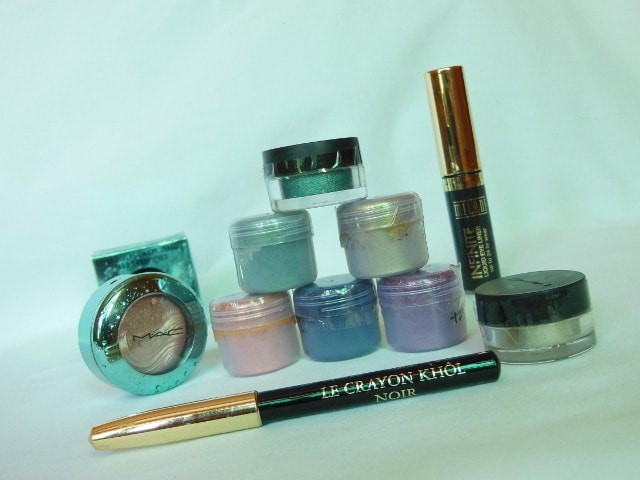 MAC Extra Dimension Eye Shadow – Lorelei (Aquatic Collection, Limited Edition) : It's super expensive as an eye shadow but well for the pretty packaging, gorgeous shade and the beautiful pattern, I kept aside all the logics. 😉
MAC Eye Shadow Pigments: Black Black, Platinum, Old Gold, Ruby Red, Teal, Pink Bronze – I am currently obsessed with pigments so added these few more shades to my collection.
MILANI Infinite Liquid Eye Liner- Black : I am back to liquid liners.. after years I bought a liquid liner all thanks to Gel Eye Liners and Faces colored eye pencils, but lately I have been missing a liquid eye liner and went ahead with this. A black liquid liner is a must have!
 Face Makeup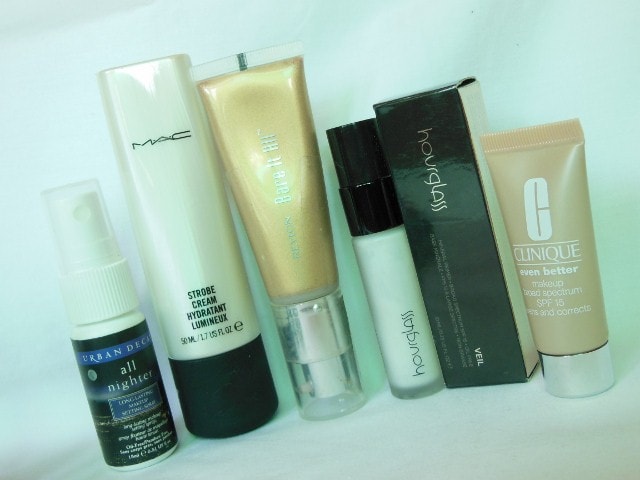 MAC Strobe Cream – I have been on a hunt to find the best liquid-cream highlighter/illuminator for me, so what's better than to Start with MAC Strobe cream
Revlon bare It all Lustrous Lotion Goldi – This is more of a tanning illuminator for flunting a fake tanned suunkissed glowing skin.. My first of its kind bronzing lotion.. 😉
Hourglass Veil Mineral Primer – Well, this will be in the wishlist of many I know around.. do I hear some noise.. ;).. I am not a primer girl but I wanted to try this primer since I saw this on international blogs.. will try to review it soon!
Urban Decay All Night Long Lasting Makeup Spray – I wanted to start with Urban Decay Naked Eye Shadow Palettes , or the colored eye pencils, never thought that its makeup setting spary would be my first purchase. But yeah.. I got my hands on Makeup spray which claims to make makeup last longer 🙂
Clinique Even Better Makeup Foundation – I know this is not my shade but got it to use it as a contouring shade. I am all pressed to learn and perfect the contouring skills. 😉
Thats all for now .. Phewww!! I am(have to) stopping myself to buy any unwanted ( buffer) items like lipsticks, Kohls, Foundation, Skin Care products untill i could save some amount for buying much needed makeup products like Colored Eye Liners, Black Gel Liner, RT Makeup Brushes and a face compact.. A pinky promise to myself 🙂
Much like you I will also be missing such haul posts on the blogs for months to come! 🙂 God give me Strength ;)!!