Biotique Winter Cherry Body Lotion Review, Swatches
I know I have been on a Say No to Body Lotions Mode. As I need to empty the existing stock before they reach their expiry. But this is a last year purchase and didn't got a chance to even use it once. Now as I have successfully emptied few of the Body lotions. So thought of giving this ignored bottle a fair chance.
So today I am reviewing Biotique Winter Cherry Body Lotion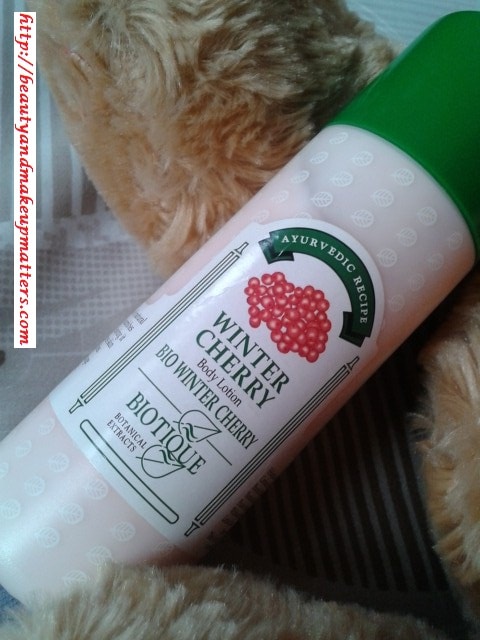 Product Claims: A nourishing lotion, made of natural oil and plant extracts. It nourishes dry and dehydrated skin leaving it soft and youthful. Removes skin infections and blemishes.
Direction for Use:- Gently massage appropriate amount.
Ingredients:
Helianthus Annus Oil (Surajmukhi Tail) – 4%
Carthamus Tinctorius Oil (Kusumbhi Tail) – 2.75%
Brassica Nigra Oil (Rai Tail) – 0.5%
Nardostachys Jatamansi Ext.(Jatamansi Kwath) – 3.5%
Prunus Amygdalus Oil (Badam Tail) – 2%
Winthania Somnifera Ext. (Ashwagandha Kwath) – 1.5%
Lotion Base- Q.S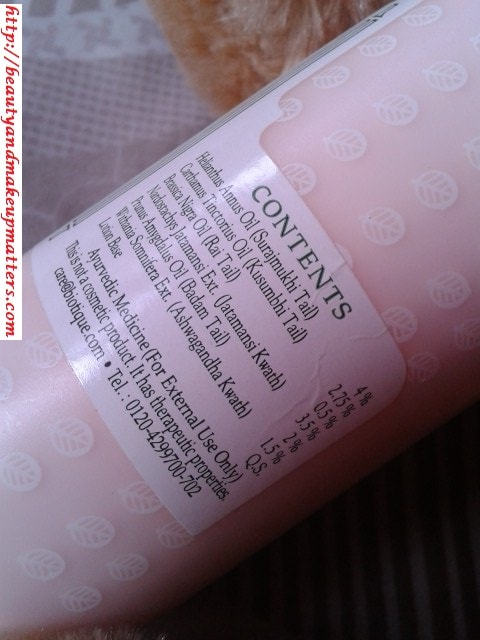 Price:- Rs.180 for 210ml
Shelf Life:- 3 years from the Mfg date.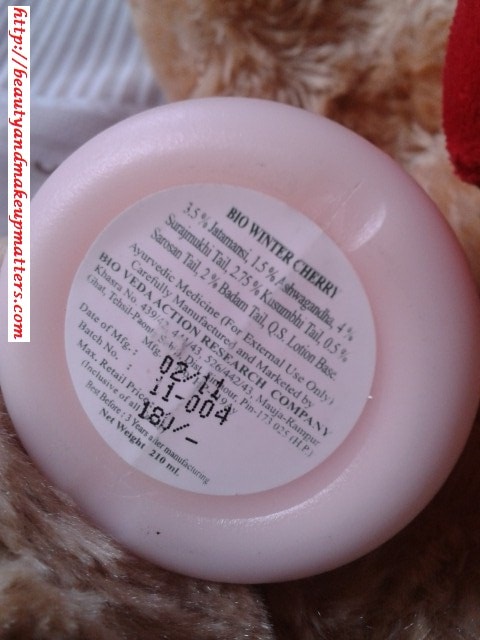 Packaging:- The lotion is contained in a bulky cylindrical plastic bottle. The translucent plastic bottle has wide-open mouth covered with a screw cap. The bottle is sturdy but not travel friendly. The dumb packaging is identical to Biotique Bio berry cleanser and closing down the cap can really be a pain especially when you are in a hurry.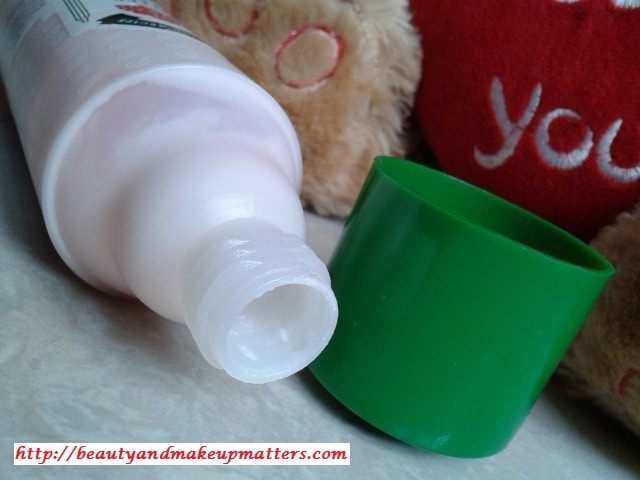 My experience with Biotique Winter Cherry Body Lotion:-
Biotique Winter Cherry Body Lotion is a baby pink colored thick creamy lotion. The consistency isn't too thick and gets applied nicely with a little effort. I was expecting this lotion must be having a faint cherry scent but on the contrary it a little overwhelming after-shave (musky) fragrance which I didn't enjoy much
The lotion blends easily and doesn't goes streaky or feels heavy at all. I was surprised to see how quickly the lotion gets soaked into the skin and without leaving slippery layer on skin. I didn't need to rub it hard against my skin to get it absorbed completely.
The lotion replenished the moisture of the skin instantly leaving it soft and supple. It is a heavily moisturizing body lotion which nourishes skin pretty well especially immediately after bath.
Don't Miss to Checkout:
Swatches:-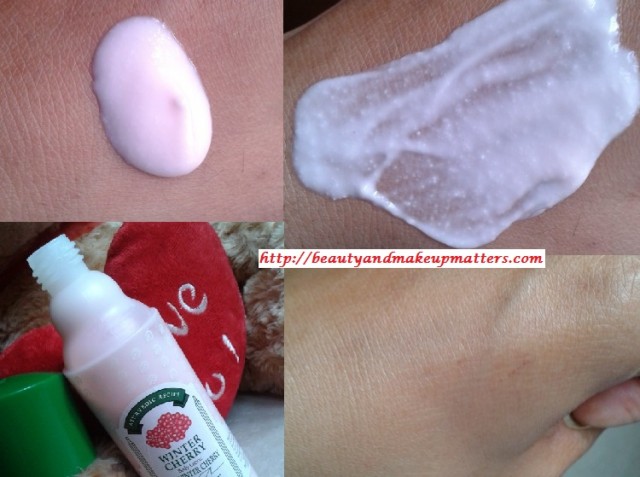 Pros of Biotique Winter Cherry Body Lotion:-
Thick creamy consistency but spreads easily
Absorbs really fast
Doesn't leave any slippery or oily film on skin unlike Lotus Herbals Body lotions
Deeply nourishes skin
Herbal body lotion enriched with goodness of natural ingredients like Almonds.
Claims to remove blemishes too.
Suitable for Normal/Dry skin
Cons of Biotique Winter Cherry Body Lotion:-
Pump dispenser or flip-top packaging would have been better
Contrary to its name it has smell like an after shave lotion.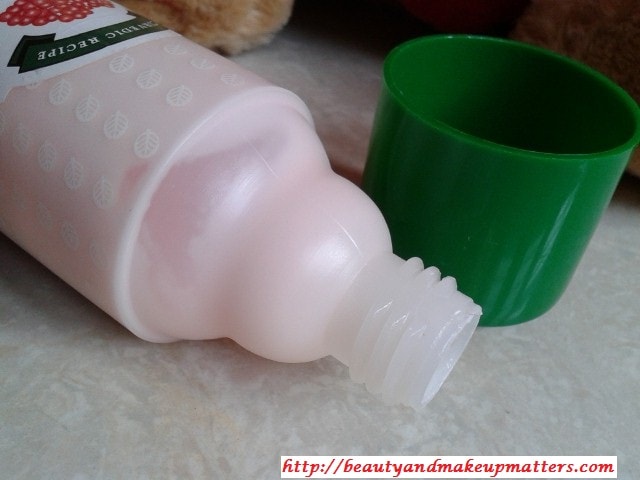 Recommendation:- Biotique Winter Cherry Body Lotion is a heavily moisturizing with thick creamy consistency. Though it doesn't smell great but my super-dry skin loves its moisturizing effect. The lotion gets absorbed completely with few seconds of application without making skin oily. Winter Cherry is herbal lotion containing lots of natural herbs as ingredients which nurtures skin in a natural way. A little effort to improve the packaging would be highly appreciated. Overall it is a good buy, Recommended!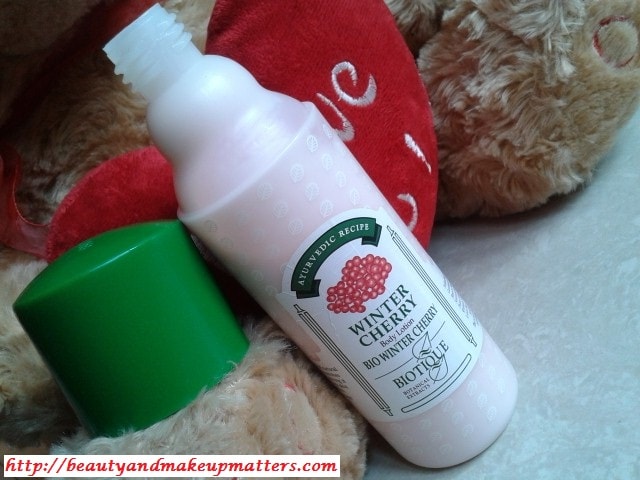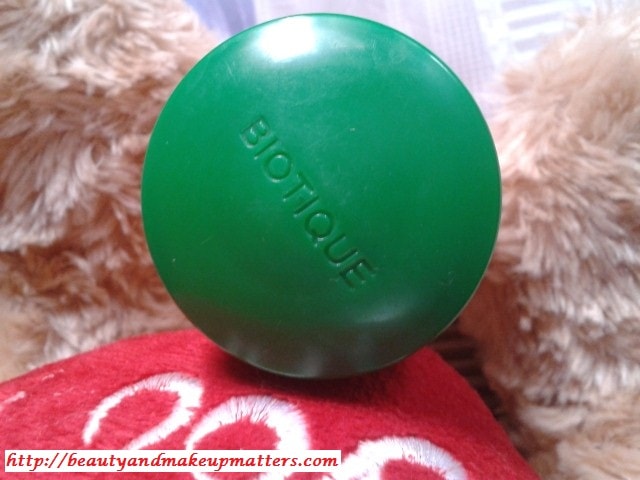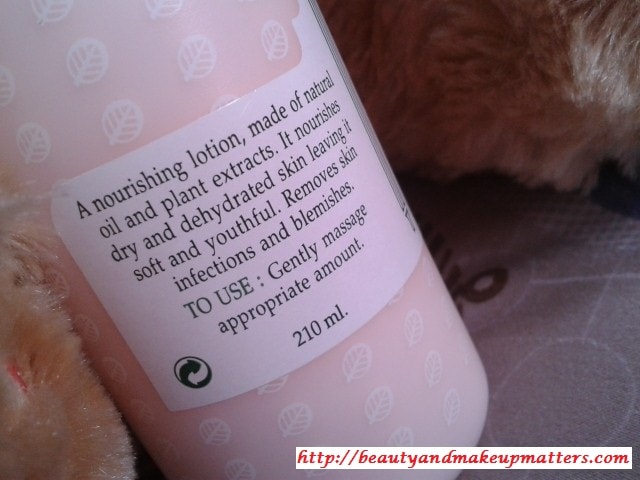 Rating:- 3.5/5
Have you tried Biotique Winter Cherry Body Lotion? Which is your favorite product from Biotique?