Biotique Papaya Scrub Review
Product Claims:- The enzymes contained in the papaya fruit remove dead epithelical cells and deep cleanse the skin. The rubbing of Papaya fruit helps speed up natural skin renewal leaving skin fresher and younger looking. Also contains Mango Kernel, Banana fruit, Neem leaves and Fenugreek.

Direction for Use:- On clean wet face apply appropriate amount. Massage gently using water. Rinse off. Can follow with a face pack.
Ingredients:-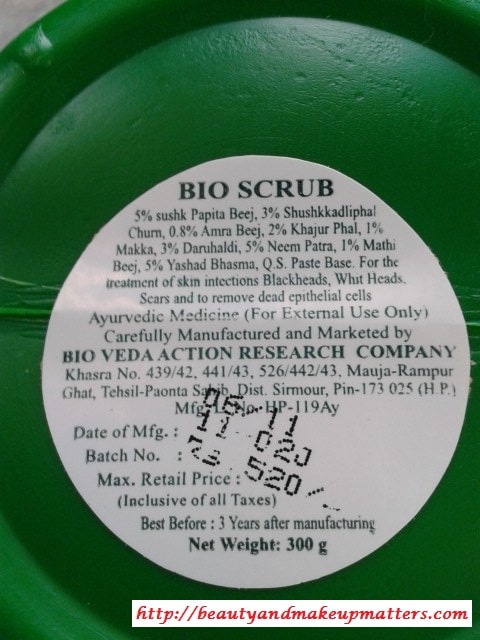 Price:- Rs.520 for 300gm
Shelf Life:- 3 years from the Mfg date.
Packaging:- Biotique Papaya Scrub comes in an opaque green colored jar with a screw cap. The wide mouthed jar is sealed with a silver foil. I prefer scrubs in tubes and most of the scrubs I can think of now, come in tube type packaging's only. I would really like to request Biotique people to bring their packaging at par with their product quality. (Biotique are you listening)
My experience with Biotique Papaya Scrub:-
The scrub is creamy and has thick texture. The scrub granules are mild and not harsh on my skin but gritty enough to remove dead skin cells from the skin without irritating it.  It leaves my skin soft and smooth. It gives a clean and fresh feel to the skin. The skin looks polished, radiant and bright.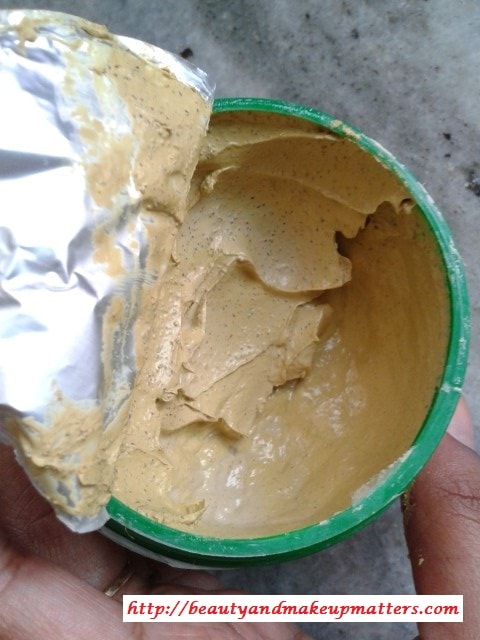 The best thing about this scrub is it is free from any chemicals as it a completely herbal scrub. Although I didn't like the fragrance much but since it contains only natural ingredients like papaya, khajoor, neem, bees wax, gum acacia, peanuts, methi, etc which are good for skin, I am okay with its fragrance.
After scrubbing it can be used as a face pack too. Just let it dry on your facial skin and then wash off. It comes in such a large tub that it will take me ages if I use it only as an facial scrub. So, it tried it as a body scrub too and I am glad that I did. It works best for elbows and knees where normal creamy scrubs just slips without exfoliating properly.
Don't Miss to Checkout:
Swatches:-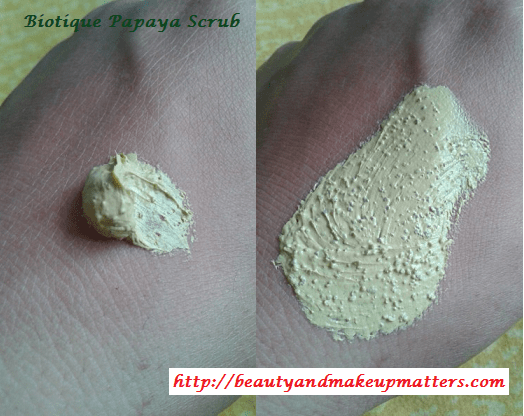 Pros of Biotique Papaya Scrub:-
The scrub is thick and creamy and has mild exfoliating particles.
It effectively removes dead skin cells and gives a clean and polished look to the skin.
Leaves my skin soft and smooth without stripping moisture off my skin.
It doesn't irritate/breakout my skin.
Suitable for all skin type.
Small amount is enough for one use and little goes long way.
Can be used as a body scrub as well.
Due to its thick creamy texture it can be used as a pack too just leave it on face for few mintues like a pack and wash off when it dries.
It is natural and an Ayurvedic product full od natural ingredients and free from chemicals and preservatives.
Biotique is against animal testing
Cons of Biotique Papaya Scrub:-
The fragrance is strong and not very pleasing.
It might give a slight tingling sensation when applied but it subsides in few seconds.
The sensitive skin ladies might not like it.
Not effective in removing stubborn blackheads from nose.
Packaging. It comes in an unhygienic tub which is prone to contamination with each use.
The scrub is slightly expensive compared to its counterparts and not easily available in stores.
Recommendation:- If you are looking for a scrub free from parabens and other harmful chemicals go ahead and get this Biotique Papaya Scrub which is completely natural. It makes skin soft and smooth without drying it out. It also serves the purpose of a face pack but make sure that you are okay with its not so pleasant smell. For me it's not a must have in my skin care regime but being a natural scrub it is worth giving a try.
Rating:- 3.5/5
Have you tried Biotique Papaya Scrub? Do you prefer herbals scrubs?