Biotique Bio Papaya Revitalizing Tan Removal Scrub Review
Hello Everyone,
I have stopped experimenting with face scrubs and have been a loyal user of Lotus Whiteglow Scrub but it has been finished long ago and I was in dilemma what to buy next. I have earlier used the Biotique Papaya Scrub which have thicker heavy consistency and can be a little too much for sensitive skin so, I used it up as a body scrub. As I haven't used Biotique in the longest time. I got hands on this Papaya Anti tan scrub from Biotique, Biotique Bio Papaya Revitalizing Tan Removal Scrub.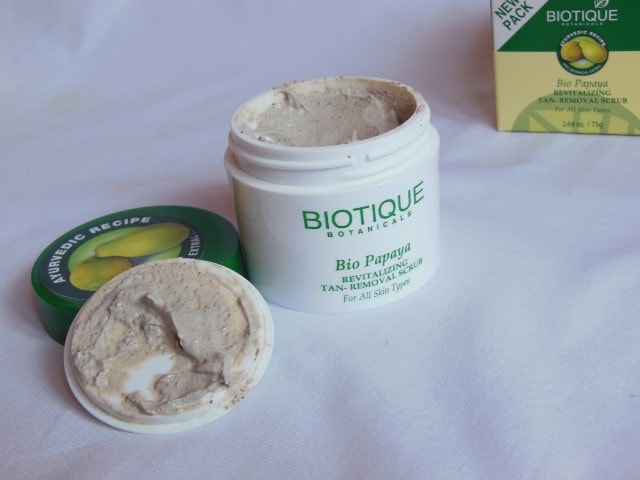 Product Claims:Papaya is a luscious tropic fruit with enzymes known for revitalizing and healing benefits This Revitalizing Tan-Removal scrub is blended with pure papaya fruit to dissolve dead surface cells, unclog pore openings and smooth the way for clear skin to surface. Gentle refining action uncovers skin's natural brightness for a younger-looking complexion.
Ingredients: Papita (Carica papaya), Kela (Musa sapientum), Khajoor (Phoenix dactylifera), Neem (Melia azadiradrachita), Methi (Trgonelia foenum graecum), Yasad bhasm (Zincum), Ban haldi (Curcuma aromatica), Aam beej (Magnifela indica), Bees wax, Gun acacia (Acacia arabica), Moongphali (Archis hypogea), Himalayan water Q.S.
Directions for use: Massage on wet face and neck with fingertips. Avoid eye area. Remove with water or damp washcloth. Use daily or as needed.
Price: Rs. 520 for 235 gms / Rs. 199 for 75
Packaging: I loathe these tub packaging's but Biotique has been delivering their products in these since forever. Biotique upgraded the packaging from all green to white and green combination which is more appealing to me and I like the symmetrical shape of the new tub it looks more functional and the lid under cap protects the product from leaking and messing around. The packaging has become sleeker and easy to carry along.
My Experience with Biotique Bio Papaya Revitalizing Tan Removal Scrub:
Biotique Bio Papaya Revitalizing Tan Removal Scrub is not as pretty as Lotus white glow or the regular apricot scrubs as it is muddy grayish white in color with almost black color scrubbing granules. The consistency is cream and on the thicker side but it is not as thick the Biotique papaya one and spreads quite nicely with minimum effort. The application will be best on a damp face.
Texture: The granules are big enough to give a good exfoliation results and doesn't feel harsh on skin but be gentle while massaging and slowly and softly scrub your whole face. They don't feel gritty or coarse on skin but works efficiently on removing stubborn blackheads from the skin. I will suggest first rub it in between the palms to soften the formula and then massage on the facial skin so that it doesn't feel harsh against the skin.
Fragrance: Bio Papaya Tan Removal Scrub has a mild fruity fragrance, quite close to papaya fruit and I guess it is the same as the one in Biotique Papaya scrub.
Results: It leaves my skin mildly hydrated and no oily residue at all, so I guess this will work equally well on oily/combination skin giving them a clearer and brighter skin. It gives a polished look to the skin and makes it soft, smooth and radiant but that is usually we get with all the scrubs. I have not been tanned currently so cant comment n its anti tanning or tan removal behaviour.
It can be used as a scrub cum face pack due to its creamier consistency that can be allowed to dry down on the skin after the scrubbing job. It gives a firmness and tight feeling to the skin.
Dont Miss to Checkout:
Pros of Biotique Bio Papaya Revitalizing Tan Removal Scrub:
Herbal Scrub with all good ingredients for skin
Makes skin smooth and radiant
Doesn't feel harsh when used with light hands
Doesn't dry out my skin
Doubles up a as face pack
Removes stubborn black heads easily
Mild herbal fragrance
Small amount is required for single application
Will suit all skin types
Cons of Biotique Bio Papaya Revitalizing Tan Removal Scrub:
Tub packaging which is not hygienic to use
Might not suit sensitive skin.
Recommendation: Bio Papaya Revitalizing Tan Removal Scrub is a thick creamy scrub composed of papaya which has anti tanning properties and helps in skin lightening and brightening. It is a good substitute for chemical laden scrub as you can indulge in the nature's goodness with this scrub. It works wonderfully on my skin and is a multi-purpose face scrub which also serves as a face pack. It cleanses effectively by removing dead skin cells, remove blackheads and tightens skin to a great extent giving me a clearer and brighter complexion. Definitely a great product that all of you should try! Recommended! 🙂
Rating: 4.5/5
Have you tried Bio Papaya Revitalizing Tan Removal Scrub? Do you use your face Scrub as Body Scrub or vice-versa?