Biotique Bio Berberry Cleansing Lotion Review
I had good experience with Lotus Herbals LemonPure Cleanser but after finishing that off I started looking for another cleanser. Biotique being another Herbal brand with the goodness of nature in its products was a safe option to pick up next.
From the range of cleansers it offers I decided to start with it's "Bio Berberry Cleansing Lotion".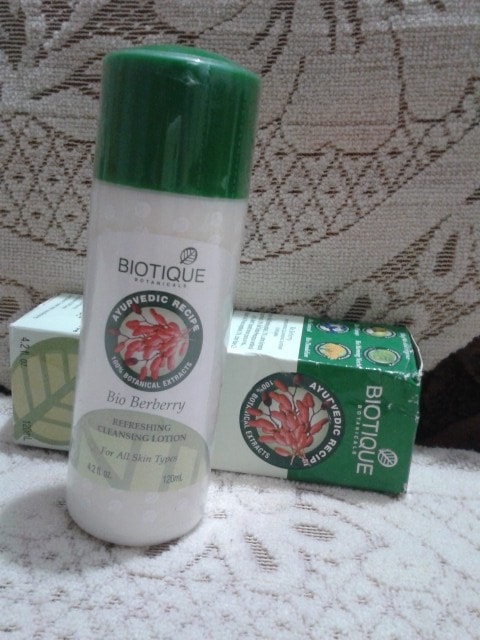 Product Claims:- This refreshing, non- foaming cleansing lotion gently dissolves makeup and grime. Leaves skin feeling soft and smooth.
Direction for Use:-Apply generously to face and neck, then massage in gently with fingertips, morning and evening. Remove with damp cotton pads or washcloths.
Ingredients:-Daur Haldi (Berberis aristata), Lodhra (Symplocos racemosa), Rakt Chandan (Pterocarpus santalinus), Methi Trigonella foenum gracecum, Badamtail (Prunus amygdalus), Lotion Base Q.S.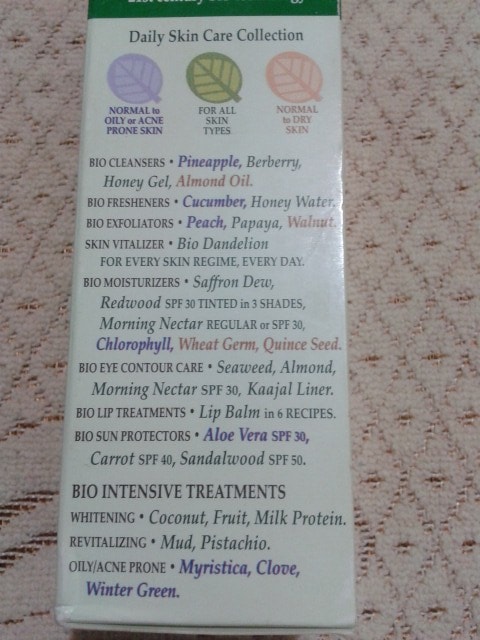 What is Berberry? (From the Bottle) :- Berberry is an ancient and honored herb with a history of healing and purifying properties. This refreshing non-foaming lotion is blended with berberry, red sandalwood, fenugreek, lodhra bark and almond oil to dissolve makeup and grime. Leaves skin feeling soft and smooth.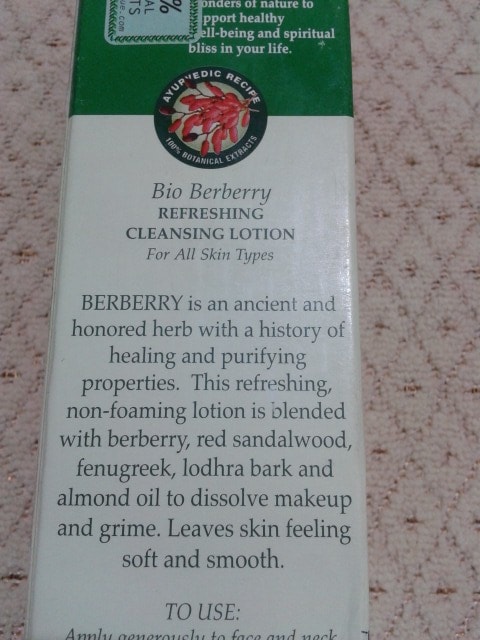 Price:- Rs.149 for 120ml
Shelf Life:-3 years from the Mfg date.
Packaging:- The Cleansing Lotion comes in a see-through white plastic bottle with a green screw cap. The bottle is encased in green and white cartoon box which is sealed and carries all the information about the Brand, Ingredients and the range of products offered.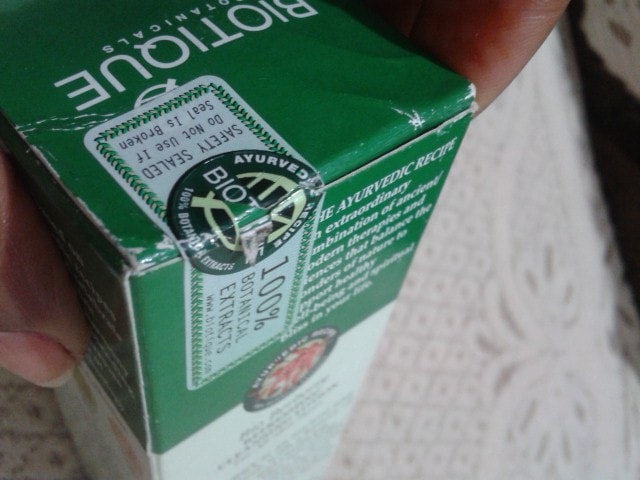 The opening is a wide and has to tap the bottle hard to get the lotion out of the bottle which makes it difficult to control the amount of the lotion to be dispensed and normally I end up getting more than the required. I would have preferred a pump-dispenser or tube type packaging which gives better control and made my life easy 🙁 . I was expecting a nozzle at the opening but the bottle has no dispenser at all.
I think Biotique should understand that packaging also plays an important part in the product and it really needs to work on it. It can always learn from its counterparts like Lotus Herbals Body Lotion.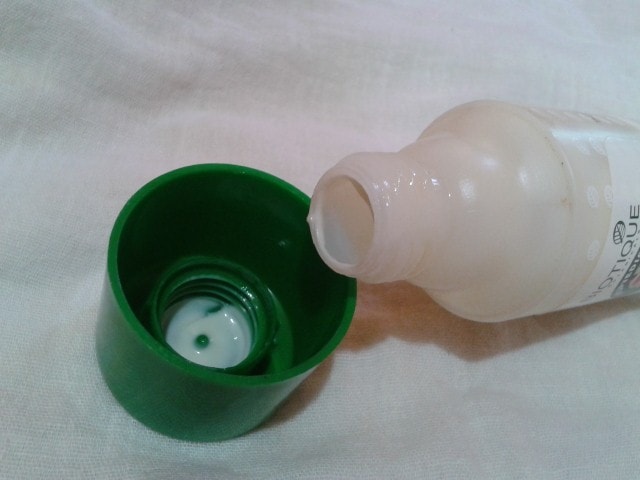 My experience with Biotique Bio Berberry Cleansing Lotion:-
Biotique Bio Berberry Cleansing Lotion is a white-colored cleanser/lotion with slightly thick consistency. The cleanser has creamy texture which spreads easily on the face. The lotion has a strong herbal smell but I didn't liked it much and hate it rather.
It can be used as a cleanser as well as a makeup remover.
When used as a cleanser, take a dollop of the lotion and massage it gently on face for few minutes during which it dissolves all the makeup, dirt/grime and oil in it. As it a creamy cleanser it doesn't foam and you can either wash it off with plain water or remove it with damp cotton. It does cleanse face of all impurities but I feel it leaves a slightly oily/greasy film on the skin and doesn't give squeaky clean feel that I get with face washes. So, I follow up with a face wash to get rid of this greasiness.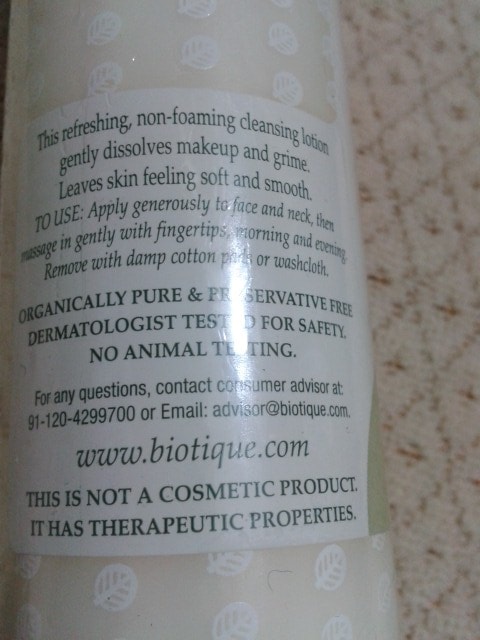 It leaves my facial skin clean and makes it soft and smooth. It can be used without a second thought in winters when our skin needs extra moisture and normal face washes make it dry and stretchy. I have dry skin which turns dry and flaky in winters. So, I prefer to use creamy cleansers instead of regular face-washes. Being a creamy cleanser, it takes care of my dry skin and gives a moisturized feel to it
Don't Miss to Checkout:
Swatches:-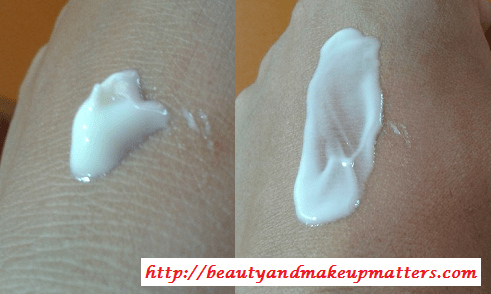 When used as makeup remover, it removes most of the makeup in a 1-2 swipes like tinted moisturizers, blusher etc. But beware, do not use this cleanser to remove the eye makeup as it sting into eyes very badly if gets into the eyes. I feel a strong tingling sensation when used as a makeup remover which might not be liked by sensitive people. For removing water-proof makeup it needs atleast 3 swipes.
Don't Miss to Checkout:
As Makeup Remover:-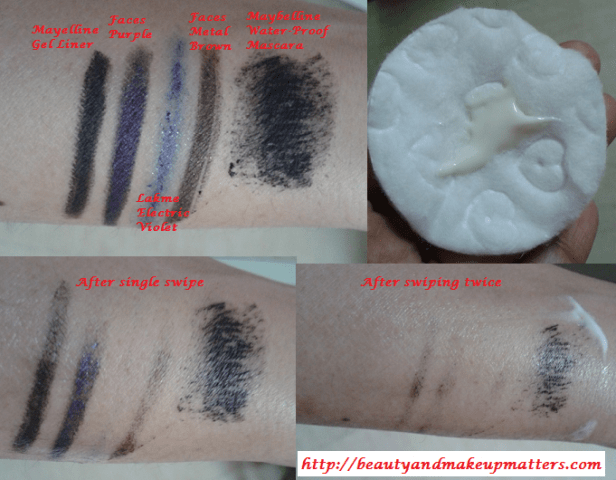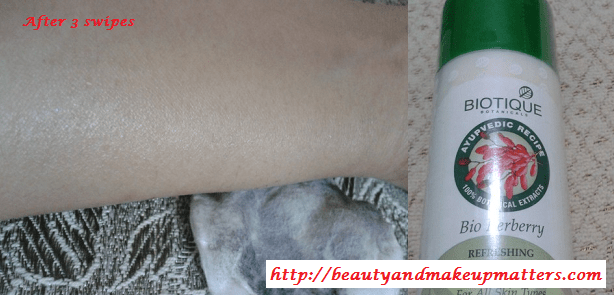 Pros of Biotique Bio Berberry Cleansing Lotion:-
Creamy cleanser that spreads easily on face
Takes away all the impurities from the face without making the skin dry.
Leaves behind soft and moisturized looking skin
Doesn't break me out.
Nice moisturizing cleanser for normal and dry skin but wont recommend to oily skin due to its heavy creamy texture.
Organically Pure & Preservative free. Completely natural and free form harmful chemicals. Contains natural ingredients like almond oil, red sandalwood ,lodhra which cleanses skin in a natural way.
Dermatologist tested so suitable for sensitive skin too
Reasonably priced and Easily available.
Cons of Biotique Bio Berberry Cleansing Lotion:-
Has a strong herbal smell which might not be liked by everyone. Personally, I hate its smell.
Leaves a greasy film on the skin after use (as a cleanser) and doesn't give that clean feel.
It is a thick creamy cleanser so it won't be suitable for oily skinned girls.
Packaging could have been better with a pump dispenser or a squeeze tube
Irritate/Sting eyes badly so couldn't be used to remove eye makeup at all.
Recommendation:- Biotique Bio Berberry Cleansing Lotion is a nice moisturizing cleanser for dry skin and will be best to use in winters but for oily skin it would be better to stay away from this. If you can bear it strong herbal smell and don't want to go for cleansers loaded with chemicals go for this creamy cleanser that removes makeup and dirt without much effort. Being a herbal cleanser, it is rich in natural ingredients which are good for skin.

If you have dry skin, it is worth a try. But any day I prefer Lotus Lemon Pure over this one which is my HG cleanser.
Rating:-3/5
Have you tried Biotique Bio Berberry Cleansing Lotion? Which is your favourite Cleansing Lotion?