BioNova Novawhite Cream For Dark, Dull and Matured Skin
Hello Gorgeous,
Today, I will be reviewing a very interesting product with you and that a facial cream which is specifically made for Dark, Dull and Matured Skin. The cream is formula is Switzerland and is clinically tested for its efficacy in skin lightening and anti ageing. This is the first time that I am trying any product like this, so let me share my experience with BioNova Novawhite Cream For Dark, Dull and Matured Skin.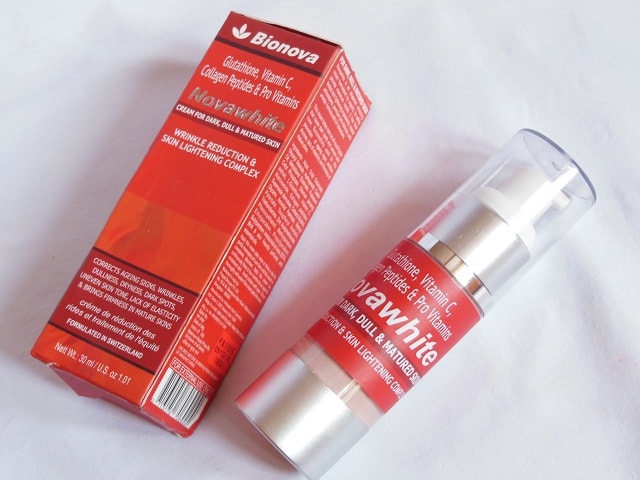 Product Claims: Bionova Novawhite™ The Advanced Swiss Formulated Anti-Age Repairing & Skin Lightening Cream Improves The Appearance Of Uneven Skin Tone, Fine Lines And Wrinkles.
Old looking skin is not a disease, it is a process of ageing. With the age 30 and above we begin to loose elasticity of the skin, starts showing wrinkles or fine lines. This stage of life, our skin needs accurate nourishment and care so that you look younger & brighter.
Novawhite cream is loaded with the master anti-oxidant glutathione, pro-vitamins, collagen peptides and Siberian ginseng that helps to correct ageing signs, wrinkles, dullness, dryness, dark spots, uneven skin tone, lack of elasticity & brings firmness in mature looking skin. Results starts visible within Seven days of application. Suitable for both men & women.
Usage Instructions: Apply this cream daily twice or thrice a day by gently massaging all over face until the cream is completely absorbed. Apply Novawhite cream for continuously three to four months for brighter & smoother skin youthful & revitalized skin.
Active Ingredients:
Glutathione :
Enhances skin lightening benefits by controlling melanin expression
Restores skin luminosityS
Significant increase in moisture content of the stratum corneum
Activates the pheomelanin pathway
Scavenges ROS in epidermal cells following UV exposure and thus prevent ROSinduced melanogenesis
Vitamin C :
Helps in suppression of wrinkle formation and improvement in skin smoothness
Promotes the synthesis of Type IV Collagen
Improves DEJ structural integrity
Demonstrated its ability to degrade bilirubin in situ
Niacin :
Lowers skin melanin index significantly
Improves skin tone to yield an illuminated complexion
Promotes even skin tone
Collagen Peptides & Siberian Ginseng :
Reduces the appearance of fine lines and wrinkles
Tightens and smooths skin appearance
Non-surgical micro-lifting
For the need of the following clinical outcomes in dark, dull & mature skin
Restore skin luminosity
Significantly improve appearance & skin condition
Price: Rs 1650 for 30 ml ( Buy on Amazon)
Packaging: BioNova Novewhite cream comes in a see through plastic bottle packaging with a pump dispenser. I like the hygienic and easy to use packaging which also allows me to see how much product is left in the bottle.
My Experience with BioNova Novewhite Cream:
BioNova Novewhite cream is a peach colored cream with thin texture that spreads quite easily. It actually looks like a BB cream with its tinted peach color. It feels like it has fine salt like granules which melts into the skin when massaged.
The formula takes some time to get absorbed completely so I massage it until it sinks completely into the skin. It gives slight cooling sensation as it starts getting absorbed. It feels very light on skin and doesn't leave any residue behind but it does give that faint whitish cast which will be more prominent on dusky beauties and takes some more time to go down completely.
It is lightly hydrating but gives a matte finish to the skin. My skin looks, firm, smoother and brighter with this. For my dry skin I like to go with a light moisturizer underneath. I like using it as a BB cream with amazing anti ageing formula which will help in improving skin's health.
Results: BioNova Novewhite is an advanced Anti-Aging & Skin Lightening formula infused with antioxidants and collagen peptides which will help in wrinkle reduction and also some skin lightening ingredients that will make complexion look brighter and vibrant. I have been using it for almost a month now and I can say that it has worked very slightly on improving the fine lines I have around my mouth and nose area. Though I don't see any significant difference in my complexion. But I feel to see substantial results it needs to be used for 3-4 months regularly. I like that it doesn't contain any bleaching agents to lighten complexion but Glutathione which is an anti-oxidants and works on reducing melanin appearance.
Recommendation: Bionova Novawhite cream makes a great skincare cum Makeup product with its skin benefiting ingredients which works on Replenishing & Rejuvenating skin while its tinted formula makes it suitable to be used during the day as a BB cream to give a smooth and brighter looking complexion. I like it's light weight texture and matte finish but the white cast it leaves needs few more minutes to disappear. Oily skinned beauties will love its matte finish but girls with dry skin like mine should layer it on top of a light moisturizer. The formula looks amazing but there are parabens in the list too which bothers me slightly. Otherwise, I feel it is a great product which can be included in daily skincare routine to reap anti ageing benefits along with skin lightening and brightening complex.
Rating: 4/5
Have you Tried Bionova Novawhite Cream? Which is your favorite anti-ageing cream?
PS: Product sent by brand for Consideration but Honest Opinion as always!