Best Toners For All Skin Types In India
We all try to keep our skin in its best shape and invest quite a lot of time and amount following daily skincare regime but did you miss on something really important for your skin like Toners. As the name suggest "Toner" is essentially a product which tones and smoothens out the skin. It helps in removing the dirt, oil and grime left by the cleansers while closing up the open pores on the skin. A toner also helps in maintaining the pH balance of the skin. Toners impart a healthy glow while makeup it smooth and supple, it also prepares it for the next step of moisturization. You skin will stay firm and look younger with regular use of toner "Age will just be a number ;)"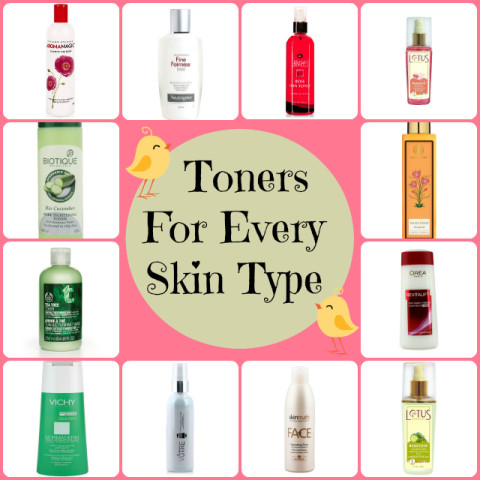 Toner is a must have your skin care routine and should be selected based on your skin type. Alcohol-free toners works best for dry and sensitive skin as they are non-irritating and doesn't strip moisture from the skin. Girls with super-oily skin tend to like alcoholic toners more as it removes excess oil from the skin making skin look clearer and smoother.
How to Use Toner:
Shake the toner in the bottle to mix all the ingredients
After cleansing and rinsing, pat face dry with a clean towel.
Apply it directly on to the cleansed face or dip a cotton pad in the Toner and swipe it on cleansed face and neck before moisturizing.
Let's take a look at the some of the Best Toners in India:
Drugstore Alcohol- Free toners: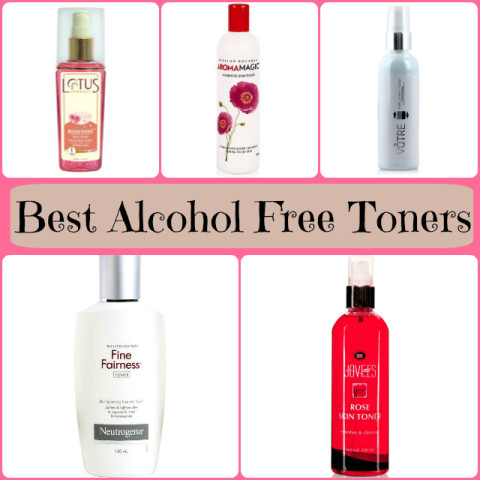 Lotus Herbals Rosetone Rose Petals Facial Skin Toner (Rs. 245/ 100 ml) -Lotus Herbals Rosetone Rose Petals Facial Skin Toner is an alcohol free and clarify skin without drying. It has a soothing rose fragrance and comes in a easy to use pump dispenser packaging. The formula is composed of Tulsi, Aloe vera and rose petals which naturally restores skin pH balance and leave it smooth and fresh.  It feels slightly sticky but nothing bothersome, works best for dry skin
AromaMagic Aromatic Toner (Rs. 170/ 220 ml) – AromaMagic Aromatic Toner is a clear toner which comes in a bottle packaging. The formula is infused with natural ingredients having antiseptic and anti ageing properties. The alcohol free formula feels soothing and is lightly hydrating without any greasiness or stickiness.
Votre Pore Shrink Toner (Rs. 350/ 100 ml) – Votre Pore Shrink Toner comes with a pump dispenser and has alcohol-free composition. The formula feels light on skin and it makes it look refreshingly fresh and brighter instantly. It feels hydrating and makes my skin look radiant. Works best for dry/combination Skin
Neutrogena Fine Fairness Toner (Rs. 299/150 ml) -Neutrogena Fine Fairness Toner is milky white colored toner packaging in an opaque white bottle. Alcohol-free formulation feels mild while whisks away all the impurities from the skin make it look visibly brighter. It keeps skin hydrated and gives a dewy finish, Works great for Dry/normal skin
Jovees Rose Skin Toner (Rs. 185/ 200 ml) –  Jovees Rose Skin Toner is Alcohol-free and has natural ingredients like Rose Petals, Sage, Lemon Grass,which have antiseptic properties. It balances pH levels of the skin and clarifies skin with its mild hydrating formula. Skin appears smoother and even toned with regular use.
Drugstore Toners for Oily/ Combination Skin: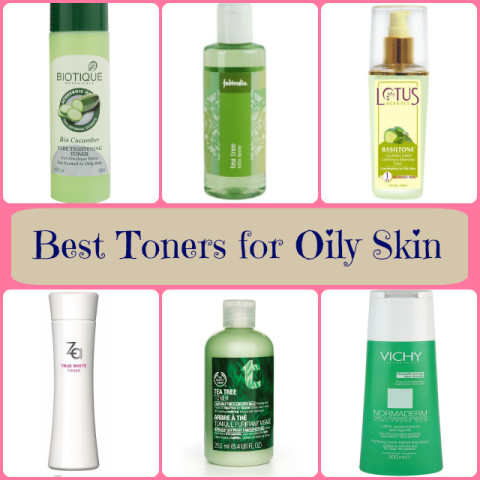 Biotique Bio Cucumber Pore Tightening Face Freshener (Rs. 149/120 ml) -Biotique Bio Cucumber Pore Tightening toner contains natural ingredients like Cucumber, Berberry, Peppermint Oil and Pudina. It gives tingling sensation on application because of peppermint Oil but serve as an effective toner for skin tightening and reducing the pore size. Best for Oily/combination skin
Za True White Toner (Rs. 699 /150 ml) – Za True White Toner contains Vitamin C which apart from toning and moisturizing helps in making the skin bright and radiant. It doesn't irritate or dry out the skin but it works best for oily/cobmi skin as it contains alcohol.
Lotus Herbals Basil tone Cucumber & Basil Clarifying &Balancing Toner (Rs. 196/ 100 ml): Lotus Herbals Basil Cucumber toner is infused with cucumber and basil leaf extracts . The natural formula helps in clarifying skin and keeping it soft and supple while anti-bacterial properties of basil leaf protects skin and reduces acne and skin inflammation. It works wonderfully for oily and combination skin.
FabIndia Tea Tree Skin Toner (Rs. 135 for 100 ml) – FabIndia Tea Tree Toner is an alcohol free toner with Tea tree oil and Salicylic acid that controls sebum and clears blemishes. It also contains neem and  turmeric which have anti-bacterial properties, aiding to a clear, flawless complexion. Perfect for oily and acne-prone skin.
The Body Shop The Body Shop Tea Tree Skin Clearing Toner (Rs. 789/ 250 ml) –  The Body Shop Tea Tree Facial Toner contains mattifying powders that absorb excess oil from the surface of your skin to give a clean and matte finish. The formula of this toner is enriched with antibacterial tea tree oil that does a great job of controlling acne and breakdown.  It reduce breakouts and give clearer and flawless looking skin. Great for problematic, acne prone and oily skin.
Vichy Normaderm Purifying Pore-tightening Lotion (Rs. 990/ 200 ml) – Vichy Normaderm Purifying Pore-tightening toner is salicylic acid based toner which works best for controlling oil, pimples and white heads. It tightens pores and takes away all the oil from the skin providing a soft, matte look. Vichy Normaderm  toner is best for acne prone, oily skin.
Toners for Dry Skin: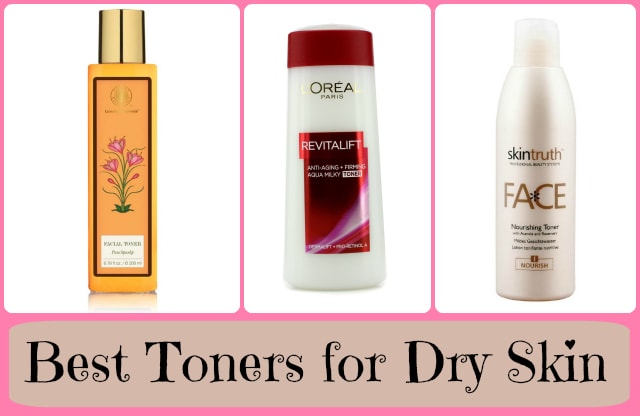 Forest Essentials Facial Tonic Mist Panchpushp (Rs. 650/ 100 ml) – Forest Essentials Panchpushp Tones contains goodness of nature with extracts of rose, saffron and many other organic herbs. It is a water-based toner which will not only hydrate your skin and regulate its pH balance, but will also leave it fresh, smooth and radiant.
L'Oreal Paris Dermo-expertise Revitalift Anti-wrinkle and Firming Aqua-milky Toner (Rs. 529/200 ml) –L'Oreal Paris Revitalift Anti-wrinkle Toner is composed of glycerin and has richly moisturizing formula.  It has  anti-ageing properties which works wonderfully in enhancing skin's elasticity making it look younger and beautiful. The toner fights wrinkles and fine lines which leaves skin smooth and supple. It may feel slightly sticky but my dry skin loves it in winters.
Skintruth Nourishing Toner (Rs. 975/ 200 ml) – Skintruth Nourishing Toner has gentle, non-drying formula which picks up oil and grime from the skin while toning and tightening the pores. It helps in reducing the pore size, giving a polished look to the skin. It nourished dry skin making soft, smooth and radiant.
For a fabulous, glowing skin you need to devote some time to take care of it and follow a proper skin care regime because beautiful skin is not easy to attain.
I have tried to list down toners for dry skin, oily and acne prone skin with options from drugstore and slightly expensive brands that are available in India. I have used some of these in the past like Lotus Rosetone, AromaMagic Aromatic Toner and Votre Pore Shrink Toner. Currently I am in love with Loreal Paris Dermo-expertise Revitalift Anti-wrinkle and Firming Aqua-milky Toner but I have my eyes on Forest Essentials Panchpushp Facial Tonic Mist Next!.
You Might Also Enjoy reading:
Hope this list of toners in India will help you choose one that works best for you.
Which is your current favourite Toner? Is toner a staple in your skin care regime?