Best Sunscreens In India: Oily and Dry Skin
We all rush for Sunscreens in Summers but when they tend to leave me with an oily face and sticky feel, I am better off without any sunscreen at all. However, it is quite important to have sunscreen on to protect skin from those damaging UV rays and tanning to enjoy a healthy, glowing skin. And, if you are still searching for Best Sunscreens In India for you skin, then this post if for you.
Today I have compiled a list of Top 10 sunscreens in India for Oily skin and Dry skin, which will help you choose one for your skin type.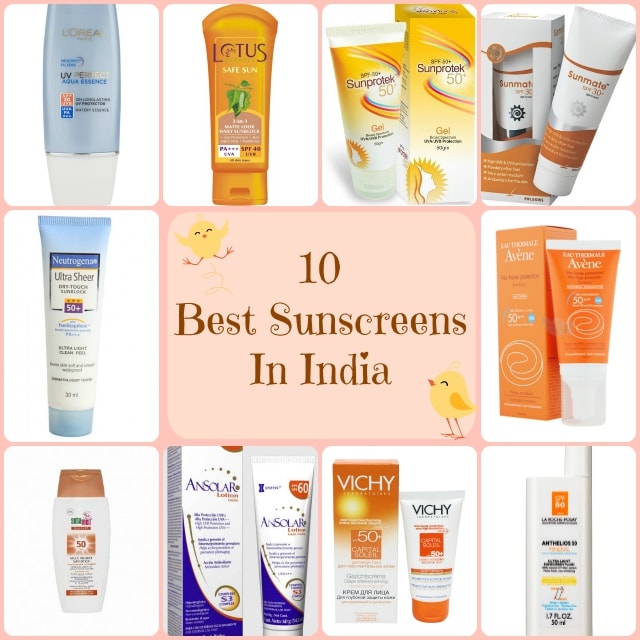 Tips on Using Sunscreen:
Must not skip on sunscreen where it is rainy, cloudy or freezing cold outside because even if there is no SUN, the harmful UV rays are in the environment which causes freckles and leads to premature ageing of the skin.
Higher SPF is not always better, minimum of SPF 30 is a must and good enough to provide coverage and block a max of UVA rays. Use higher SPF if you have to spend more time out in the sun
Keep your skin is shielded from the adverse effects of the sun like skin darkening and age spots by wrapping scarves and stoles when you head out. ( I always do that!!!)
Apply daily a generous amount of the sunscreen on face and neck or any area that will be exposed directly in the Sun.
Apply before 15-20min before stepping out so the sunscreen gets absorbed nicely into the skin to provide protection.
It is also best to reapply sunscreen after every 4 hours for best protection.
I hope you enjoy the video version of this post too:
List of Best Sunscreens In India:
Bonus: Luxury Sunscreens
Clinique Even Better Dark Spot Defense Sunscreen SPF 45 (Rs 2252/ 30ml) – This Clinique sunscreen is loved by all. It absorbs completely into the skin leaving behind no traces of oil or greasiness. It is a 100% non-chemical sunscreen which justifies its price. The initial white case disappears in few minutes of application and it wears well under makeup as well. Best Natural Sunscreen for Oily Skin.
Kiehl's Super Fluid UV Defense Spf 50+ (Rs 2500/30ml): One of the most expensive sunscreens but we all know how Kiehl's skin care range is par above the rest.It is an ultra-lightweight SPF 50 sunscreen with a non-greasy, non-irritating formulation. It is Oil-free, Water-resistant and has lightweight formula which can be easily worn under make-up application. One of the best natural sunscreen for face.
This is my list of best sunscreens available in India and I have tried to cover it for both Oily and Dry skin! Now you can enjoy long hours on beach, desert safaris, shopping in flee markets without worrying about get tanned!
Don't Miss to Checkout:
PS: One more sunscreen that I recently tried out and needs a mention here is Organic Harvest Sunscreen SPF30 – It has a lovely texture, mild scent and non greasy formula. I quite liked the way it feels on skin. You must try that out!
You might love to checkout this research done on Sunscreens and how they were compared to pick the Best Sunscreen /Sunblock from all
Have you tried any of these Sunscreens? Which one is your favorite?