5 Best Scrubs For Oily Skin India
Every skin routine never misses out on the face scrub. Be it body exfoliation or gentle facial scrubbing, this step is a must.
To be quite honest:
As years actually roll by, somewhere down the lane many women loose the interest in the once I-Must-Scrub-My-Skin step. For whatever reasons maybe, get back to your long lost love with face scrubs, to make sure your skin is cleansed, smooth, clear and radiant at any age! Blackheads and whiteheads that are left unextracted can lead to pimples and zits, dead skin build up makes the skin look dull and aged, and the list of why you must scrub your facial skin can go on and on.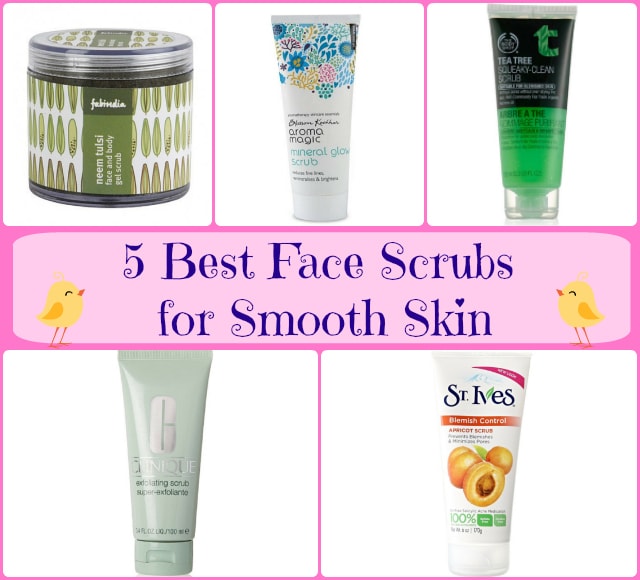 To make this interesting and reassuring for you:
Here we have a quick review on 5 Best Scrubs For Oily Skin  available in the Indian market to make sure you have the smooth and soft skin you dream of. Here we go…
Best Scrubs For Oily Skin
Fab India Neem Tulsi Face and Body Gel Scrub: 

This gel based face scrub from Fab India has so many boastful positive reviews that tempt the money bag right away. An excellent choice for oily-skinned beauties.
The gel based formula doesn't dry the skin much and perfect for regular (weekly) exfoliation of skin (and body, although you might have to buy in bulks for that. It tempts your senses, be warned!).
The scrub contains crushed walnut shell extracts that help you to gently scrub away blackheads and whiteheads, the smell of crushed neem and tulsi will calm your nerves even before you get started. If you have facial skin tanning, this one will remove it for you in just 2-3 sessions! How cool is that?
To get smooth and clear skin that will glow, the Fab India Neem Tulsi Face and Body Gel Scrub is the miracle worker to hold on to!
Aroma Magic Mineral Glow Face Scrub: 

Oily and Acne-prone skinned ladies who are in desperate need of exfoliation can settle for Aroma Magic Mineral Glow Face Scrub.
It contains Salicylic acid that gets straight to work in clearing dead skin cells, blocked pores and regulating sebum production. However, you need to remember to use this face scrub during nights or make sure you do not step into the sun without a sun block after scrubbing.
Salicylic acid can dry the skin and make it patchy when exposed to the sun. How this scrub works? Amazing! Rejuvenated and refreshed skin is a definite yes with regular use. The micro-granules tend to be a little harsh on the skin, so you ought to be gentle while scrubbing.
Removes blackheads and whiteheads within few sessions and gives your skin the glow it claims. All you got to do is, buy one and just follow the instructions!
The Body Shop Tea Tree Squeaky Clean Scrub: 

Another trusted face scrub to the list that keeps the skin 'squeaky clean' (more than expected, that you might want to avoid it!). The Body Shop always interests its customers with the lovely combination of ingredients. So does the Tea Tree Squeaky Clean Scrub.
Works effectively on blackheads and whiteheads and makes the skin soft and smooth. But, with overuse (say more than twice a week), you will start noticing fine lines from over-drying of the skin.
Keep the usage limited (also do the scrubbing gently) and this scrub will make an excellent choice for sensitive, oily and acne prone skin. However, dry skinned beauties should check the other options.
Clinique Exfoliating Scrub: 

A lovely claim package that makes many fond of this Clinique product. Let's get to the claims it faithfully fulfils right away- clears skin to make it radiant (almost instantly!), keeps whiteheads and blackheads at bay, exfoliates dry and flaked skin, does not spark off outbreaks (since it contains Salicylic acid!),
It gives wonderful results when used in combination with other Clinique products and helps in better absorption of any product used post-exfoliation using the Clinique Exfoliating Scrub.
Except the menthol content that some might not prefer and the expensive pricing (that one, is definitely a problem that's worth facing! Considering the little amount of product required), this face scrub gives you all the good reasons to make a purchase right away!
The consistency is in between a mild and harsh face scrub and steals away the heart of all skin types.
St. Ives Blemish and Blackhead Control Apricot Scrub: 

St. Ives products always leave one with a pleasant experience, and so does this scrub. The great news, Parabens Free!
Most importantly the St. Ives Blemish and Blackhead Control Apricot Scrub exfoliates to give you smooth and clean skin, does not clog pores, removes blackheads and whiteheads, makes the skin look refreshed and radiant!
The crushed walnut shells, orange and apricot extracts leave the skin smelling pleasant and fresh. The only problem, the scrub might seem a little harsh for those with extremely sensitive skin.
Don't Miss to Checkout:
Keep skin problems at bay:
Regular exfoliation of facial and body skin will help you keep several skin problems at bay. Set aside time 2-3 times a week and indulge in divine exfoliation to wake up to rejuvenated and younger looking skin everyday!
Hope you found our quick review on the 5 best scrubs for Oily Skin in India useful. Make a wise pick, and continue to pamper yourself!
Have you tried any of these scrubs for Oily Skin in India? Which one is your favorite?
Author: Sancta, a post graduate in English Literature, true to the education loves to be wrapped into a world of poetry and the scent of old books. After short experiments in different fields of business, she is currently following her passion as beauty blogger at Lifestylica.