Best Illuminators/Highlighters: Key to Gorgeous Glow!!
Illuminators or shall I say "Light Reflectors"..which will exactly define the purpose of highlighters. They create an illusion of naturally glowing skin with their light reflecting formula by scattering the beam in various directions..do I sound like narrating a Physics chapter from class and the much loved Prism Experiment 😛 . Skin illuminators come in different colors so you can choose your type of glow and flaunt luminous skin with healthy glistening shine or with golden glow for evenings or adding a subtle natural radiance which can be worn even on daytime.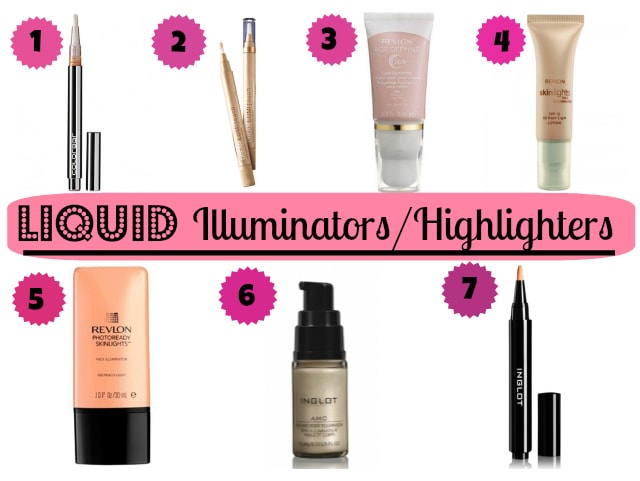 Apart from imparting a radiant glow they enhance facial feature and add dimensions to the face. Use it on the tops of cheekbones, bridge of my nose, Cupid's Bow, Chin, Browbones, or mix with foundation or moisturizer to up brighten the complexion. They are available in different formulas like Powder, creamy liquid so you can pick the one you feel comfortable with. So, today I am listing down few of the easily available Illuminators/ Highlighters in India.
Liquid Illuminators/Highlighters
Colorbar Radiant Glow Highlighter Pen (Rs 475) – It has a light creamy formula which melts into the skin and makes skin look radiant with a gorgeous Glow.
Maybelline Dream Lumi Touch Highlighting Concealer (Rs 475 ) – Similar to Colorbar one but it also provides subtle coverage along with brightening effect,
Revlon Age Defying Spa Face Illuminator (Rs 850) – Available in 2 shades of which the darker one works up as a bronzer. It comes with long brush applicator which can be little tricky to use but the formula provides a dazzling glow.
Revlon Skinlights face Illuminator Lotion (Rs 850) – I believe this one is discontinued for now but happy that it is relaunched with Photoready range.
Revlon's PhotoReady Skinlights Face Illuminator (Rs 850) : They are re-launch of the much loved Revlon Skinlights Illuminators in Photoready range. It comes in 4 amazing shades, one for every skin tone each imparting a distinct glow . The highlighting particles aren't subtle so might have be careful during the day but a great option for a divalicious glossy cheeks to rock the parties. 🙂
INGLOT AMC Face and Body Illuminator (Rs. 1300): They are available in 7 shades but are slightly pricey for a higlighter. The texture is gel liquid which blends quickly and imparts pretty pearlescent shine
INGLOT AMC Under Eye Corrective Illuminator (Rs 800) : They look similar to Colorbar Highlighter with a glossy black packaging than the Metallic silver one. The range of color is diverse and we have 6 shades to choose from. Teh formula is infused with satin pearl pigments that will highlight skin and make it glow.
Powder Illuminators/Highlighters
Some of the Powder formulations that can do the trick of faking a brightened up complexion.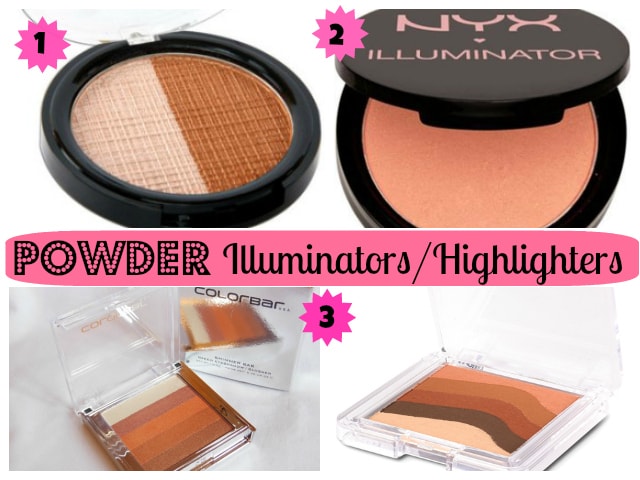 Lakmé Absolute Moon-Lit Highlighter (Rs 550)– It is a duo highlighter and comes with two shades where darker can be used for contouring and lighter one on the top of cheeks. Formula with fine shimmer particles that goes on smoothly and adds subtle glow without going OTT.
NYX Illuminator – Chaotic: It has two more shades Narcissistic which is champagne shade and Magnetic which is peachy pink with some shimmers . Chaotic looks pinker the pan but on the cheeks it gives a lovely with pink gold sheen which instantly lightens up my complexion.
Colorbar Shimmer Brick (Rs 950) – They are raved as dupe of Bobbi Brown Shimmer Brick which have received much accolades from the Beauty Bloggers. Available in 2 shades Ciral Hint and Rosey Glaze. It can be doubled up as a shimmery blush or just use the highlighter shades on the cheeks to enhance the skin and add subtle warm glow. We also have THE BODY SHOP SHIMMER WAVES and Sleek Makeup Glo Face & Body Highlighter Peach Shimmer
These were some option from the affordable range lets head to our favorite luxury brand MAC and checkout what all it has to offer.
MAC Illuminators/Highlighters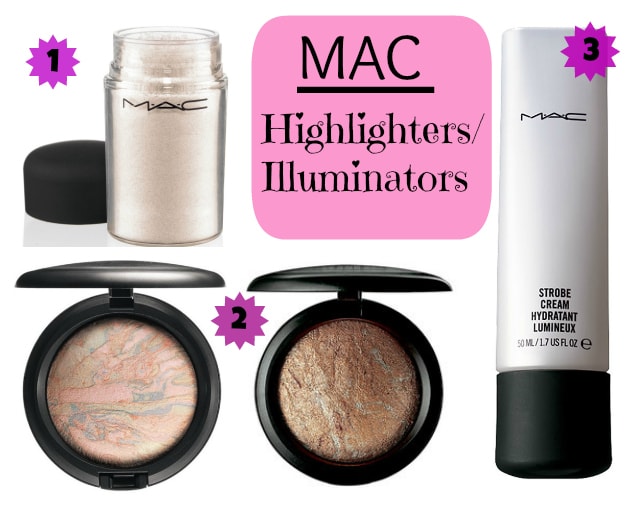 MAC Vanilla Pigment (Rs 1550)- Pigment can be used in multiple ways and one of them is for cheek highlighting. This pigments also works as brow bone highlighter.It can look peach, gold and yellow depending on the light of the iridescent shimmers.
MAC Mineralize Skin Finish in Lightscapade and Soft and Gentle – They have frosty metallic finish which goes on silky smooth and add a soft highlighted sheen your cheeks.
MAC Strobe Cream (Rs1850) – A little dollop of this pearly white cream goes a long way. It completely transforms the look by addng that gorgeous glow with beautiful soft sheen
If want something for day time wear use the ones in powder form with metallic sheen or with pearlescent sheen to add just the right amount of radiance and keep the shimmery formula for night to create optical illusion of sculpted cheeks. Mix creams with your foundation to fake naturally glowing skin look and brightened up complexion.
Don't Miss to checkout:
As it is evident from the list that we don't have much options to choose from in Drugstore brands and the ones who offer have routed the prices towards high-end ones (except Maybelline). I would really like to see more variety being added in this department.
Do you use any Illuminators or Highlighters? Which is you favorite form for highlighters? What's your favorite brand?