Best Henna Tattoos for Back
Be it any social network, henna is religiously followed everywhere and the deluge of mehendi designs overflowing the internet is evidence for it!  Earlier, mehendi was applied on special occasions, but these days it is a form of creativity and style! Henna designers create innovative designs, which are not just limited to your palms, but different parts of the body as well! The in-thing this season is definitely henna tattoos on your back, upper arm, shoulders and neck! The trending designs are lotus, neckpiece patterns, mandala and motifs; these give your back a contemporary yet conventional look! Hence, here we share 10 henna tattoos for the back that will surely intrigue you!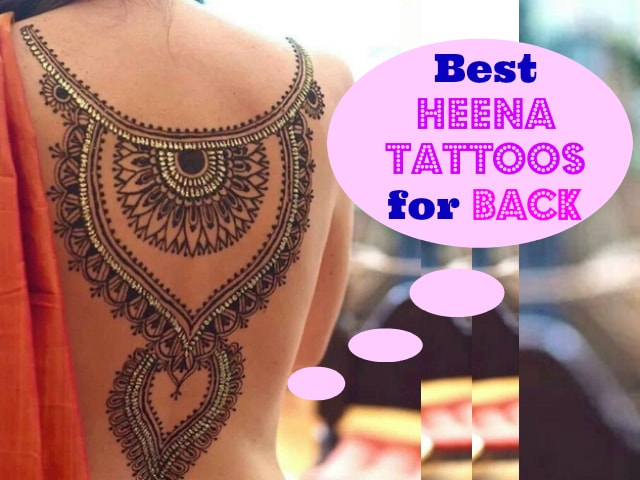 Best Henna Tattoos for Back:
1.Appealing Lotus Tattoo: Lotus is not just a flower, but also a symbol of personal growth, faith, eternal love and purity of the heart!  Not only does it look pretty sitting there on your back, it beholds a deep meaning as well! This beautifully done flower has a deep symmetry that will surely stand out!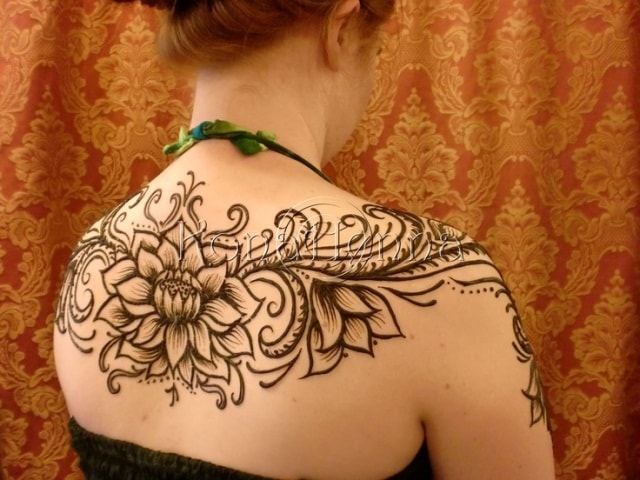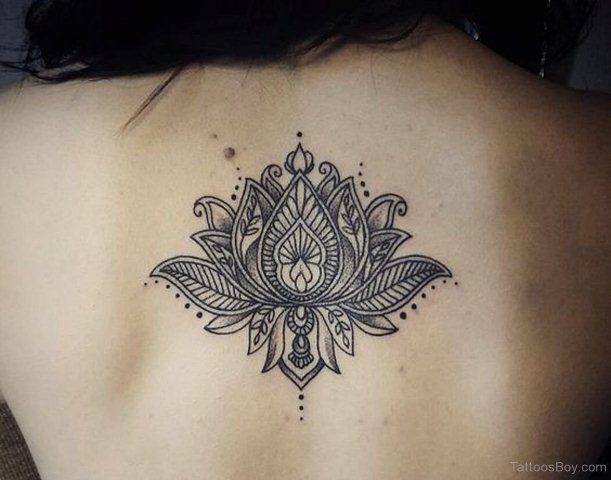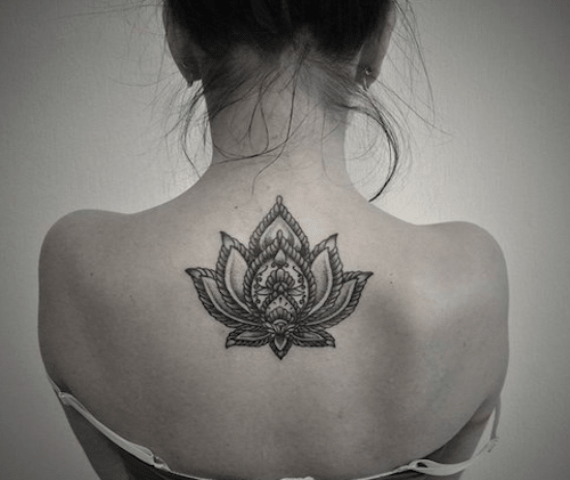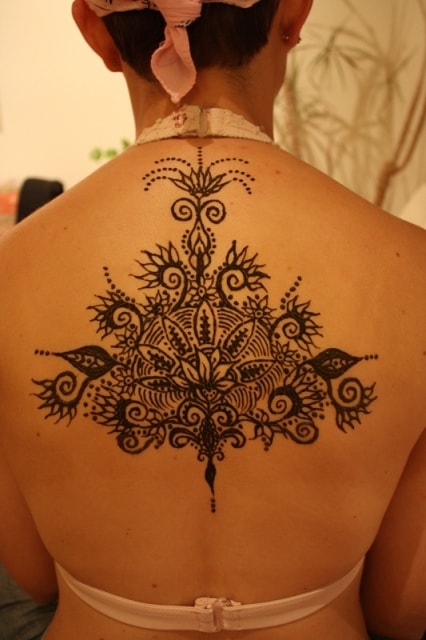 2.Creative Henna Tattoos: Yes, you got to be very creative to draw designs that make an impact! A beautifully done flower with intricate detailing looks stunning and edgy both at the same time!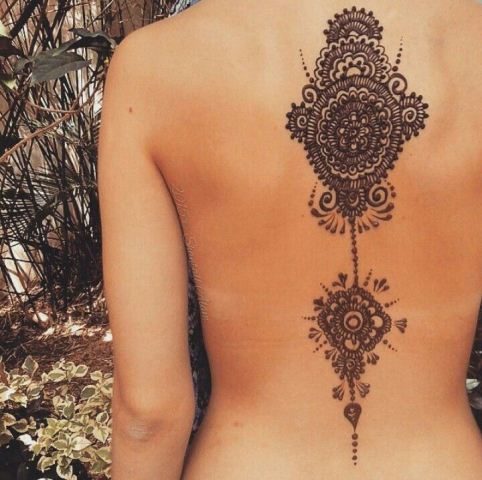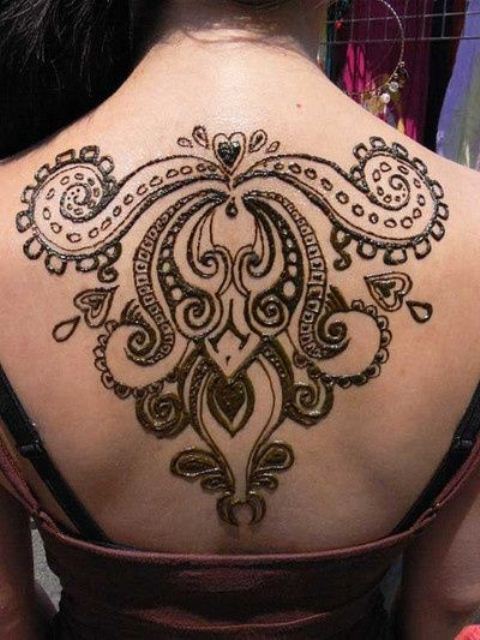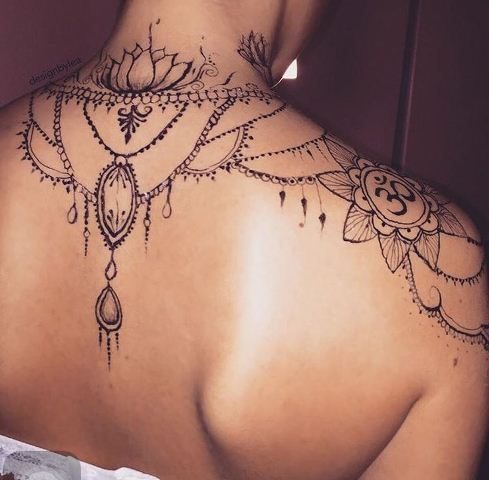 3.Floral Henna Tattoos: Floral designs are my favorite irrespective of the part of my body I'm getting them drawn on! This design looks so beautiful starting at the top of your back to the lower waist, looking super gorgeous!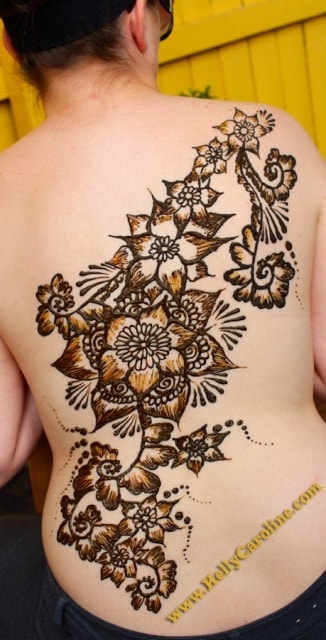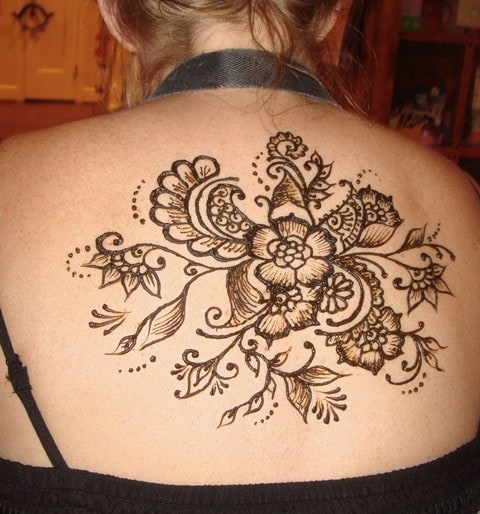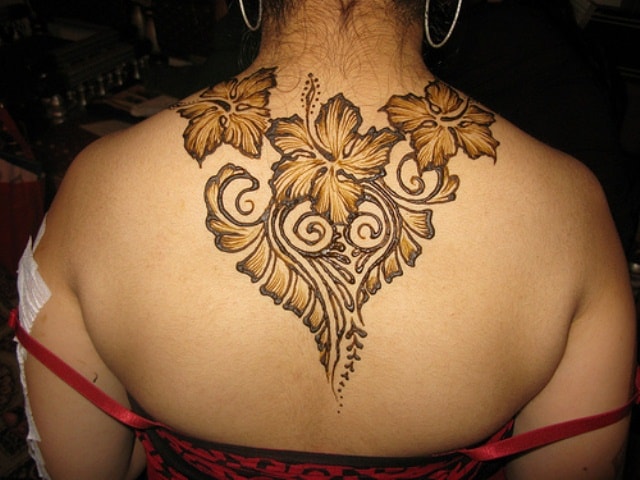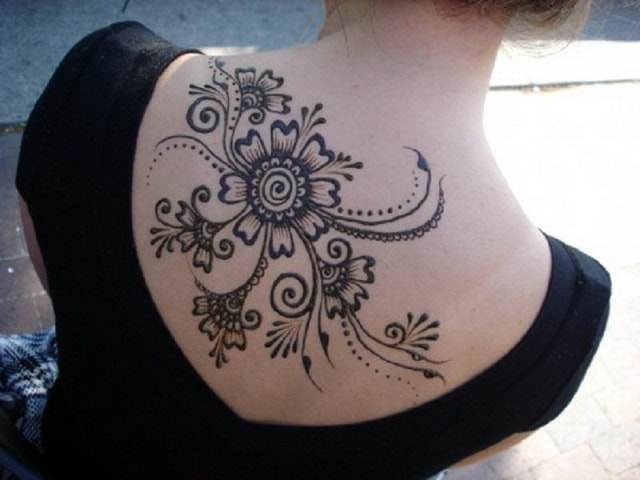 4.Awesome Full Back Henna Tattoo: This design looks so amazing, gives the impression of a traditional lehenga blouse! The entire back is covered in henna, and gives an awesome appeal to it!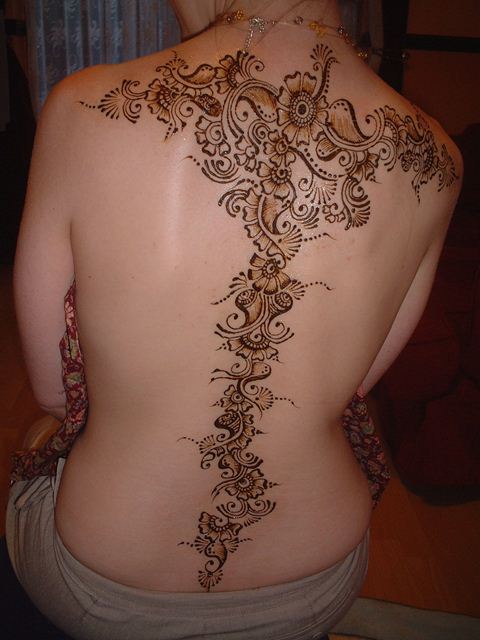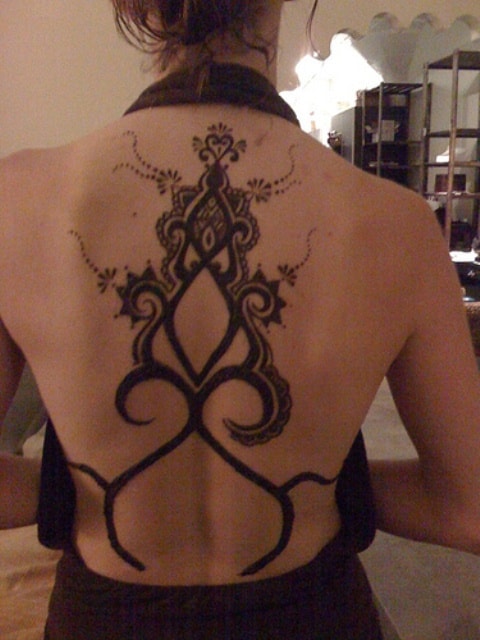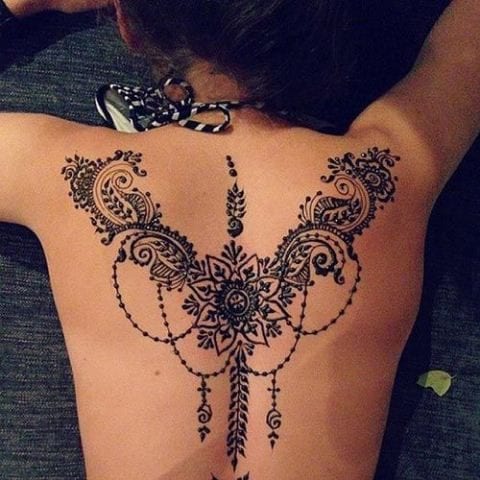 5.Mandala Henna Tattoo: Don't you think manadalas look really pretty on your hands? I do! And when done on the back they look even more amazing! Neatly done with some nice detailing, your back is surely something everyone will take a look at!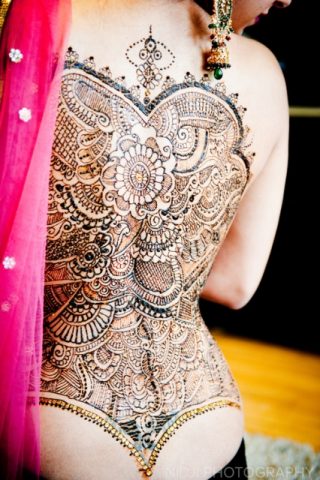 6.Intricate henna tattoo: Traditional yet convolute, these designs cover the entire back and give the impression of a sexy neck. It looks really peppy and makes heads turn!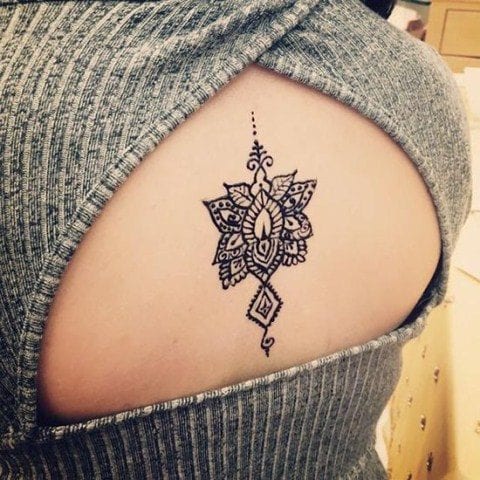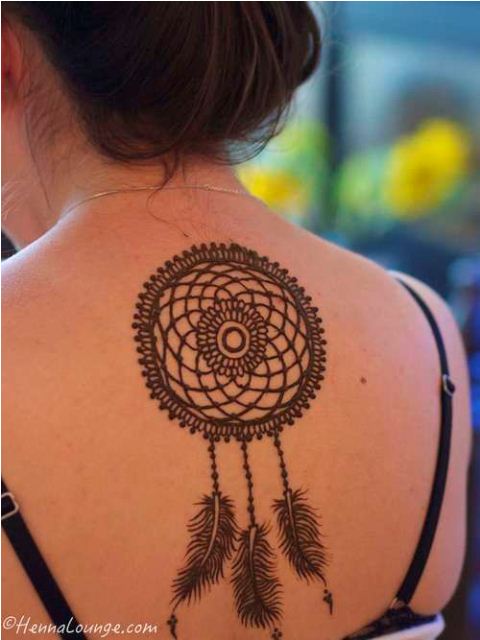 7.Chic Henna Tattoo: As the name suggests, these henna designs look chic, they can be done according to your liking, either too detailed or kept simple! It can mimic the look of a tunic that you are probably not wearing.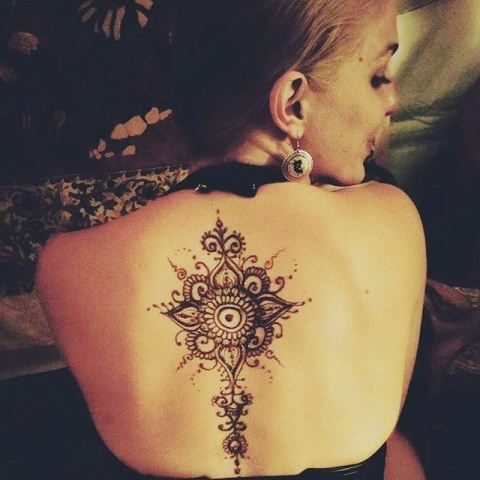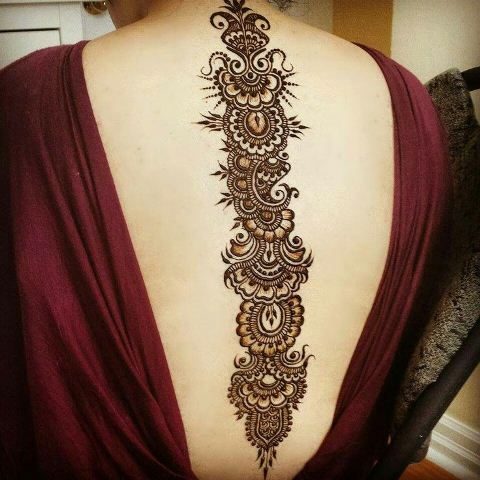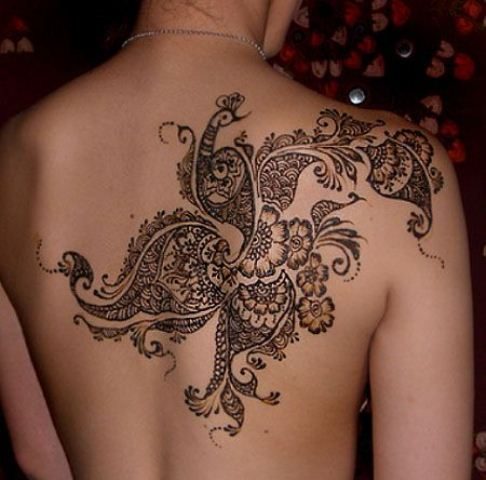 8.Pakistani Henna Designs: Pakistani henna tattoos look super gorgeous on the back and define true love. They require lots and lots of practice, but once you get it done, people won't be able to take their eyes off your back!!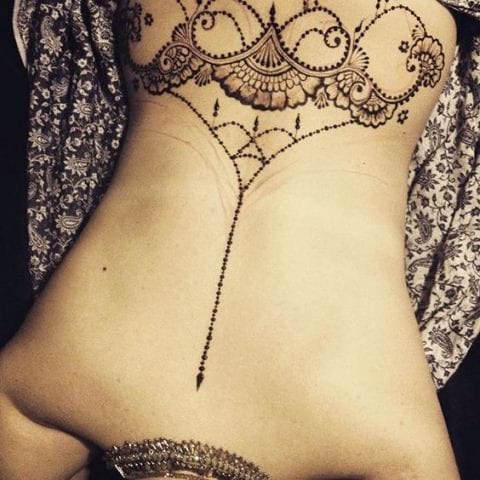 9.Chand Henna Tattoo: This half moon henna design is ideal for Eid and looks stunning on the back! It looks great when you adorn it with a deep cut neck; I love that pretty moon dressing up my back.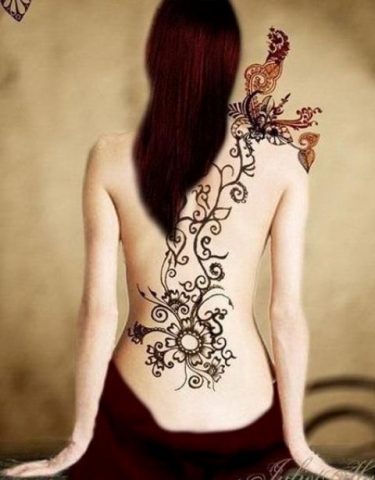 10.Embellished Feather Back Tattoos: Embellishments look lovely on your hands, and when done on your back they just add to the beauty. We love this colorful peacock feather studded with stones; it looks simple yet really stylish and colorful.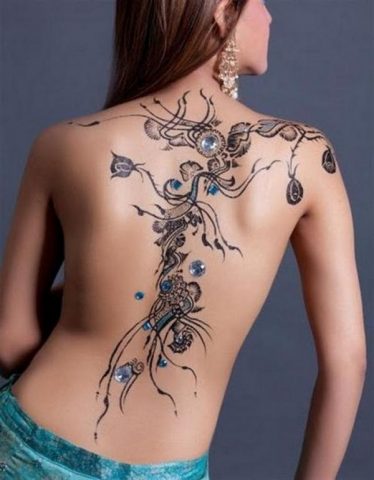 Henna is an internal part of the Indian tradition and each design holds a special meaning, you will love finding out how these designs put into limelight the significance of mehendi art. Henna is a beautiful stain that all of us like to color our body with. So, which of the 10 henna tattoos for the back are you going to dress your back in?
Don't Miss to Checkout:
Which of these 15 trending henna designs for feet are you going to show off this festive season?
Author: Cidra S khan
PS: I do not claim the ownership of images used here.