Best Face Polish Ever: Nellie Tier Frankincense & Neroli Face Polish
Hello Beautiful,
Today I will be introducing you to an awesome skincare range from New Zealand.. yes it's a small world :D, the "Nellie Tier". I was beyond excited when I got a chance to try these because it is a natural skincare range which is hand blended to ensure the goodness and effectiveess of the products. Starting with my favorite product from the whole range, Nellie Tier Frankincense & Neroli Face Polish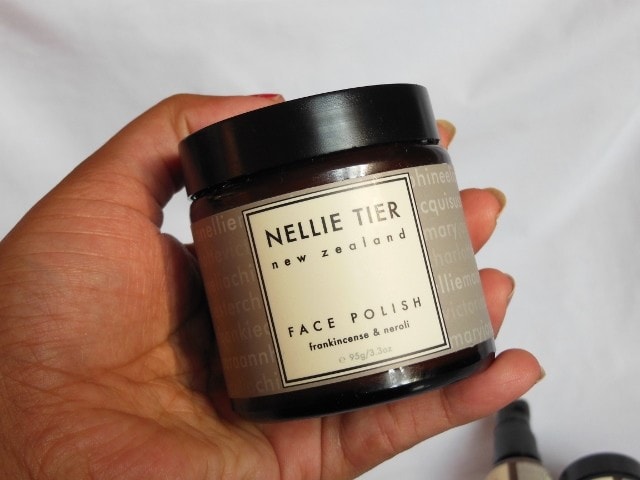 About the brand: NELLIE TIER is a handblended range of face, bath and body products that are safe, natural and sensuously luxurious. The range is fresh and effective with a strong focus on luxurious texture and wonderful aromatherapy based perfumes. To ensure freshness and quality all the  raw materials are sourced in small quantities and products are hand measured, mixed and poured in small batches. The range is free of parabens, sodium lauryl sulphate, mineral oils, artificial perfumes and colour additives.
Product Claims: A gentle exfoliating polish combines jojoba wax beads and bamboo granules in a lathering base of Nellie Tier coconut cream soap. Apply to dampened skin avoiding the eye area and massage to a creamy lather with warm water. Rinse off and pat dry..
Direction for Use: Can be used several times a week
Ingredients: Butyrospermum Parkii (Shea Butter), Nellie Tier Soap Blend, Simmondsia Chinensis (Jojoba) Oil, Glycerine (Vegetable BP Grade), Simmondsia Chinensis (Jojoba) Wax Beads, Bambusa (Bamboo) Granules, Pure Essential Oil Blend, Tocopherol (Vitamin E), Camellia Sinensis (Green Tea) Extract, Dioscorea Villosa (Wild Yam) Extract, French Argiletz Clay.
Price:  $NZD 29 for 95 grams/3.35oz; – They ship Internationally!!
Shelf Life: 1 years from the Mfg date.
Packaging: Nellie Tier Frankincense & Neroli Face Polish comes in the signature tinted brown glass jar with a black plastic screw lid. The glass is quite heavy and feels luxurious to hold. I switch between fingers and spatula to scoop out the product.
My experience with Nellie Tier Frankincense & Neroli Face Polish:-
Nellie Tier Frankincense & Neroli Face Polish is a medium thick creamy paste with micro beads to exfoliate dead skin cells.
Formula: First, just look at the ingredients list.. Gasspp!!I can see only the awesome natural stuff in there with absolutely no fillers. Shea butter along with Jojoba oil works as a moisturizing base and doesn't dry out my skin, the clays sucks out unwanted oils and dirt and these teeny-tiny Jojoba beads buff out dead skin like magic.
Fragrance: The face polish has a very faint floral scent which is very pleasant
Application: The creamy texture of the face polish helps in easy application. It spreads nicely like I am working with a rich cream and then the tiny granules makes their presence felt. The granules are super soft on skin and there is a good enough amount of these to do the exfoliation which helps me get rid of dead skin cells. Also, unlike any regular polish these granules don't dissolve so I can scrub my face for good 5-10 minutes without having to pick the product again and again. I massage it gently into the skin like I am using a regular scrub and once I am done wash it off with tap water.
Results: Initially, I assumed that it is going to be super mild to do any exfoliation but I was blown away by it performance when I applied it on face. The face polish left my skin feeling squeaky clean but still very hydrated because of all the natural moisturizers. It looks so clean and fresh like a new born, and beams with a natural glow.
I have skipped doing my weekly scrubbing thing since this face polish because it does it all for me. It isn't very effective I removing stubborn black heads but with regular use you will definitely see the difference. I just love using the face polish and use it 2-3 times a week though I feel it is mild enough to be used daily (if required).
Recommendation: Nellie Tier Frankincense & Neroli Face Polish is a thick creamy face polish with micro jojoba beads to do the exfoliation. The formula is full of amazing natural ingredients that will help cleanse the skin while restoring its natural moisture and glow. I love how it sucks out all the impurities from the skin and still leave it soft and supple. It works wonderfully for my dry skin in winters and I guess it will work for oily/combi skin too as it doesn't feel heavy on skin. If you want to experience the handmade goodness of nature do give it a shot.. Highly Recommended!
Rating: 5/5
Have you tried Nellie Tier Frankincense & Neroli Face Polish? Would you like to give it a try?
 PS: Product sent by brand for consideration