Best Eyebrow Pencils in India
Perfectly groomed eyebrows are the latest accessory, and if you are missing this in your makeup routine then you must start doing it right now!
If you think you have fuller brows and don't need any pencil to define them even more then you are wrong because even with fuller eyebrows you need to give a little definition to the brow line for a defined and polished brows look. It is quite easy to shape fuller brows Shaped and lightly filled eyebrows add definition to the facial structure.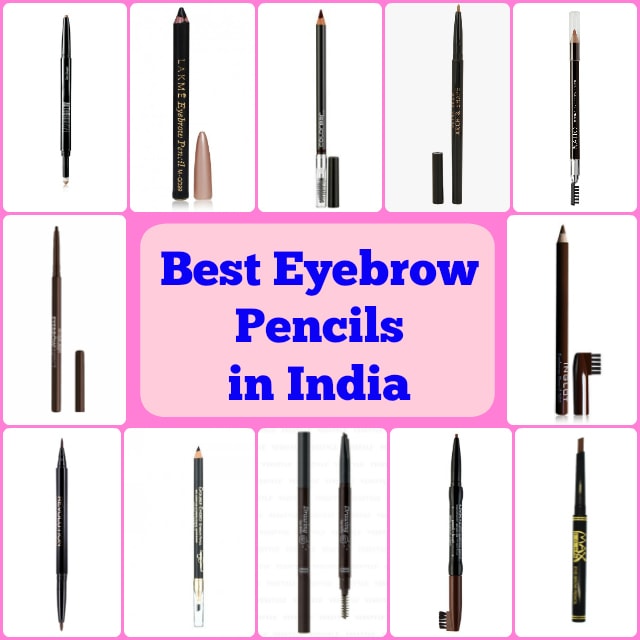 Steps to Get Beautiful Brows:
Brush eyebrow hair upwards with a brush
Use the Brow Pencil to define the outline of the brows
Beginning at the brow's inner corner, use light, feathery strokes and follow the natural arch to shape and define
Add depth and fill in gaps with light upward strokes for a natural look
After applying the product use the brush to soften up the line for a more natural appearance.
Brush through brows with an upward and outward motion to lend and soften
Eye Brow Grooming Tip:
For the most natural look, only fill in with colour the gaps between the eye brow hair with small strokes. Never drag back and forth
Opt for brown pencil or shadow as that is better suited for Indians. Black looks harsh on us.
Remember that eyebrows are darker at the outer at the outer corner and lighter on the inner corner.
It is important that you pick a good eyebrow pencil to fills in the brow for that perfect, flawless look. I thought we just got Maybelline and Lakme here in India but gosshh.. I am surprised to see that we have a lot of Eye Brow Pencils to choose from and that too in the affordable category.
So, I am sharing this list of Best Eyebrow Pencil in India that are easily available
I hope you enjoy the video version of this post too:
Best Eyebrow Pencils in India:
1. Maybelline Fashion Brow Duo Shaper (Rs. 208): Maybelline Fashion Brow Duo Shaper gives naturally-defined, fuller eyebrows. It's a 2-in-1 brow liner comes with a slim pencil tip to shape your brows and a powder tip for a soft finish. Pencil shapes, powder finishes the eye brows in 2 steps to wow! It fixes gaps and blends seamlessly for smooth, stunning brows.
2. SUGAR Arch Arrival Brow Definer – INR 499 Buy Here 
SUGAR Arch Arrival Brow Definer is my current favorite brow pencil. It does a great job of filling in brows with light, feathery strokes. It gives a natural look to the eyebrows. This eyebrow pencil makes eyebrows look thicker and fuller. It gives a smooth and neat coverage and is water-proof. Made of high-quality ingredients, it is safe for sensitive skin too
Comes in 2 shade: Jerry Brown, taupe Tom
Available on Shoppersstop, Flipkart , Nykaa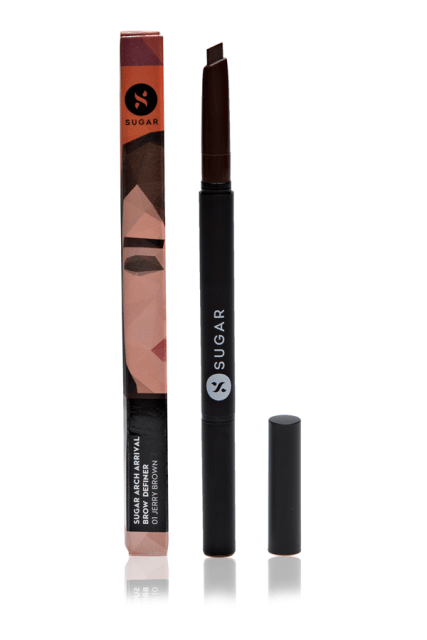 3. Colorbar Stunning Eye Brow Pencil (Rs 649 for 5gms): Colorbar Stunning Eye Brow Pencil is all-in-one eyebrow pencil which accentuates the shape of your brows and adds color & density to give you a bold look. It has good blendable coverage for natural looking, beautiful brows. This brow pencil is smudge-proof and comes with a unique spiral brow grooming brush to comb, set & style your brows to perfection. It is made with special powder matte formulation which fills in sparse areas & blends well to give definition with a natural finish.
4. Makeup Revolution Brow Dual Ultra Brow Arch & Shape (Rs 520) Makeup Revolution Brow Dual Ultra Brow Arch & Shape is a Dual ended Brow pencil for ultimate perfection brows. On one end we have a soft yet intense pigment Brow Pencil and on the other end a super-fine felt trip to allow you to draw, define and shape your arch, individual hairs. This pencil fill your brow in a Ultra professional way.
Comes in 4 shades; Fair, Medium, Dark and Darkest
Available on Jabong
5. Lakme Eyebrow Pencil (Rs 80 for 1.2g): Lakme Eyebrow Pencil is the oldest brow product I know. This eyebrow pencil gives a well-defined and groomed shape to your eyebrows but you need to be careful as it is a Black pencil. It claims to be water resistant eyebrow pencil. It is long lasting and doesn't require any touch ups and it can be used for a more dramatic, bold effects too!
6.Diana of London Double Ended Eyebrow pencil  INR Rs 499 Buy Here 
Diana of London Double Ended Eyebrow pencil is well suited for accurately filling, lengthening & shaping the eyebrows. Use the special pencil for ultra precision, then blend and shape with the brush. Dermatologically approved.
Comes in 2 shades: Black and Brown
Available on NYKAA, Amazon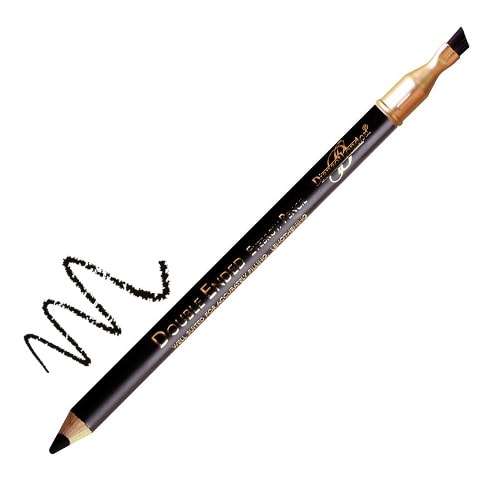 7. NYX Professional Auto Eyebrow Pencil INR 475 Buy Here 
NYX Auto Eyebrow Pencil create flawless arches. This eyebrow pencil has a blend of vegetable coconut and soy bean oil that guarantees a fluid application and sensational color. Use the built-in brush to blend color and style your eyebrows to perfection.
8. Wet n Wild Ultimate Brow Retractable Brow Pencil INR 399 Buy Here :
Wet n Wild Ultimate Brow Retractable Brow Pencil is an easy to use brow Pencil that fills in and define brows with unique triangular pencil tip. It creates small strokes to give natural hair look to the brows. Brush and blend out the eye brows with the pencil's built-in spoolie
9.PAC Defining Brow Shaper INR 350 Buy Here :
PAC Defining Brow Shaper has a velvety smooth texture with creamy formula that dries down to a natural powder finish. It is a double duty pencil that comes with a spoolie brush to comb and blend the eye brows seamlessly.
Comes in 1 shade
Available on NYKAA, Amazon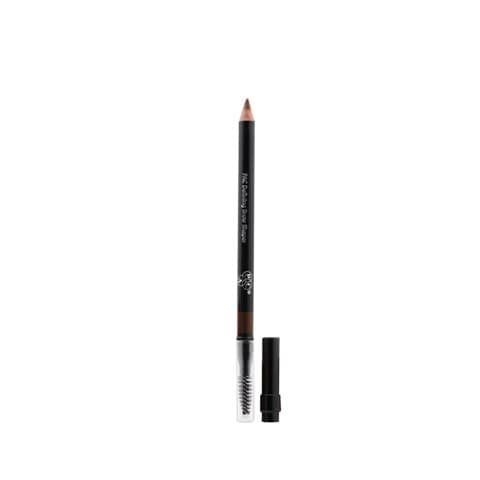 10. INGLOT Eye Brow Pencil INR 700 Buy Here   :
INGLOT Eye Brow Pencil is a sharpenable pencil with an eye brow brush on the pencil cap. This pencil's wax texture allows to control unruly brows, while subtle pigments allow the user to fill in sparse gaps in the eyebrows for extra definition. The creamy precision pencil defines eye perfectly and gives neat and polished looking brow. INGLOT products are Paraben Free and not tested on Animals.
These are the Top Eyebrow pencils available in India. Eyebrows makes a huge difference in the look and should never be neglected. It might take you a little while to master the art of defining and grooming your brows but it will be worth it!
Don't Miss to Checkout:
Have you tried any of these Eye Brow Pencils? Which is your favourite Eye Brow Pencil?