Best Elle18 Makeup Products In India
I am back with another affordable makeup brand in India, Elle18. Elle18 is one of those brands who make products for young college going troops. The brand offers budget-friendly products that can be easily used by makeup beginners. And I picked out the Best Elle18 Makeup Products In India that you should try!
Elle 18 is a makeup brand known for its chic and girly packaging. Elle18 Makeup range consists of affordable basic makeup products that every girl must have in their vanity. The trendy and bold colored nail paints, funky lipsticks, basic black and colored liquid liners are some of the most loved products from the brand.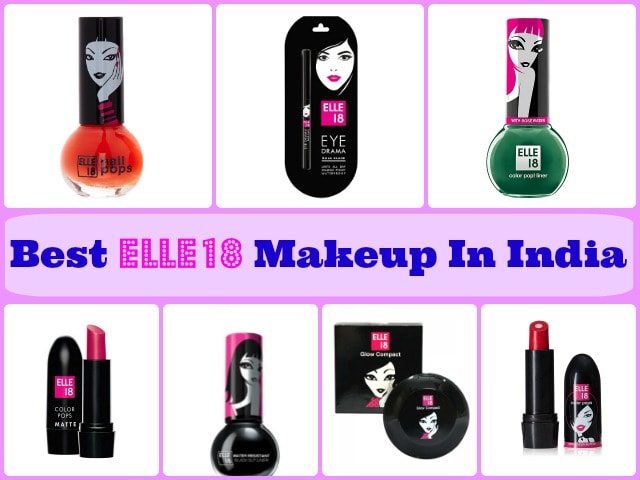 Elle 18 has extended their makeup line and included some ace makeup products too along with their existing lips, eyes and nail products. Elle18 products can be easily bought online and is available on most of the Popular e-commerce websites like Amazon, Nykaa. Elle18Makeup can also be bought from local beauty stores.
Let's check out what products Elle18, the affordable Drugstore Makeup Brand in India have to offer and why they are perfect for beginners or those on a budget.
Best Elle18 Makeup Products In India
Elle18 Nail Pops – Price: Rs. 60
Elle18 nail Pops are nail polishes with the cutest packaging. These nail polishes are available in all the funky bold colors for the young college going girls to play with. The range is huge and has 48 shades in varying finishes to choose from. The color ranges from dazzling reds to pretty pinks, electric blues, pastel mauves and tangy oranges.. The formula goes on smoothly and is quite pigmented.  The quality is really good for the price and they easily qualify for top Elle18 Products in India that you must try.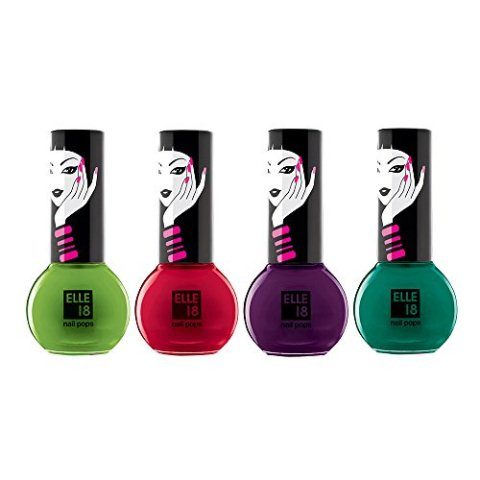 Elle18 Color Pop Liner – Price: Rs. 108 – Rs.138
Elle18 Color Pop Liner comes in a similar round glass bottle packaging as Elle18 Nail Pops. If you are tired of using the plain black eye liner then it's time add drama to your eyes with the Elle 18 Color Pop Liner. These are available in 4 water resistant colors – Blue, Purple, Brown and Grey. The formula has finely milled shimmers which add a beautiful shine and metallic touch to the finish. The brush is thin and gives super defined eyes in just single fluid stroke. The formula is water-resistant so it gonna stay longer on the eyes. These colored eye liners are definitely one of the Best Elle18 products In India.
Elle18 Blackout Liner Price: Rs. 150
Elle18 Water resistant Blackout Liner is a makeup must have for makeup beginners. It is a jet black eye liner with a new improved water-resistant formula. The brush applicator ensures you get super defined eyes in just a single fluid stroke. So, you can show off perfectly defined eyes anytime, anywhere. The formula is slightly runny so it does take a little longer to set but once its set it stays put. One of the best Drugstore Liquid Liner in India and a must have Elle18 beauty product in India.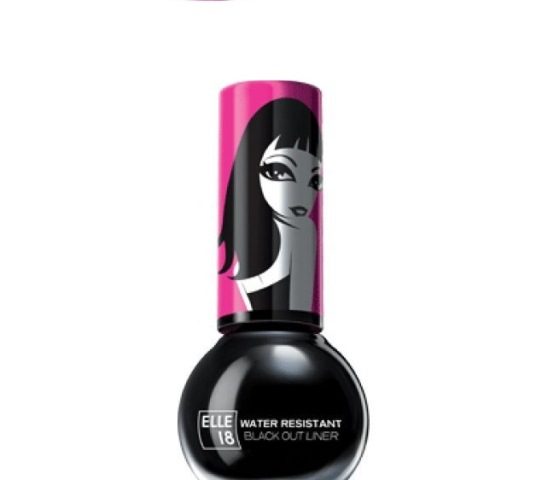 Elle18 Glow Compact – Price: Rs. 150
Elle18 Glow Compact is the most affordable face compact available in India. It comes in a basic black plastic packaging and is available in 4 shades. They have decently smooth texture which gives a nice smooth finish to the skin. The formula is pigmented and gives light-medium coverage. It works nicely as an Oil controlling face powder. It claims to be enriched with Vitamins E and C. This matte compact ensures smooth flawless skin everday. A great budget face compact in India.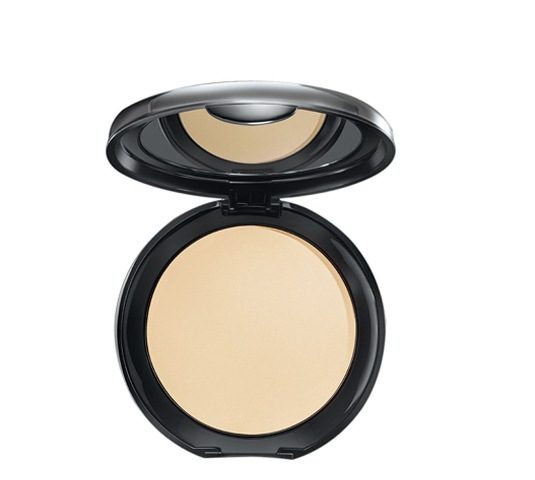 Elle 18 Eye Drama Kajal – Price: Rs. 135
Elle 18 Eye Drama Kajal is one the best Drugstores kajal in India. It comes in a retractable packaging. It has a buttery smooth texture which applies easily. The formula is beautifully pigmented and gives a rich color in single swipe. The formula is smudge proof and water proof which makes it last longer on lids. It is undoubtedly, one of the best kajal available in India.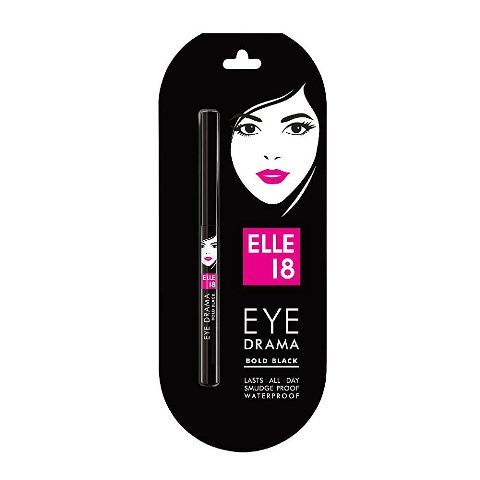 Elle 18 Color Pop Matte Lip Color – Price: Rs. 100
Elle 18 Color Pop Matte Lip Color are the latest launch by the brand are the most popular matte lipsticks in India in the affordable category. They come in the signature ELLE18 packaging with black case and a chubby oval cap. The formula has a satin smooth texture which glides on beautifully giving an even and opaque coverage in a single swipe. These Color pop Matte lipsticks are available in 20 bold and vibrant shades to accentuate your overall look. Elle 18 Color Pop Matte Lipsticks are one of the most affordable and Best Matte Lipsticks in India.
Elle18 Color pop Lipsticks – Rs.120
Elle18 Color pop Lipsticks are one of the most affordable lipsticks in India. These are dual core lipsticks having a clear lip balm in the center to moisturize lips while swiping the lipstick. These are super creamy lipsticks with an extra moisturizing formula with cocoa butter and jojoba oil. These are the best affordable lipsticks in India for dry lips.  They give a sheer color to the lips so the staying power isn't great but otherwise, a great affordable creamy lipstick in India.
So, this concludes my list of Must Have Elle18 Makeup products in India or the 7 best Elle18 Products in India. The range is perfect for college going girls who are on a budget but still wants to indulge in makeup. The range has some very bold and bright colors in each category. Elle18 products are easy to buy online or even in local beauty stores.
Don't Miss to Checkout:
Have you tried any of these Top Elle18 Products in India? Which is your favorite Elle18 Makeup Product?

PS: I do not claim the owner ship of images used here