Best Drugstore Color Correctors: Redness and Dark Spots
Color correcting makeup is immensely popular since most women are facing skin redness, dark spots, blemishes, and other issues that make their facial skin tone look anything but even. The best drugstore color correctors can help make face flaws disappear.  Typically, hyperpigmentation (aggressive coloring of certain skin areas on the face) can hide a medical condition. The dark spots on the skin might be caused by pollution, hormones, inflammation, or excessive sun exposure.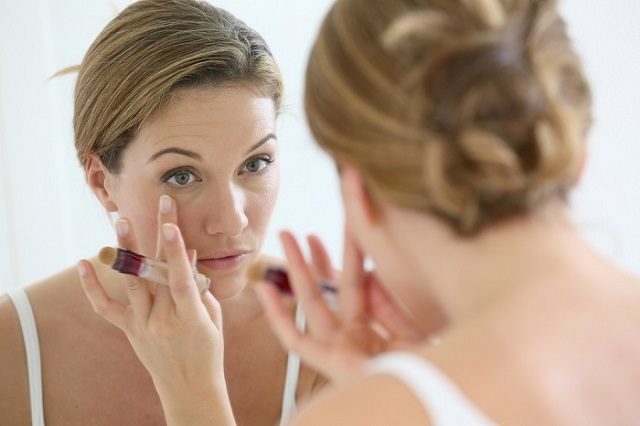 Image Source: Depositphotos.com
The Science Behind Color Correcting
Color correcting means playing with the color wheel. You neutralize and conceal a color by applying the its opposite on top. Color correcting makeup includes colors such as peach, pink, orange, green, white, yellow, and purple. You can hide veins and treat blemishes, skin redness, and dark spots with these shades. Here are the most efficient:
Peach

: Covers the dark circles under the eyes or local blue discoloration.

Orange

: Brightens the undereye area, dark marks, and the center of the face.

Pink

: Brightens the undereye area, covers temporary signs of fatigue.

Yellow

: Hides veins, purple undereye circles, and bruises.  

Green

: Minimizes face redness, hide zits, and covers acne scars.

Purple

: Neutralizes disturbing yellow skin undertones, refreshes dull complexions.

White

: Highlights a few areas on the face such as the upper cheekbones, undereye area, and ears.  
Before moving on, you should be fully aware of the area you need to correct, what you need to cover (the issue), and the shades that get the job done. Without taking these steps, you might end up failing to make your face look as if you don't have any hyperpigmentation issues at all.
Best Drugstore Color Correctors for a Flawless Look
Below we will show you the top-selling products in their category which should live up to anyone's expectations. If you are struggling with hyperpigmentation or an uneven skin tone, and the issues you need to correct require a drugstore color corrector available in different colors, you can check the linked article for the top 10 best products.
Now, let's see the best drugstore color correctors for a flawless face:
L.A. Girl Pro Conceal Set
It is better to have an entire set, instead of just a product. The L.A. Girl concealing set includes shades of orange, yellow, and green to cover most of the skin conditions that a woman may encounter. You can use them individually for a complete makeup.
The set helps you cover blemishes, red imperfections, local pink tones, and much more. Each of the items has a long-wearing formula that typically resists sun exposure and sweat. You can even minimize fine lines and small wrinkles with these products. The concealing set might be useful if you have purchase it for a different purpose, but your face is prone to developing zits.
2. NYX Color-Correcting Primer
This product can turn your skin coloring issues into invisible allies. Available in green, yellow, purple, and pink, the NYX primer works as a primer for any makeup you might think of. The corrector is efficient if you only have one skin condition that doesn't require a lot of attention.
Women that only have one skin issue usually use a BB cream that changes their faces' undertones a bit. However, the CC primer has a brightening shade that softens the area it covers to make other products easier to apply. Some users even say that this color corrector is the Instagram filter for real-life makeup.
3. e.l.f. Tone Adjusting Face Primer Neutralizing Green
Sometimes, face coloring issues go beyond just fixing an uneven or unwanted tan. Skin redness may have many causes, but it is usually hard to heal. The green color neutralizer can give your skin tone an even look.
You need a precision-application product when you try to use green to hide redness. Otherwise, you will end up with pale skin when overusing the product. The e.l.f. Tone Adjusting Face Primer Neutralizing Green comes in a pump bottle packaging which is easy to use. 
4. Urban Decay Naked Skin Color Correcting Fluid
Urban Decay is a brand that takes into account every skin issue when releasing a product. The liquid corrector is suitable for all skin tones and comes in five shades: green, yellow, peach, pink, and lavender.  Such versatility will help you minimize any redness, dark circles, dull skin, and blue undereye bags.
You can use the liquid concealer the same way you apply the regular one. The product is fast absorbing, so you don't have to wait too long to resume your makeup routine.
5. Kiko Colour Correct Concealer Palette
You will need more products if you have a challenging complexion with more than one pigmentation issue. The Kiko Color palette includes white, green, blue, yellow, and brown. This concealer palette stands out because it is dermatologically tested and suitable for all skin types.
You can use it to hide dark undereye circles, redness, zits, irritations, and even blemishes. The product has a long-lasting formula that promises to keep your face skin for at least eight hours.
Why Look for the Best Drugstore Color Correctors?
The human face's attractiveness is tightly connected to numerous social consequences, according to a study. People subjectively decide whether you are attractive or not and treat you as such. Your face is an essential factor that might change such a decision which the perceiver subconsciously makes. Fortunately, any skin issues can be corrected with the right product, so look for the best concealer for you, use it as per the label's indications, and enjoy a flawless face!
Do you use Color Correctors? Which one is your favorite Color Correcting Primer?