10 Best Anti Aging Serums in India 2018
I am addicted to SERUMS!! And this is the kind of addiction that I don't want to move away from. Creams have a heavier texture and they take longer to penetrate into the skin but the facial serums have a thinner consistency and seep deep into the skin really quickly, showing faster results.  So, if you are concerned about your aging skin and want some help to fight signs of ageing, Anti-aging facial serums can save you. And the best time to rejuvenate your skin with Facial Serums is while you are sleeping because at that time body is relaxed and away from pollution, UV rays, and harsh weather conditions. So, today I am sharing 10 Best Anti-Ageing Facial Serums In India 2018 which will help you pick one for your skin concerns.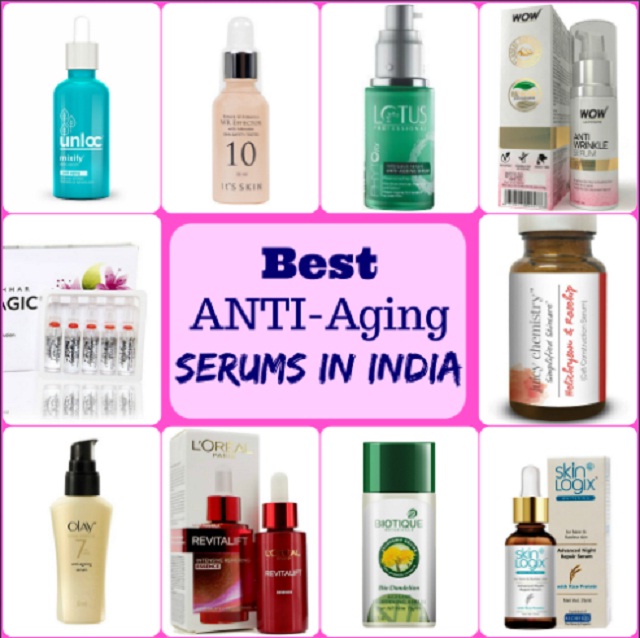 These Anti-ageing facial Serums or Serums in general are actually a highly concentrated blend of active ingredients that gets absorbed quickly into the skin and starts with Skin rejuvenation. These are light weight serums so they are suitable for all skin types and never feels sticky or heavy. Facial serums are an essential part of my skincare regime  as they help restore skin's moisture leaving it soft and supple. Hence, I compiled this list of Best Face Serums in India keeping in mind different skin types and aging skin concerns of the modern woman. So, lets get started with best skin serums for dry, oily, combination, and ageing skin that are easily available in India and see who all fall under the best facial Serums: Anti-aging in India
I hope you enjoy the video version of this post too:
Top 10 Anti-Aging Facial Serums in India:
1.MIXIFY Unloc Anti Aging Face Serum: Rs 595 for 30 ml – This MIXIFY Unloc Anti Aging Face Serum is infused with Hyaluronic Acid, Vitamin C and natural plant extracts of Berberis, Mushroom, Lemon and Licorice. Hyaluronic Acid replenishes skin's moisture which is vital to have a younger looking and get rid of wrinkles. Also, Vitamin C protects the skin from environmental damage with its Anti-oxidant properties and produces collagen which in turn rejuvenates skin, reduces wrinkles and signs of ageing. This Natural anti-aging Serum is made with only natural plant extracts and its nourishing, exfoliation and soothing properties, helps skin to reduce fine lines and tightening of the skin. And also protects skin from premature ageing.  It is the best face serum for skin with ageing issues.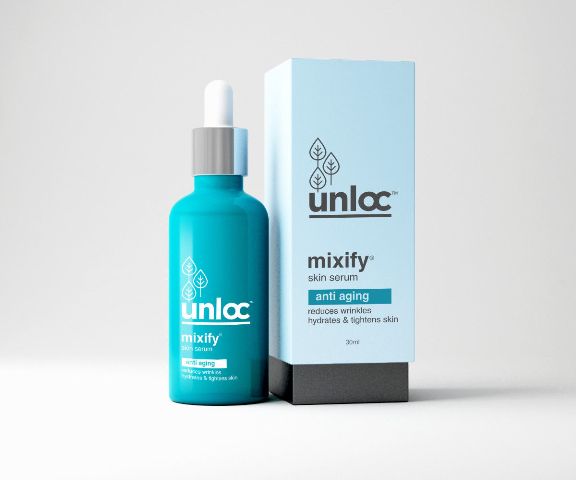 2. Its Skin Power10 Formula WR Effector: Rs 950 for 30ml – It's Skin Power 10 Formula WR Effector has a rich formula that is created specifically to deal with anti-aging skin issues like fine lines and wrinkles. It features a blend of effective natural ingredients that work in synergy and leaves skin with a brilliant radiance. It not only adds a healthy glow to the skin but also has nourishing ingredients that enhances the beauty of skin. This facial serum is best suited for dry and ageing skin.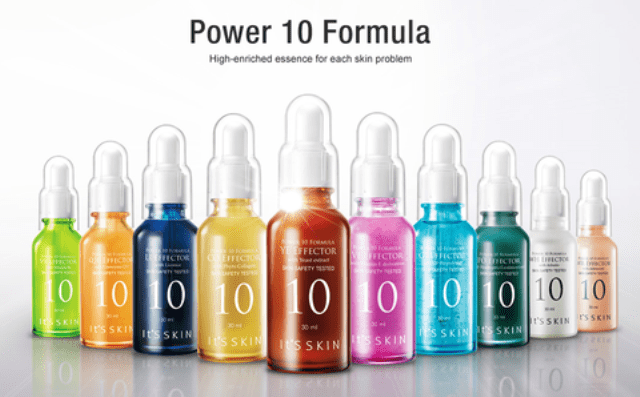 3. Lotus Herbals Phyto-Rx Intensive Repair Anti-Ageing Serum: Rs 775 for 30ml – Lotus Phyto-Rx Anti-Ageing Serum is a concentrated blend of Ginseng, Ginger and Whey Protein extracts. The formula helps stimulate skin-firming collagen to reduce the appearance of fine lines and wrinkles and also improve suppleness. Lotus Professional Phyto-Rx Intensive Repair Anti-Ageing Serum is free from any artificial fragrance and color. One of the most easily available Anti-aging face serum in India.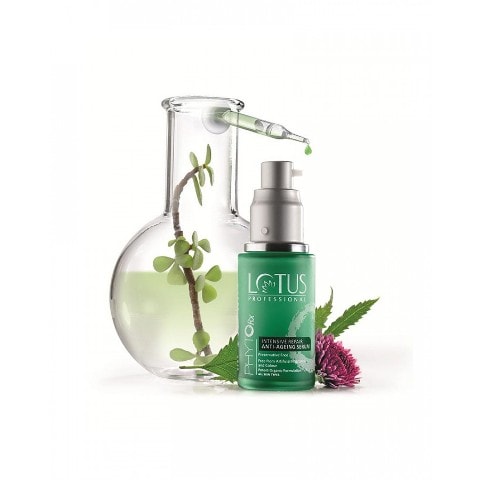 4. Wow Professional Anti Wrinkle Serum : Rs 799 for 50ml – Wow Professional Anti Wrinkle Serum is formulated with Tamarind Extract which helps in reducing skin roughness and increase skin elasticity. This reduces sagging and puffiness of the aging skin. Also, it is enriched with water from the himalayan springs, which improves skin texture. The anti-aging and anti oxidant properties of this formula rejuvenate and nourish the skin, promoting cellular regeneration to keep skin looking youthful and radiant. The formula has a soft, silky feel which penetrates quickly and leaves skin feeling soft and alive. This Anti Aging Serum's highly active concentrate hydrate, protects, and visibly firms the skin. And this makes it the best Anti-Wrinkle Serum in the market.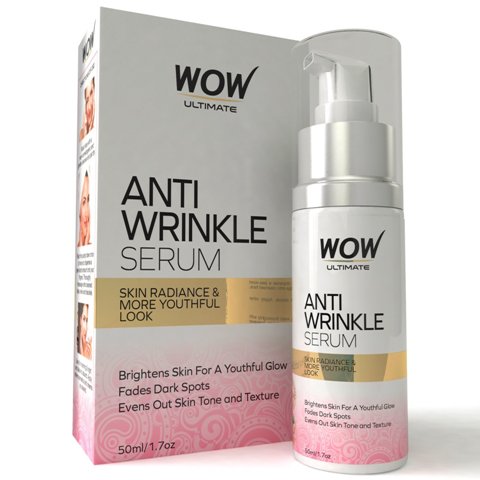 5. Aroma Magic Skin Firming Concentrate: Rs 700 – The Skin Firming Concentrate by Aroma Magic is formulated with natural extracts of Grapeseed and Amalaki along with the blend of essentials oils of Sea buckthorn and Neroli. It works on restoring skin's the while reducing wrinkles and firming loose skin on the face and neck. This concentrate aka serum is an effective remedy to get rid of eye bags, double chin and fine lines near the eyes. This Aroma Magic Serum is a one stop solution for sagging and ageing skin. Let age just be a number with this magic potion!
6. Juicy Chemistry Helichrysum & Rosehip Serum (Cell Construction Serum): Rs 550 for 10 ml – This Juicy Chemistry Serum is a great moisturizer and steadily repairs and reverses damage. It also helps in reducing pesky marks from breakouts, pigmentation or random spots. The formula is enriched with carrot Seed Oil which is a powerful antioxidant, Geranium to soothe inflammations and Helichrysum to keep skin soft and nourished along with many other essential oil for a healthy, younger looking skin. It is one of the best anti-ageing facial serum suitable for ageing and combination skin!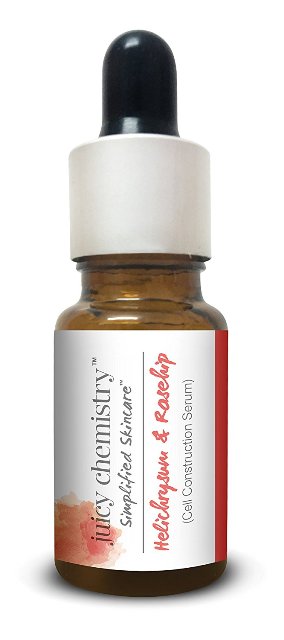 7. Olay Total Effects 7 In One Anti-Ageing Smoothing Serum: Rs 849 for 50 ml – Total Effects 7-in-1 anti-ageing Serum contains the highest concentration of VitaNiacin. It is fast-absorbing and non-greasy serum which provides 7 anti-ageing benefits like reducing dark spots, smoothening fine lines and uneven skin tone. The formula provides nourishment to the skin making it softer, firmer and radiant which helps it stay looking young. Along with its lightweight texture, this serum promotes easy absorption and deeper penetration of actives which is highly beneficial for the skin. It is one of the most popular Anti wrinkle face serums available in India at affordable price.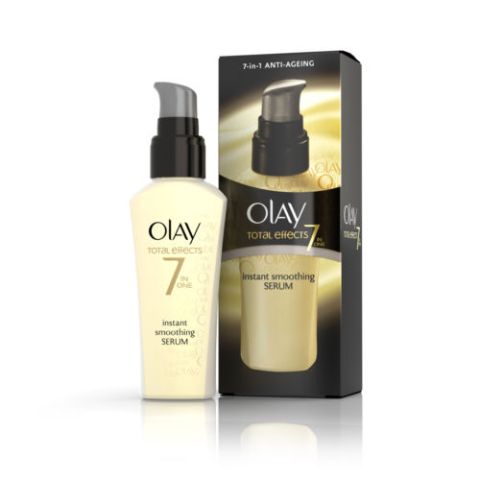 8. L'Oreal Paris Revitalift Intensive Repairing Essence: Rs 995 for 30ml – This L'Oreal Revitalift Intensive Repairing Serum has a thin and fluid texture which smoothly glides and immediately penetrates into skin, leaving skin silky soft without any sticky feel. It is infused with PRO-RETINOL A which stimulates cell renewal to thicken the epidermis to reduce wrinkles. The formula help retighten the skin by replumping it. This anti-aging serum instantly moisturizes, firms, and visibly smoothens the skin. And with regular use, skin texture is improved. Skin is regenerated and revitalized. Skin looks younger with radiant glow. One of the best anti-ageing facial serum suitable for ageing and combination skin!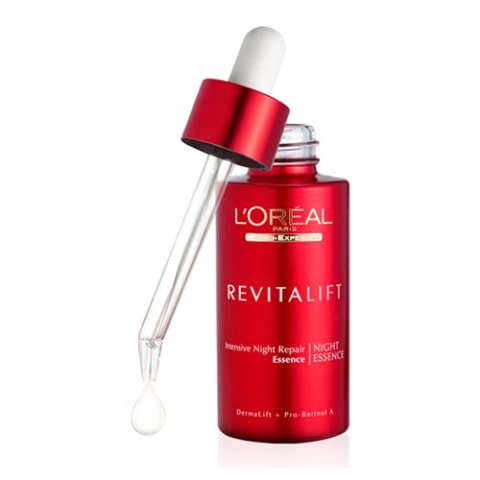 9. Biotique Bio Dandelion Ageless Lightening Serum: Rs 690 for 190ml – This Biotique Bio Dandelion Ageless Lightening Serum is made with a blend of pure dandelion, Vitamin E and minerals, with nutmeg oil. The formula nourishes the skin keeping it moisturized and also improves the skin texture making it appear smoother by fading away the wrinkles and dark spots. Dandelion is anti-microbial and is known for its nourishing, clarifying and rejuvenating properties. It lightens dark spots and brightens skin tone for a more vibrant, younger and flawless complexion. Also, it organic and preservative free formula is a big Yay! It is one of the best face serums for Oily and acne prone skin along with Anti-aging benefits.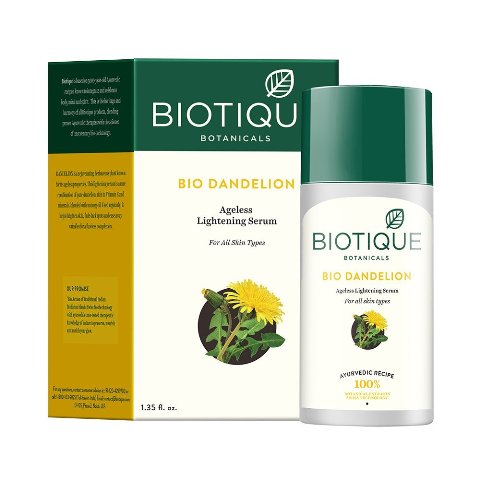 10. Richfeel Skin Logix Anti-Ageing Advance Night Repair Serum: Rs 779 for 25 ml – This Richfeel Skin Logix Anti-Ageing Advance Night Repair Serum is developedwith Swiss Apple Stem Cell Anti-ageing formula. The formula works with body's natural healing cycle to rejuvenate skin at night. With regular use it reveals a smoother, more radiant, youthful skin.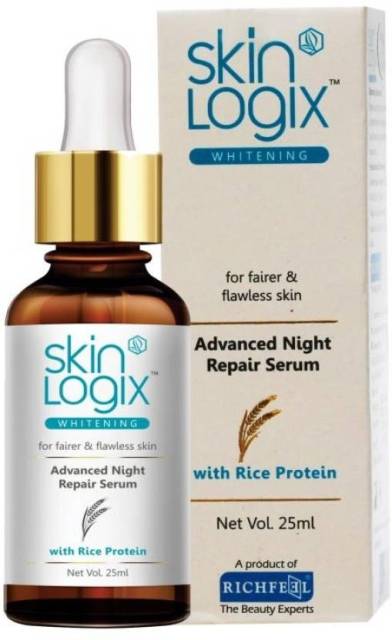 So, this  concludes my list of Best Facial Serums in India for you to try. I have looked out only for affordable facial serums in India so you can enjoy a youthful, radiant skin at a lesser price.
The world is going crazy over " Serums" and they are a hit Indian women as well. These facial serums got a boom because of the Korean Skincare as usually the Korean women have a blissfully beautiful, flawless complexion with a natural radiance. Undoubtedly, everyone loved to have a similar complexion so they jumped into this Facial Serum Bandwagon. So, I hope all my skin-care savvy girls out there enjoyed this updated list of 10 Best Anti Ageing Facial Serums in India 2018, all under Rs 1000, so its affordable for everyone. Also, you can pick one from these best face serums for oily, combination, dry and ageing skin which are easily available in India.
Don't Miss to Checkout
Have you tried any of these Anti-Aging Facial Serums? Do you use any Anti- Aging Serum in your skincare Routine?