Benefit Posietint Cheek and Lip Tint Review
I first saw this Benefit Lip and cheek tint "Benetint" and I just wanted to have it with me, such an amazing berry pink shade and being a tint it is supposed to feel super-light on skin and last longer than any of the creamy or powder products on skin. Though I didn't got my hands on "Benetint" but I have another shade from the collection, Benefit Posietint Cheek and Lip Tint.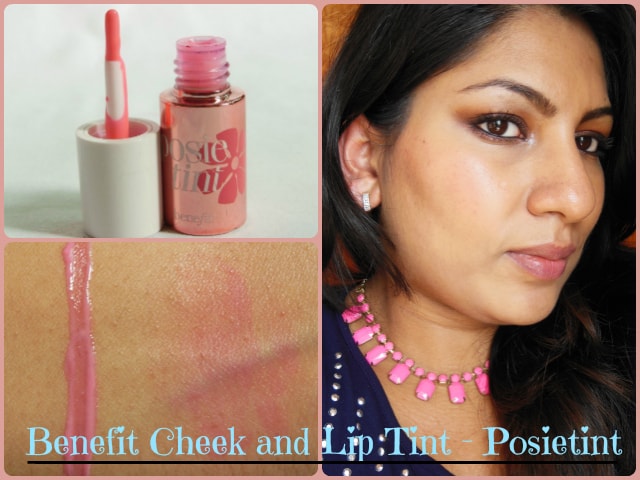 Product Claims:
Why we love it! – This poppy-pink tinted stain brightens cheeks & lips with a cheery flush and natural finish. Kiss-proof & nuzzle-proof, the liquid-gel formula blends to just-picked perfection on all complexions and lasts for hours.
Give your cheeks a warm, vibrant flush by sweeping CORALista on top of posietint.
Direction for Use:- For the most even flush, dab posietint on our foundation brush and blend on one cheek at a time.
Ingredients:- Water (Aqua), Ethylhexyl Stearate, Butylene Glycol, Hydroxyethyl Acrylate/ Sodium Acryloyldimethyl Taurate Copolymer, Pentylene Glycol, Phenoxyethanol, Squalane, Polysorbate 60, Titanium Dioxide (Ci 77891), Disodium Edta, Tetrasodium Edta, Iron Oxides (Ci 77492), Red 27 (Ci 45410), Iron Oxides (Ci 77499). N° 03540/N.
Price:- $30 for 12.5 ml
Available in 3 shades:
Poisetint
Cha Cha Tint
Benetint
Packaging:- Benefit Posietint comes in a cute round nail polish like packaging with a printed pink bottle and white plastic applicator with a fluffy brush. The applicator is just like a nail paint brush but it must not be used for direct application on cheeks because I am sure you don't want streaky looking blush 😛
My experience with Benefit Posietint Cheek and Lip Tint:-
Shade: Posietint is a lovely soft muted baby pink shade which work best on fairer skin tones and will come out really well but on warm skin tones it requires 2-3 layers just to give a hint of color to the cheeks.
Formula: Benefit Cheek and Lip tint in Posietint has a medium-thick liquid texture, not as runny as Benetint and hence applies easily. It is free from any glitters or shimmers and the formula doesn't have any stickiness or greasy feel. It feels absolutely light on skin and once can easily forget whether she has some makeup on. It's a stain so be quick in blending it or you will be left with a pink streak on your cheeks.
Pigmentation: Posietint gives just a flush of color to the cheeks and even on lips. It can layered for a deeper color but the color remain look subtle on me.
Staying: Benefit Cheek and Lip tint dries pretty fast with quickly settling from moist to dewy and then to an almost matte finish. The staying power is 4-5 hours when used as a blush after which it starts fading and on lips its lasts for 2-3 hours and becomes undetectable after that.
Application:
As a cheek Tint: Be careful while blending the color on cheeks as it is quite staining and if not blended quickly you will get patchy/streaky application and no amount of blending can even that out. I used my fingers to blend it on my cheeks but you can use any buffing/ blush brush too but be sure that it will take more amount to work up and the formula will be absorbed by brush bristles and you end up with stains. It stains my fingers though when used for blending. It gives a sheer stain kind of look and being such a light shade it takes a lot of effort to show up on my warm skintone.
As a lip Tint: I directly apply the tint using the brush applicator that comes with the tint. If you have un-pigmented lips it might works as pink stain for lips but it is very drying and you need to slather lip balm quite soon. I have to be quick with evening out the color as usual.
Pros of Benefit Posietint Cheek and Lip Tint:-
Light weight formula
No greasy or sticky feel
Sheer color payoff
Buildable pigmentation
Works well for fairer skin tones
Cons of Benefit Posietint Cheek and Lip Tint:-
Must be blended quickly or will get streaky application
Doesn't show up well on pigmented lips
Need to be applied heavily on warm skin tones
Makes lips dry
Pricey
Recommendation:- Benefit Posietint Cheek and Lip Tint is a light pink tinted stain which sheers out to give a natural pink flush on cheeks. The formula feels light and non-greasy but the color pay off is not upto the mark and needs to be layered heavily to show up on me. It stains my fingers better than the cheeks when used for blending 😛 . Also, you have to be super fast blending this in or you will those streaky lines on cheeks and even on lips giving a uneven look This Posietint shade didn't work for me, wrong pick 😛 !
Rating:- 2.5/5
Have you tried Benefit Posietint Cheek and Lip Tint? Any cheek or lip tint you are loving currently?