Bed Head TIGI Masterpiece Massive Shine Hairspray
I have to admit that I am not into hair styling at all and using hair sprays (like Bed Head TIGI Masterpiece Massive Shine Hairspray) has never been on my mind . It's not that I don't like it or enjoy those beautifully styled hair. I just find the whole process very time consuming which is not feasible for me. Another reason was no matter how much time I spend curling or Styling them, they return to their original self in an hour or so. Sounds heartbreaking.. right! But I was missing something and that is a Hairspray. I have used Hairsprays only when I got my hair styled at a salon. Needless, to mention I love how perfect my hair look even after hours. So, I was super excited when I got Bed Head TIGI Masterpiece Massive Shine Hairspray to try.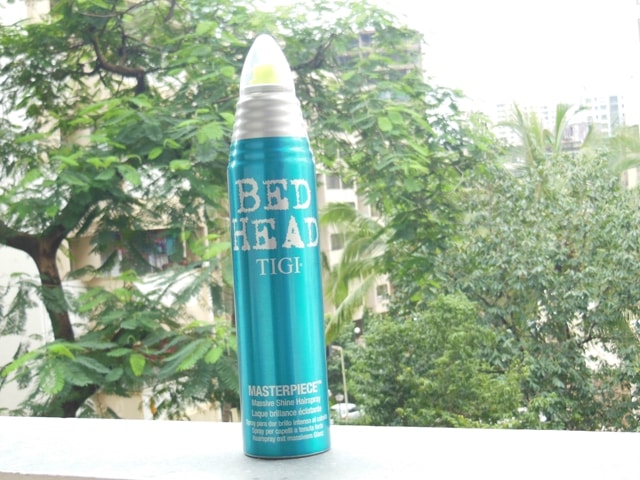 Product Description: Turn your hair into a work of art that lasts all day! Massive shine, serious hold!! Voila!
What It Does:
Any hair length and texture
How to Use: As a working hairspray, hold can 8-10 inches from hair and spray over styled hair or spot spray as desired. For finishing touch, hold 10-12 inches from hair in short bursts over finished hairstyle Using with heat tools, spot spray each section with a light misting as you style, finish your look with a final layer to set.
Ingredients:
Panthenol: Fortifies hair shaft and give Body
Pentaerythritol Tetra Caprate/caprylate: Gaurds against Dryness
Phenyl Trimethicone: Adds Gloss and shine
PEG/PPG-17/18 Dimethicone: Conditions Hair
Price: RS 950 for 300 ml ( Buy Here )
Packaging: Bed Head TIGI Masterpiece Massive Shine Hairspray comes in an appealing missile look-alike packaging loaded with everything you will need to style your hair. I love the bright color of the bottle and that unique bullet shaped cap. It is a huge 300ml bottle so definitely not travel friendly but It will look chic and sassy sitting on the dresser, for sure.
My experience with Bed Head TIGI Masterpiece Massive Shine Hairspray:
Bed Head TIGI Masterpiece Massive Shine Hairspray comes with a Spray dispenser which works very well dispensing the product in a fine mist, hence better distribution.
It has a mild sweet-coconutkinda fragrance which is a plus as I completely detest the weird chemical scents of Hairsprays. Though I am not into fruity scents and it is slightly strong for me but If you love fruity scents you are going to love it even more.
Let's see how Bed Head TIGI Masterpiece Massive Shine Hairspray performs on my hair:
Results:
Shine: The hairspray adds a lovely shine to the hair making them look healthy. It will make dull hair look lustrous and shiny but in case you are wondering, it doesn't add that glistening glossy shine as seen in TV commercials.
Hold: I wasn't actually expecting it to give any hold but I am so happy that it does such a beautiful job at it. The sprays holds hair really well without making them stiff or hard
Texture: It definitely adds some texture to the hair, making them slightly thicker. I already have thick hair so I can do without it. But if you have thin hair you will love the way it makes your hair look. I must mention that it doesn't make hair crunchy or crispy which is so relieving.
For a soft daytime styling, I lightly spray it all over your hair once I am done styling them. For better hold and results I use a little more. But I don't have to use much to get the results I want. I am pretty sure this bottle is going to last long.
Usually, with hair sprays I have to wash our hair next day to look human. But with this one I am spared for few more days. I comb my hair very gently by running fingers into them, and they are back.
The product does contains Silicones which might damage hair in the long run, so make sure you use it sparingly.
Recommendation: Bed Head TIGI Masterpiece Massive Shine Hairspray is an amazing hairspray which comes in an interesting Missile shaped bottle. It makes hair look better by adding shine and texture to them. It also works great as a setting spray and holds the style for hours. The hairspray is infused with a delicious sweet fruity-coconut scent which will be loved by many of you. The best thing about this hair spray is it doesn't make hair feel crunchy or hard. There is no stickiness or stiffness in hair which makes it a good option to style hair as frequently as I want. And, I can also skip washing my hair very next day. I just need few small sprays of this hairspray to add luster and life to my hair. It's definitely one of the best Hairsprays available in India. Highly Recommended!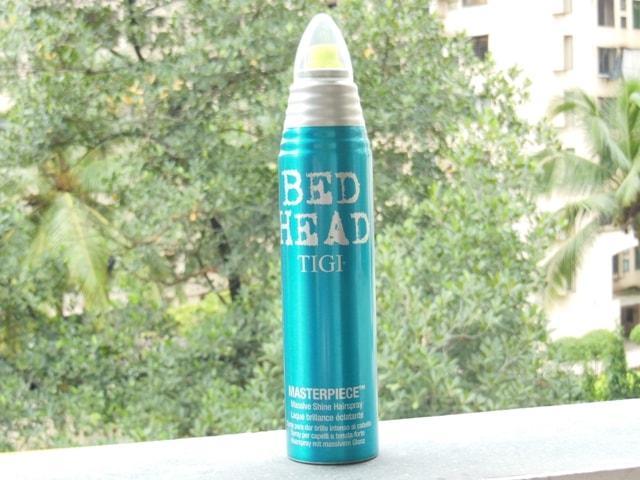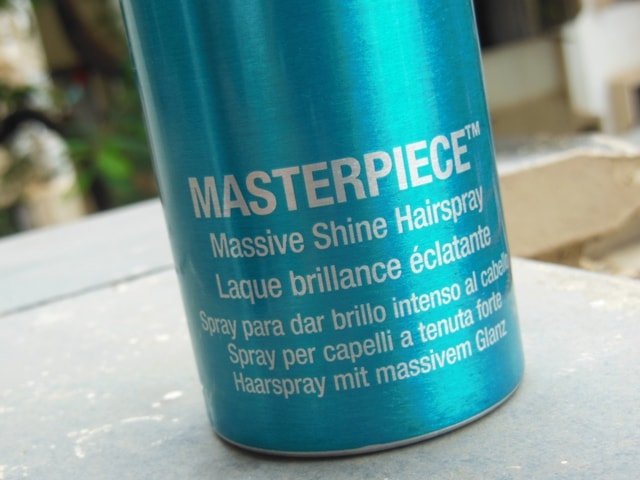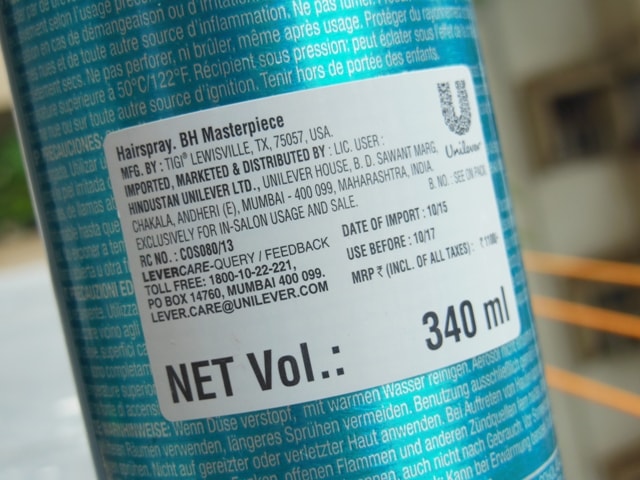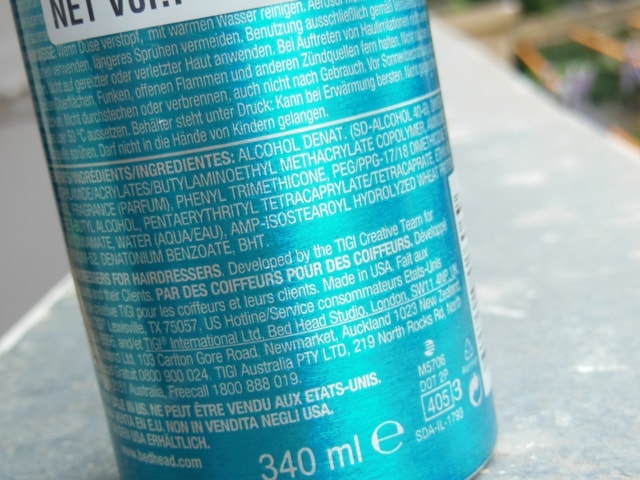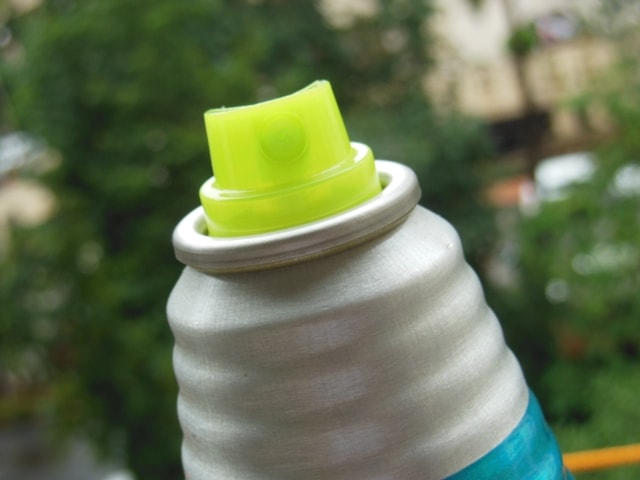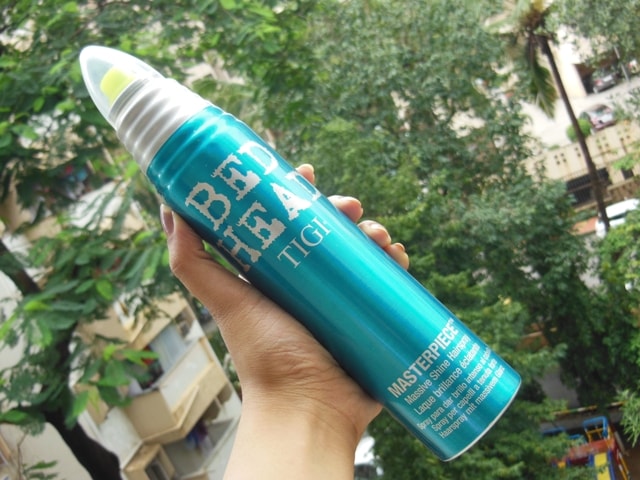 Rating: 4.5/5
Don't Miss to Checkout:
Have you tried Bed Head TIGI Masterpiece Massive Shine Hairspray? Which is your favorite Hairspray?
PS: Product sent by brand for consideration but honest and unbiased opinion!