Beauty Queens: Top 13 Makeup Products of 2013
I know it already 6 days since we wrapped up 2013, but the hangover will still take me few more days to get over completely. I am talking about the Beauty Hangover here :P. Initially, I thought of sharing only few of my favorites with you people but when I peeked into my stash I found it hard to pin down just a few of them as it would have been injustice to the rest of the products. So I had to share an extensive list of my favorites with you including blushers, face make up, nail lacquers and much more separately.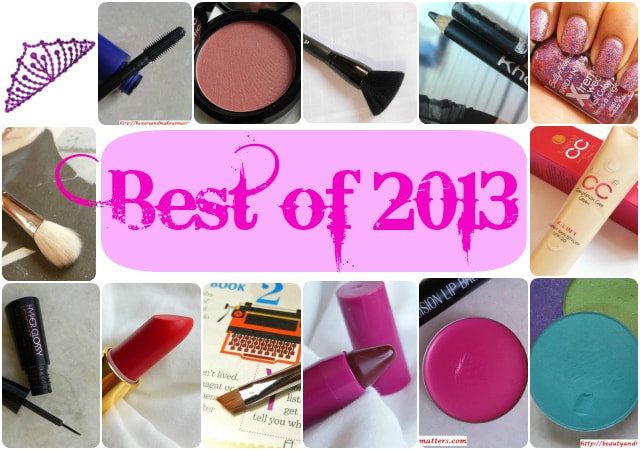 But then I decided to do wear that "Responsible Reviewer" hat and started sorting out the products that topped my list in 2013. I was planning to list just the Top 10 but then why not 13.. ;). So, here goes my list of makeup products who wore the "Beauty Queen" crown for their amazing performance in 2013.
CoverGirl Lash Blast Fusion Mascara: One of the mascara, never clumps and gives a natural looking dense lashes
NYX Illuminator – Chaotic: Add a subtle sheen to my face and nverer goes shimmery
ELF Studio Powder Brush: Blends in everything perfectly ranging from foundation, blushers a even loose powder.
Sally Hansen Nail Paint – Rockstar : I love glittery nail paints and this has been by far the best one with its super saturated shimmery formula
Bourjois kohl & Contour eye Pencil- Noir Expert: While the rest of you were swoon over Maybelline Colossal and Lakme Eyeconic, his has been one pencil that I always came back for those super intense black Kohled eyes.
Lakme CC Cream – Bronze: This has provided the perfect coverage for daily wear, it blends beautifully and gives a beautiful dewy finish to my skin, used it almost daily in the latter half of the year.
INGLOT Freedom System Eye Shadow Matte #372 :  Gorgeous Teal Blue eye shadow in matte finish. Love this.. <3
INGLOT Freedom System Lipstick Refill #53: I didn't had to think twice if I am set to sport bold lips with Neon Pink Lipstick
Revlon Just Bitten Kissable lip Stain – Smitten: Bright Fuchsia Pink lip color which is one of the longest lasting lip color, I have came across.
SIGMA Eye Makeup Brush – E65 Small Angled: Applies Gel Eye liners smoothly, useful in using eye shadow as eye liners and filling brows.
Revlon Super Lustrous Lipstick – Really Red: Bright Orangey Red lipstick in non drying matte finish.
Maybelline Hyper Glossy Eye Liner- Black – Dries within seconds of application to a lustrous glossy finish
SIGMA Eye Makeup Brush – E25 Blending Brush: Great for blending eye shadows in the crease
These were the staple products in my makeup bag and 2013 wouldn't have been that pretty without these.
Don't Miss to Checkout:
Don't forget to share your list of favorite products of 2013!