Beauty On the Wheels: Vanity Cube India
Hello Beautiful,
Hope you are having a wonderful week but do you wanna makeup it even better, I have an idea.. why not plan a Spa Session and relax over the weekend!! Ahh are you worried about reaching out to the Spa or couldn't leave house due to previous commitments! You still can enjoy those relaxing beauty services at your own place and that too without breaking the bank 😀 .. don't you believe me 😛 , have you heard of beauty services at your doorsteps (Ohh My Gosshh !!!!) Yes, even that is possible nowadays and I am excited to share how I was pampered by Vanity Cube Beauty professional at my place.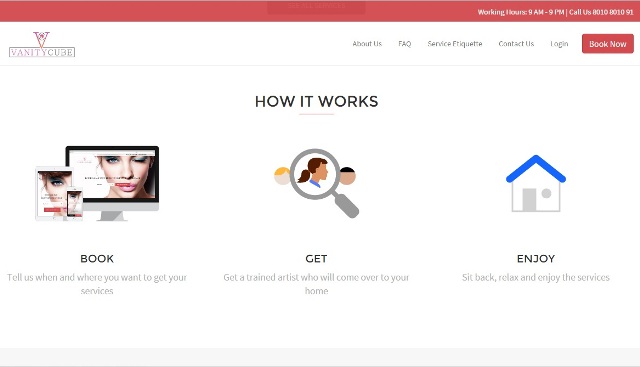 Introduction: Vanity Cube is "beauty on the wheels" which brought beauty services at your doorsteps, anytime anywhere. The offer everything you can think of having in a luxury beauty parlour including basic services like threading, waxing and also luxurious facials, hair spa, makeup, hairdo and hair color.
My Experience with Vanity Cube:
I booked an appointment day before the session and I got a confirmation call from them regarding the services. I requested them to make sure they come on time and bang.. the professional was at my place 5 min before the session (applauds!!)
She came in carrying the whole world with 1 huge-huge bag and 2 big bags filled with all the essentials required for the session. She was dressed well, just like you see someone in a professional saloon with hair all tied up in a lovely bun, dark kohled eyes (I cant ignore the makeup thingie 😛 ) and yes well dresses in a black tee.
It took her just a few minutes to do the set up and I was amazed that they were carrying towels, disposable sheets, disposable gown to make sure my room and my clothes doesn't get stained during the services.
Hair Spa: I have booked 3 services and we started with Hair Spa. She generously applied the Spa cream to every single strand of my hair and then the best part started with a heavenly head massage. I just loved the way she rolled her fingers over my head and took away all the stress and tension. I instantly felt so calm and relaxed. She ended it with a steam and the wrapped my hair with clips in a shower cap. Trust I have paid even more for a Hair spa and there was no head massage included in that. Totally worth it!
Rating: 5/5 !!
O3+Seaweed facial: If you know me, I have stopped visiting parlours because of hygiene issues and I never trust the products they use on me. Usually, the just term facials as pearl, gold, diamond but never mention the brand of products they will be using. So, yes a big Yayyy.. for mentioning about the brand and the type of facial you will be paying for.
And the facial was just AhhhhMaazziingg!! And it included 6 steps to infuse life into my skin. It started with a gel cleanser and followed with the softest scrub I have ever experienced. She used some steam to loosen up my pores and then did the blackhead removal part. Then she started massaging my face and neck to relieve my muscles of any stress and I was almost asleep during that. Next she applies a pace pack to close my pores and I though this was it but no. there was a rubber mask to follow… I loved it to the core.. and all of this just for Rs.2000.. "Total Piasa Vasool" I would say. Also, I liked that she was using disposable sheets to clean my face 😀
Rating: 5/5
Crystal Manicure/Pedicure: This was the last thing and finally some pamapering for my poor hands and feet. She used all of the Lotus herbal products from the Crystal Spa range. She pampered my feet with hot water and warm salts to soothe my leg and arm muscles with lovely rose aromatic crystals. I never saw anything like that before, it stole my heart.. <3 <3 . Then she buffed away dead skin from my feet, and nails. Also, she removed any cuticles and dead skin around. That was followed with a salt scrub and a good massage to finally moisten my arms and legs.. I was in a different world with so much pampering. She was carrying colorbar nail paints too but I just got them on my toe nails. It would have been even more amazing if she knew some nail art and could have done a French tip manicure sort of thing but other than that everything was perfect.
Rating: 4.8/5
Recommendation: As you can make out from the ratings, I am absolutely blown over by their services, not my therapist was well trained, she made sure I feel comfortable during the whole process and was quite organized too as even after so much, my room was clean and spotless. She wrapped up all the wastage with her and didn't left anything for me to clean up later. I loved that all the services were worth the money and weren't expensive. Now, you don't need to get ready, pull out car and drive to the salon to avail these services, just sit back on the sofa, book an appointment and donee!!

They currently offer their services in Delhi, Gurgaon and Faridabad but they are opening up in Mumabi too!! So, if you too lazy to go parlour or doesn't want to step out in scorching heat but still want to be pampered by a beauty professional, Vanity Cube is at your service

I am definitely going to have another appointment booked next month to pamper myself once again 😀
PS: Complimentary services provided by Vanity Cube