Beauty Bites: Favorite Makeup Brand
It sounds like a crime of naming a single brand as favourite with so many brands and their huge range of products. Each brand has some amazing entries and outstanding products to its name but the answer would be the one with the maximum.
It is quite difficult to answer and I might sound a bit partial towards the brand but I have reasons for the same! ( Yeahh. its related to money too.. but not that I am paid for!! 🙂 )
My pick is going to be Maybelline New York,  ** May be its Maybelline** 😉
The most important thing is the "Price", yeah isn't it the first thing that we ask to an SA and in most of the cases the deciding factor whether we are going to buy an product or not!! Maybelline has definitely one of the best pricing charts in the market. I havent come across any other brands with such a value for money products. Lest take Lakme and Colorbar for an example, both of them have been ridiculously hiking the prices especially with their new launches, Lakme lip tints are even expensive than the Revlon ones, lippies around Rs 600 and the same goes with Colorbar with its lip glosses around Rs 500, and ever increasing prices of its nail paints and you call them drugstore brands.
The second point could be introducing new yet innovative products. Maybelline is definitely topping the charts especially in this category. According to my information.
The first ever Gel liner introduced in Indian market was from Maybelline and that too at an affordable price tag of Rs. 350
 It was also the first one to launch the much coveted BB creams. Though it didn't received accolades for the formula but then came the BB stick which served as an quick makeup base and solved the blending, white cast and many other issues faced with the BB cream. BB stick has super-blendable texture and the stick form gives hassle free application.
How could I not mention the much loved Color Tattoo Eye Shadows and the brilliant colour collection. Eye shadows in a cream form was quite a new concept for Indian makeup but they blended well and served as great eye makeup bases too. I just the bright and bold color included along with the wearable shades.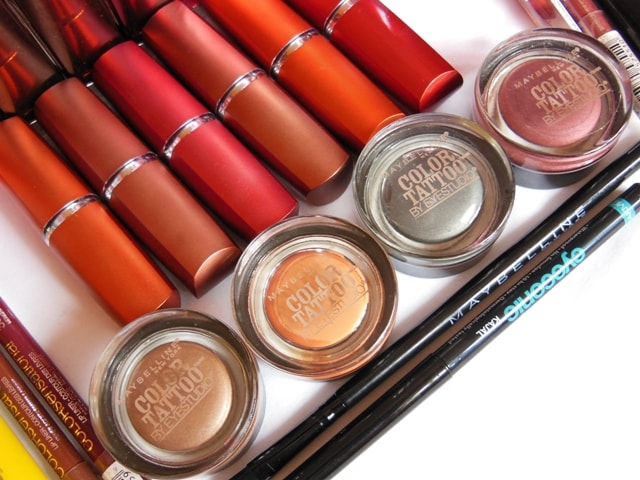 It would be incomplete I I do not mention about the Maybelline Moisture Extreme lipsticks here, The super smooth creamy texture,  superbly pigmented formula and a drool-worthy shade selection which has something for girls of all ages.
Whenever, I think of lip gloss the only that comes to my mind are sheer color, thick gooey and sticky texture with tons of unwanted shimmers but Maybelline changed the definition of glosses for me. It introduced non-shimmery glosses in its Color Sensational range for all those who just want to throw away their sheerly pigmented and super-shimmery glosses. It was an instant hit among teenagers and college going student which were fed of their shimmer glosses and they proved to be a bliss for pigmented lips too as they provided medium to full coverage without being thick and sticky.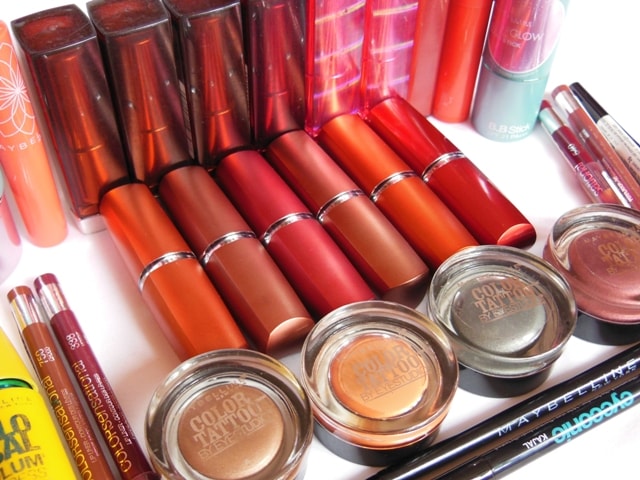 One thing that could be found in everbody's bag is a lip balm and she doesn't need to be makup fanatic to own many of them. Nivea was one of the ruling brands in lip balm section but they crumbled and melted under pressure and didnt came with many option but when Maybelline jumped into the ring, it was "raining Lip balms" all over. They have come up so many collections in this section like Lip Smooth Color & Care, Lip smooth Color and Baby Lips. Baby Lips lip balm comes in a super-girly colorful packaging and has won hearts of everyone with its wide range of tints and also the non-tinted versions. The same is true with its other range which gives you so many options to choose from.Its time to trash your worthless lip balms and give the affordable lip balms from Maybelline a try.
Maybelline Dream touch makeup base range has proved to be a bliss for oily skin beauties with its light weight, easily blendable and non-cakey formula. Also, it was easy on pocket and has large shades to suit every skin tone.
Its Colossal Kajal and Mascara are also one of the best products launched by Maybelline.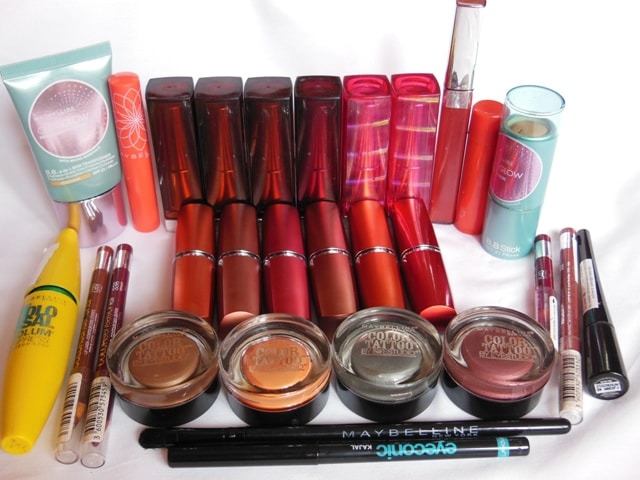 I believe this is enough for Maybelline to qualify as a "Favorite Drugstore Makeup Brand" . It has always stunned the make up world with its innovative launches at pocket-friendly prices and always comes up with huge array of shades to suits everyone's requirements. The best thing is it doesn't burn a hole in pocket and doesn't raise the price tags of its products even if they sells like hot cake unlike some other brands which raises the price bar of their most sought after products.  It is a complete makeup brand with its large range of products, unbeatable prices, superb quality, great selection of just everything.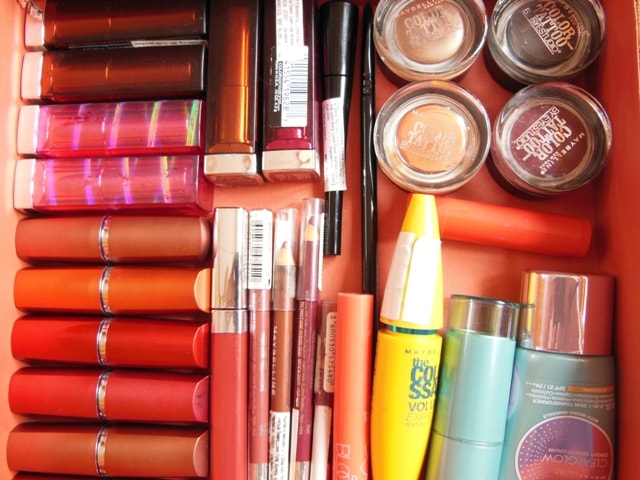 You don't have to pay too much or can I say more than Rs 600 for any of its beauty product which is a major advantage to college going students which have fixed pocket money and couldn't afford to spend much on makeup. There is something in this ever increasing inflation that isn't shooting up its prices even if the value is have a nose dive against Dollar.. 😛
Don't Miss to Checkout:
On my wish list is Maybelline Illuminator, its newly launched Color Sensational Lip glosses and the Colored hyperglossy Eye liners..Am I thinking of doing an haul post. Ooohh Yess!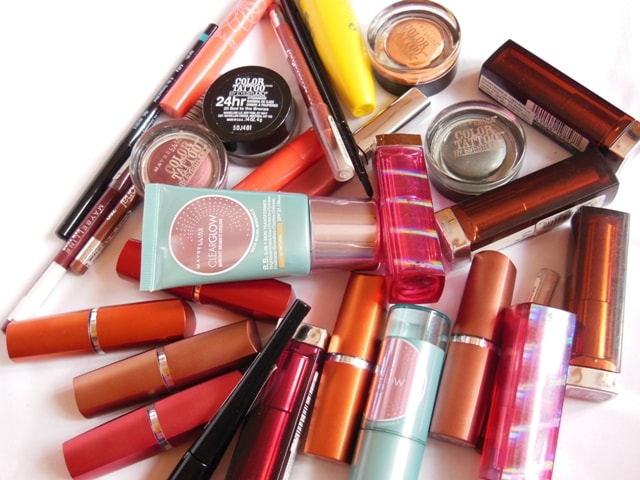 Which is your favorite Makeup Brand and Why?
FYI:- No I am not paid for doing this post and praising Maybelline. All thought and views shared here are my own.