Beauty Big Bang Nail Art Haul
I have something different to share with you guys today, a nail art haul. You won't believe guys I used to be obsessed with nail art thingy and actually used to practice easy patterns and designs on myself. But I didn't have proper tools to get the results crisp and clean. But then make up happened and nail art took a backseat. Now, after year I got a chance to try the nail art tools and get my creative hat on. I got a bunch of stuff from Beauty Big Bang which is a beauty retailer specialised in all kinds of latest cosmetics and nail art items.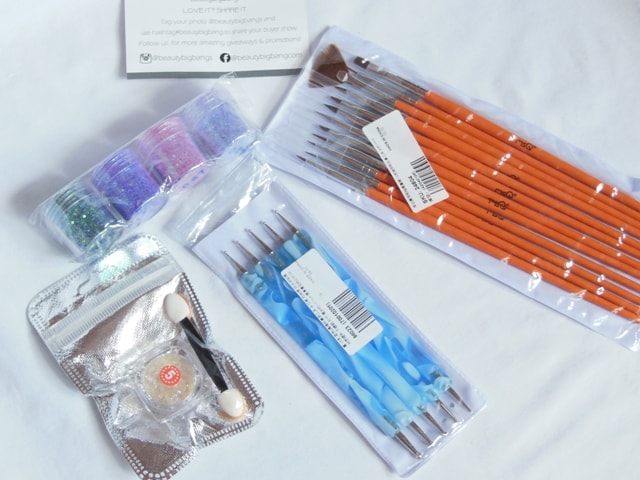 Products I Received:
PS: Get 10% off code "POON10" 
Video is live:
My experience with Beauty Big Bang and my Nail Art Haul:
Shipping: The products were delivered in good condition and the shipping was pretty fast as I received the package in less than 2 weeks.  The best thing is Beauty Big Bang offers free worldwide shipping and most of the products on the website are really affordable.
My favourite from all the products is the dotting tool. It has a blue marble body and they actually feel quite heavy. I got 5 different sized ones and all of them are double ended. So now I can get my dots perfectly in any shape and size.
The Brush set is also great to get those designs defined precisely. These are synthetic bristles and works nicely with the nail paints. There are 15 pieces of brushes which come really handy if you are into nail art.
The pigments and sparkler are a fun way to add some jazz to the regular old school nail art. I am definitely playing much more with these!
Have you tried Beauty Big Bang before? What would you like to try first?
PS: Products sent by brand but honest and unbiased opinion!