Beach Vibes: Makeup Geek Eye Shadows– Mermaid and Appletini
Hello everyone,
I have shared a few of my favorite from Makeup Geek Eye shadows and all of them belong to neutral/wearable family, so today I am going to introduce some gorgeous colors from my collection, Makeup Geek Eye Shadows – Mermaid and Appletini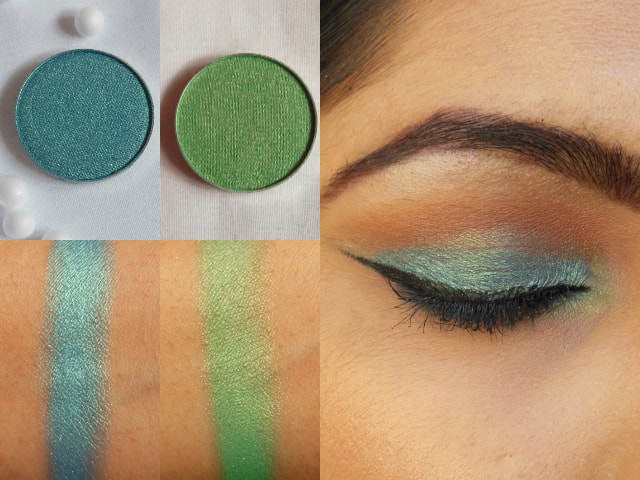 Product Claims:
These are all highly-pigmented – just check out the swatches!
Half the price of high end shadows without sacrificing quality
These pans can be placed in empty palettes such as Z-Palettes.
Eyeshadow pan weight is 1.8G / 0.064 oz
With a separate palette, you can build your own custom palettes
All our shadows are cruelty-free — we do not test our products on animals
These eyeshadows are Talc and Paraben-Free
See full ingredient listing.
We ship worldwide at affordable rates
Price: $6 for 0.064Oz
Packaging: Makeup Geek Eye Shadows comes in round refill pans which are housed in a pretty cardboard packaging carrying all the detail.
My experience with Makeup Geek Eye Shadows- Mermaid and Appletini:
Mermaid is described as "Metallic teal with reflects gold", is a gorgeous medium teal blue shade with golden green sheen. I feel it is a pretty peacock blue shade in pearly shimmery finish. It is a fun color which is great for doing colorful looks. The shade needs to be packed on to look as vibrant as it does in the pan and works best when used over a base+Primer.
Appletini is described as a "shimmery apple green with flecks of gold", is a beautiful medium green with finely milled golden shimmers giving it a lovely golden sheen. The color looks pretty intense in pan and slightly sheer when swatched on arms but it was hard to get a rich color on lids as it transformed to a more of a golden-green.
Formula: The eye shadows are buttery smooth but are super soft which makes them a little powdery and they kick a lot of product when picked with a brush especially Appletini. The colors look still pretty good when packed but sheers out to a great extent when blended. There is significant fall out with both the shades as they have very soft texture. The eye shadows doesn't hold as good as other shades from Makeup Geek and they fade significantly in 3-4 hours without any base.
Pigmentation: The color payoff is an issue with these Makeup Geek Eye shadows which is slightly disappointing. The eye shadows look so intense in pans and even come out rich in swatches but needs to be packed well on lids to get a rich color and I face major issues with Appletini to show up on lids.
PS: Tap the brush after picking the color from pan to kick off excess from the bristles which will reduce fall out on application.
Recommendation: Makeup Geek Eye Shadows- Mermaid and Appletini are pretty fun color with beautiful shimmery metallic finishes but formula of these particular eye shadows let me down. The texture was smooth but was powdery soft, the color requires to be packed well to show up on lids, there was fallout during application and also the shades tend to fade away quite easily. These are not the worst eye shadows but with Makeup Geek standards they aren't good enough. But I am still gonna use them and love them (Mermaid over Appletini) because they are so pretty.. 😉 <3!
Rating: 3/5
Have you tried Makeup Geek Eye Shadows- Mermaid and Appletini? Do you like such colorful eye shadows?
PS: Product sent by Brand for consideration