Be Berry Beautiful: Best Oxblood Lipsticks
With winters settling in, its time to bid good bye to bright Red pouts and say hello to deep lip colors in shades of Red like Burgundy and Wine-Red in short Oxblood. These gothic lip colors may look a little vampy (did I just pictured Edward Cullen in my head.. 😉 ) but adds lot of drama to the dull winter/gloomy days. Oxblood is undoubtedly one of the hottest fall colors this season.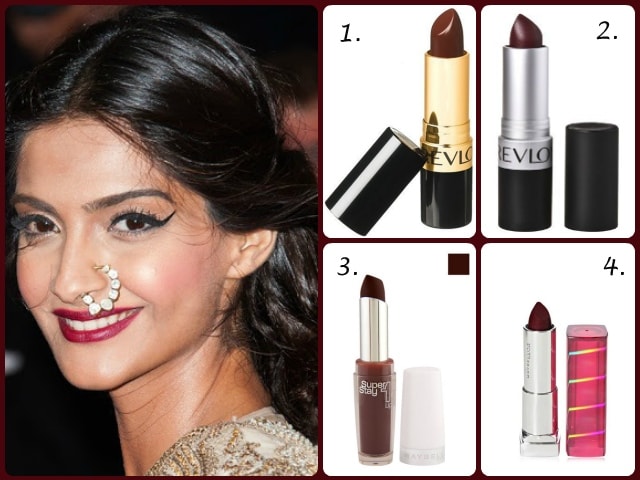 So, today I am listing some affordable Oxblood lip colors easily available in the Indian market.
Revlon Super Lustrous Creme Black Cherry
Revlon Super Lustrous Matte Wine Not
Maybelline Superstay 14 hrs Lipstick- Wine and Forever 
Maybelline ColorSensational Jewels Refined Wine Lipstick
I find Oxblood lips "Total Glam" and these wine shades look not only dramatic but especially beautiful on medium/dark Indian complexions. Totally floored by Sonam Kapoor Deep red lip look here… <3 <3 .. look on my to do list.. 😉
But if you are still a little hesitant with dark lip shades then go for sheerer formula before moving on to the bold lip look.
Revlon Color burst Lip Butter Red Velvet
Revlon Color burst Lip Gloss Bordeaux
Pick up your favorite shade to paint your lips and make a head turning statement with bold lips as there couldn't be more perfect time of year to wear such deeper burgundy hues for that magnificent classic look but the key here is to wear it with confidence.
Quick Tips on how to apply Oxblood lipstick:
For day time: Apply a layer of lipstick and blot with tissue to tone it down and to make it look matte.
For Night: Do not blot your lips and keep the color in its full intensity. Creamy, glossy lips look amazing.
I don't own any wine-red lip color but now I am all in to try Revlon Black Cherry or Maybelline Refined Wine but till I grab these I will try to create Oxblood lip color with the ones I own. Will let you know if I did get any success!
Are you comfortable wearing oxblood lips? Which is you favorite wine-red/oxblood lipstick?