BB Cream India: ElishaCoy BB Cream SPF 45 PA+++
Hello Gorgeous,
BB Cream or Blemish Balm Cream is one of the hottest beauty product in Asia. We already have a lots of BB creams in India from Indian drugstore brands but the trend was kicked off by Korea and Korean BB creams are still hands down the best. So, Today I am going to share my review on this Elishcoy BB cream, ElishaCoy Premium Gold Mineral BB Cream SPF 45 PA+++.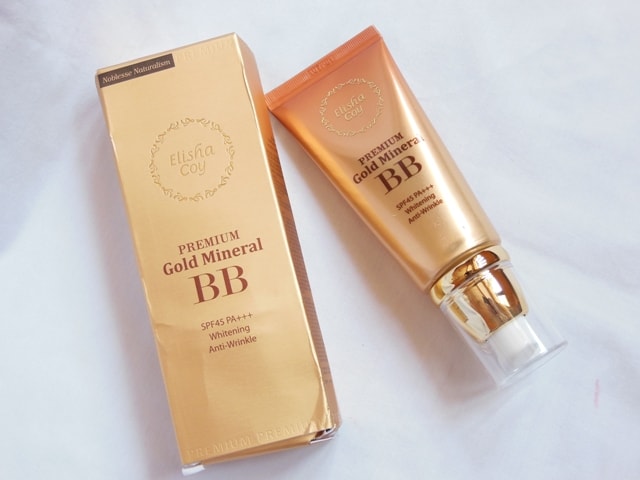 Product Claims: Foundations often feel too heavy on the face as they tend to clog the pores which result in breakouts. A solution to this is a BB cream which packs in all the essential components of a foundation without causing your skin to react to it. This premium Elisha Coy BB cream is an all-in-one product which acts as a moisturizer, concealer, and foundation. Made with rich glacial and deep sea water, it offers benefits like improving the skin condition, evening out the complexion, covering dark spots, and more. Buy this product and make your make-up routine an easy one!
Features:
Produces a very natural, no "make up" look
It has Whitening & Anti wrinkle properties
Spreads evenly on the face & stays for 12 hrs
Has UV Block with SPF 45
Conceals all types of pigmentation, acne & blemishes
Has healing properties that soften, smoothen & refine skin
How to use:
After applying basic cosmetics, take an adequate amount of the cream.
Spread it evenly up the skin texture.
Pat the skin gently until the cream is absorbed.
Price: RS 1099 for 50 ml (Buy from ShopCJ)
Packaging: ElishaCoy BB Cream comes in a pretty gold toned cardboard box carrying all the information. The cream is packaged in a gorgeous ombre Rose Gold plastic tube with a pump dispenser on top and a clear plastic cap. The tube looks really luxurious and I love how easy and convenient it is to use.
My experience with ElishaCoy Premium Gold Mineral BB Cream:
Texture: ElishaCoy BB Cream is a dark beige colored cream, and looks just like a foundation. The texture is medium thick and creamy which feels quite dense initially but it spreads easily.
Formula: The formula takes some time to be absorbed completely into the skin so I have to blend it until it is gone. Also, I have noticed that it blends better over lightly moisturised skin and gives more even and flawless coverage. It is like tinted moisturizer which gives slight coverage while keeping skin moist and nourished.
Shade: The shade is slightly lighter than my actual skin tone so it does give that slight whitish cash but if it is topped with a setting powder it looks pretty natural. The white could also be because of the SPF 45 it has but I wish it hadn't been there at all. The coverage is sheer to light so it looks pretty natural on application.
Results: It gives smoother appearance to my skin by making the pores disappear and blurring those fine lines. I haven't seen any major difference in wrinkles around the lips and nose but I have been using it for just 3 weeks now and it will be too early to expect any results.
I love that the BB cream contains Gold and ECOCERT plant ingredients which soothes and care for skin troubles. It is made with rich glacial water, deep – sea water and highly moisturizing hylauronic acid which keeps skin moist.
Recommendation: ElishaCoy Premium Gold Mineral BB Cream SPF 45 PA+++ makes a great summer skincare cum makeup product which provides SPF protection to the skin while making it appear smoother and even, without any foundation or concealer. This cream can act as a foundation, concealer, sunblock, & moisturizer all at the same time and I don't have to layer product after product. It is a great multi purpose Korean skincare product in India at affordable price tag but I wish it had been available in more shades to match Dusky Indian Skintones. If you are on the fairer side do try this ElishaCoy BB Cream.
Rating: 4/5
Don't Miss to Checkout:
Have you tried ElishaCoy Premium Gold Mineral BB Cream SPF 45 PA+++? Which is your favourite BB Cream?
PS: Product sent by brand for consideration but Honest review as always!