Bath and Body Works Shower Gel- Pink Chiffon Review
Today I am reviewing another Bath & Body Works product and it is a Shower gel the time, Bath and Body Works Shower Gel in Pink Chiffon. I have already reviewed my Japanese Cherry Blossom Shower Gel .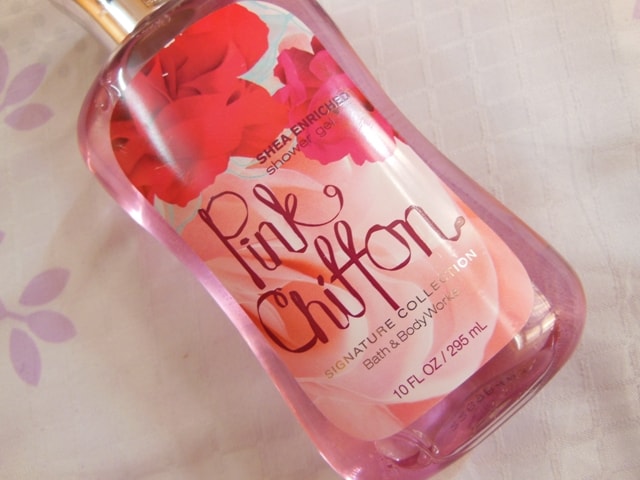 Product Claims: Our exclusive formula is now enriched with Shea Butter for softer, cleaner skin in our bubbliest lather ever! Moisturizing Aloe Vera and skin-loving Vitamin E combine with our exclusive, award-winning Pink Chiffon, a seductive and mysterious floral scent for lather that bursts with fragrance!
Direction for Use:- Pour a button-sized drop on a mesh sponge, for the bubbliest lather. Rinse clean.
Ingredients:-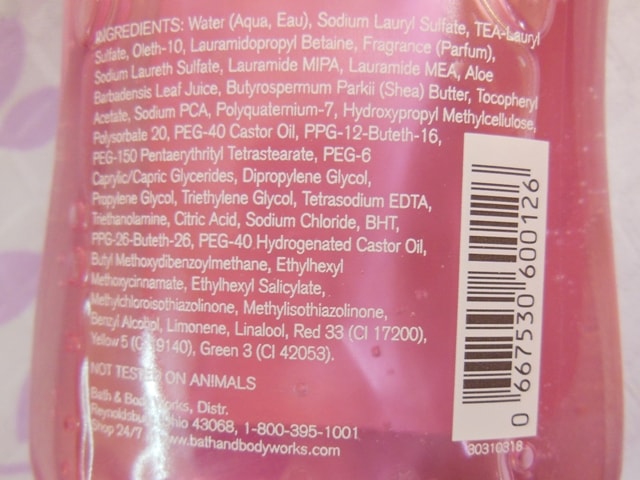 Price:- 11$  for 295ml
Packaging:- The shower gel comes in a see through plastic bottle. The curvy shaped bottle and the grip ribs on the lateral surface make it easy to grip and reduce any chance of dropping these during shower.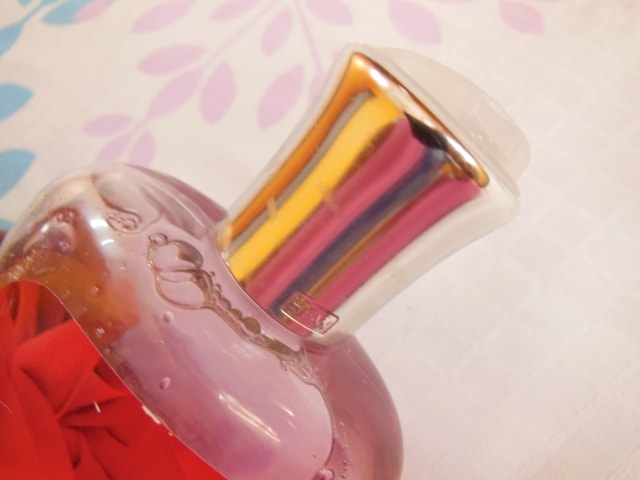 My experience with Bath & Body Works Pink Chiffon Shower Gel:-
Pink Chiffon is a light fuchsia pink color body wash liquid with sweet fruity top notes but not in an overwhelming way. The fragrance bursts out when the liquid is poured onto palms, and you could only smell the sweet-fruity scent but within seconds it fades to a lovely floral fragrance. The initial sweet scent isn't my favorite but I love the way it fades to a pleasant floral aroma. The mild fragrance feels soothing to the senses but it doesn't stay on me and once the body wash is rinsed-off of the body wash, I could barely smell anything
The formula isn't richly moisturizing as claimed but it isn't drying either. It gives fairly good amount of lather with a sponge/loofah and rinses off pretty easily without leaving any slippery feel. I need only a palm-full amount for single application and taking into account the quantity of the body wash, it will definitely last me a long time.
It makes skin feel softer and smoother post wash but that is what I get with most of the body washes. Overall, it is a decent body wash with a soft fragrance and does its of cleansing effectively without making skin rough or dry.
Don't Miss to Checkout:
Swatch–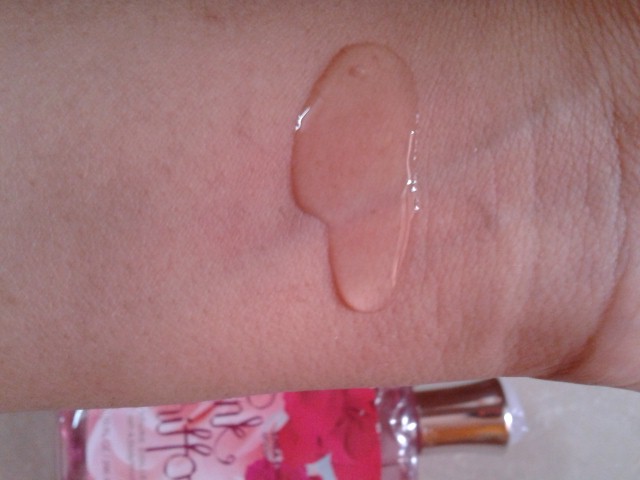 Pros of Bath & Body Works Pink Chiffon Shower Gel:-
Mild pleasant fragrance
Lathers well
Isn't drying
Rinse off easily
No going to finish up soon
Sturdy packaging
Contains Shea Butter and castor Oil as natural Moisturizers
Cons of Bath & Body Works Pink Chiffon Shower Gel:-
Smell fades off quickly
Isn't very moistursing
Availability in India 🙁
Recommendation:- Bath & Body Works Shower Gel in Pink Chiffon has a soft, soothing fragrance just like its name. The strong sweet-fruity notes weakens quickly and I could smell on floral scent after that. The fragrance doesn't last and I could hardly notice any scent once out of shower. I wish the fragrance would have stayed at least for an hour so that I can enjoy it post shower too. The fragrance is on the milder side scent just like its body lotion. Not one of my favorites but I like its pleasant sweety-floral aroma.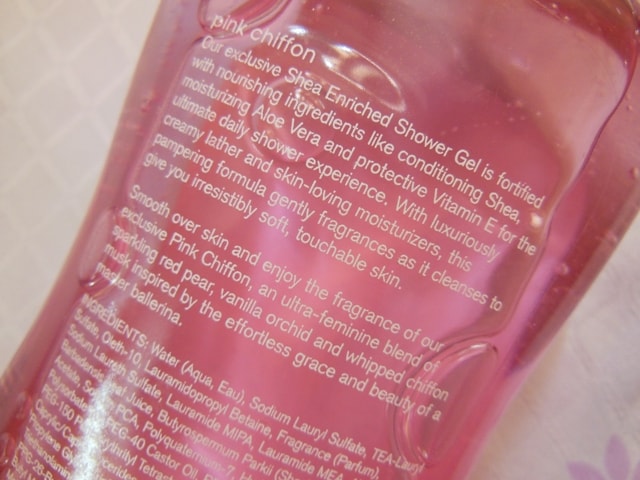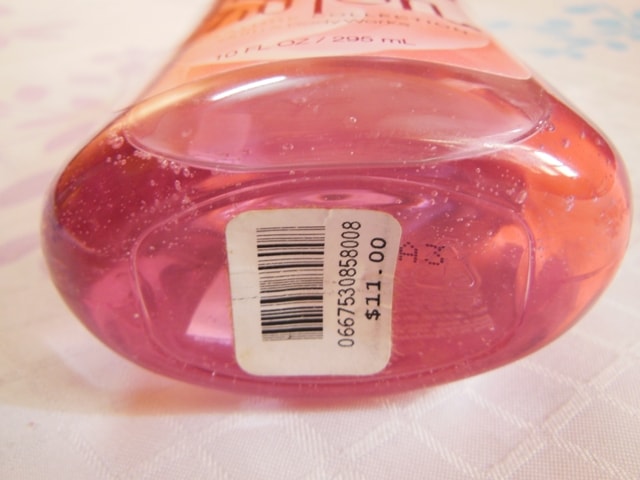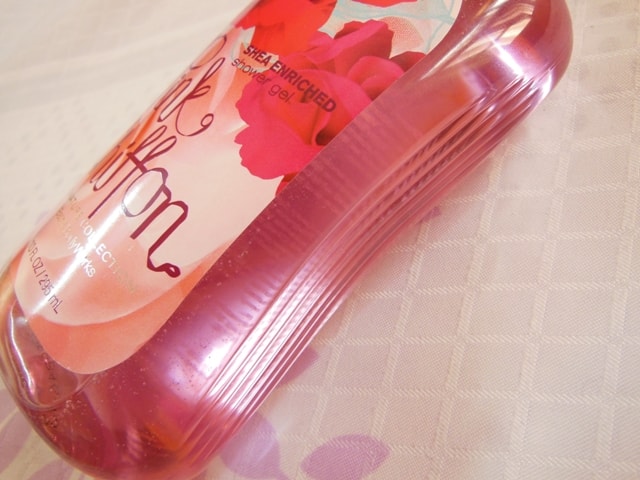 Rating:- 4/5
Have you tried Bath & Body Works Pink Chiffon Shower Gel?