Bath and Body Works Intense Moisture Body Butter Be Enchanted Review
Today, I am reviewing another body butter from my Bath & Body Works collection. So lets check out how I liked this beautiful looking Bath & Body Works Intense Moisture Body Butter in Be Enchanted.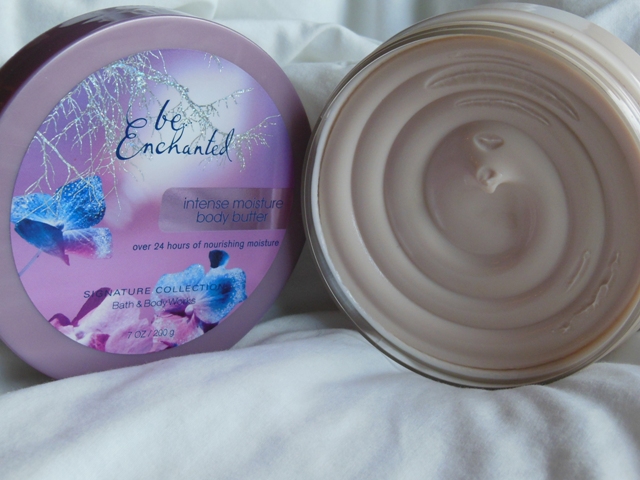 Product Claims: Your skin will be softer, smoother and more radiant with our Intense Moisture Body Butter! The revolutionary formula is supercharged with our exclusive Intense Moisture complex, an advanced blend of Pro-Vitamin B, CO Q10, and antioxidants C & E to guarantee moisture for over 24 hours, taking hydration to the extreme. Shea and Murumuru butters plus nourishing Coconut Oil leave skin noticeably softer and more smooth.
Our exclusive Be Enchanted is a fresh, sparkling blend of frosted florals sweetened with sugared pomegranate, inspired by all that glitters
Massage into exceptionally dry spots like knees and elbows or all-over for ultimate moisture and indulge your senses
Our ultra-conditioning, non-greasy formula absorbs quickly and completely, making it the perfect therapy to target your driest areas and provide maximum hydration for your entire body
Key Fragrance Notes: Inspired by the wonder of a shimmering fantasy, Be Enchanted is a charming mix of frosted florals sweetened with sparkling, sugared pomegranate
Top Notes: Mouthwatering Citrus, Iced Pomegranate, Chilled Wildberries, Crystallized Passionfruit
Mid Notes: Sheer Honeysuckle, Floral Frosted Bouquet, Sugared Violet, Dew fruit, Asian Pear
Dry Notes: Whipped Vanilla, Creamy Musk, Sandalwood
Ingredients:-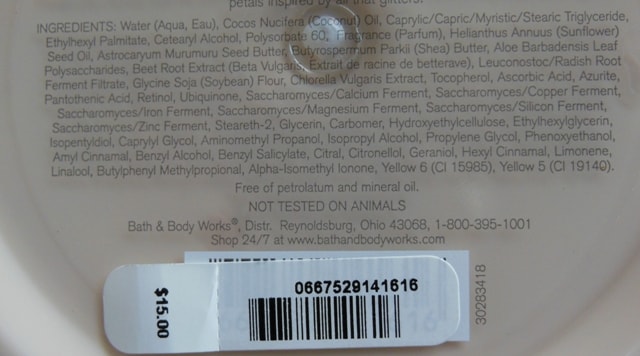 Price:- $15 for 200gm
Packaging:- The body butter comes in large round tub type packaging, similar to The Body Shop Body Butters, just that they are a bit wider than TBS ones. The base is transparent with a colored/themed screw cap with the name and other details. I really like the beautiful logo of Be Enchanted Body Butter. The packaging is study and easy to carry.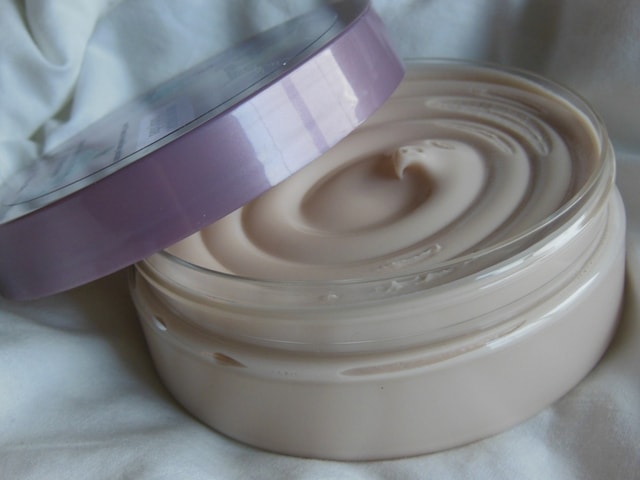 My experience with Bath & Body Works Body Butter – Be Enchanted:-
Be Enchanted is an endearing fragrance with a beautiful combination of floral, sweet fruity aroma with a subtle woody and musky notes. All the fragrances blend nicely and are mixed in a perfect ratio that it compels me to love it even more every time I smell it. The fragrance isn't mild but not overpowering too and diffuses to a pleasing aroma on application. It isn't uncomfortably sugary sweet which makes this stand out of the rest sweet scented body butters.
Swatch: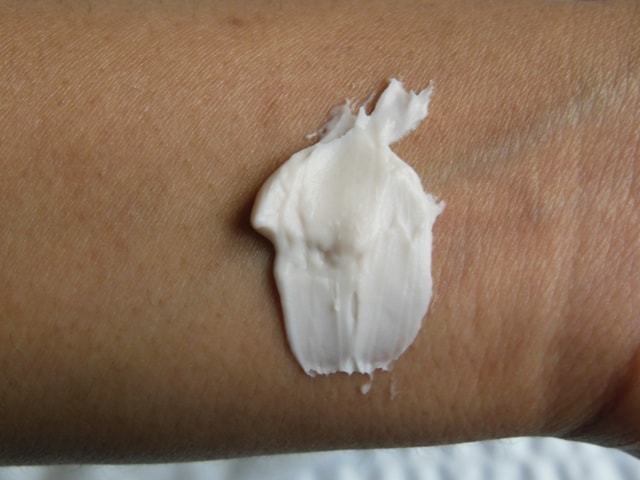 It has a medium–thick buttery creamy texture but that doesn't come in way of its application and it gets applied smoothly. Owing to its thick texture, it takes time to sink completely but I like the fact that it doesn't leave any oily residue behind. It rejuvenate my dry skin and make it look smoother and moisturized whole day. My dry skin love such highly moisturizing body butters in winters.
Comparison with other body butters:
I find it more moisturizing than the Coconut Lime Breeze Body Butter. It is also easy to apply and gets absorbed faster than this.
The texture is thicker than The Body Shop Body Butters and takes a little long to get absorbed.
Don't Miss to Checkout:
Pros of Bath & Body Works Body Butter – Be Enchanted:-
Rich creamy texture
Applies smoothly
Pleasant fragrance
Scent lingers on for long
Excellent moisturizer for dry skin in winters
Natural moisturizers like Coconut Oil, Sunflower Oil, Shea Butter are among the main ingredients
Reasonable under offer
Doesn't contain Petrolatum and Mineral oils
Parabens free
Not tested on Animals
Available in various fragrances
Cons of Bath & Body Works Body Butter – Be Enchanted:-
Texture is on the thicker side ( Thicker than The Body Shop Body Butters)
Takes slightly long to get absrorbed
Availability in India
Recommendation:- Bath & Body Works Be Enchanted Body Butter provides a long lasting moisturisation effect and helps fight dryness whole day. The fragrance lies on the sweeter side but has a lovely mix of floral, woody and musky notes and also it doesn't disappear for hours. Recommended!

I love this body butter more than the rest because it gets me connected to that beautiful "Enchanted" movie….girlz you gotta to watch that movie and you will feel loved and go back to your innocent, fairy-tale childhood days… where a prince (your true love) would come to rescue you!! <3 <3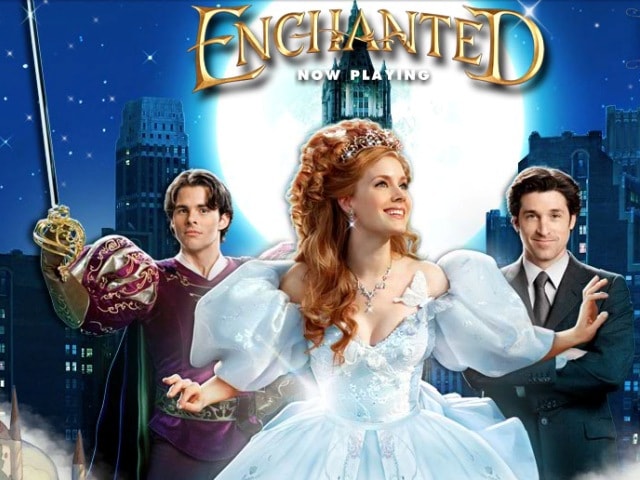 Rating:- 4/5
Have you tried Bath & Body Works Body Butter – Be Enchanted? Have you ever picked body butters by looking at their packaging?