Bath and Body Works Body Lotion Black Amethyst Review
Whenever, I step out of house, it feels like I have been put on flame and will be ready to eat in few minutes :P. Now when summers are frying up as fries and but that doesn't help my dry skin and it still asks for light moisturizer. By light I mean it shouldn't feel suffocating on application and should provide ample nourishment to my moisture hungry dry skin. So, today I am going to review Bath and Body Works Body Lotion in Black Amethyst.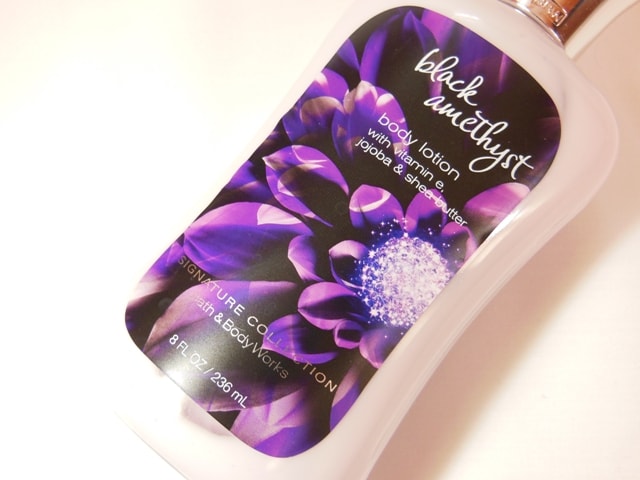 Product Claims: Our exclusive Signature Collection Body Lotion is fortified with powerful ingredients like super conditioning Shea Butter, fast absorbing Jojoba Oil and protective Vitamin E to hydrate skin with moisture that lasts all day. Our non-greasy formula absorbs quickly and completely to leave skin feeling incredibly soft, smooth and nourished, making it the perfect daily moisturizer.
Key Fragrance Notes: Inspired by chic, sensual and confident women, Black Amethyst is a hypnotic blend of Italian bergamot, rare camellias & exotic sandalwood
Fragrance Notes:
Top Notes: Bergamot Italian Oprur, Juicy Mandarin, Sparkling Tangerine, Zesty Orange, Waterfruits, Crisp Melon
Mid Notes: Lily of the Valley, Magnolia Blossom, Sheer Gardenia, Tuberose, Freesia, Peony Petals, Camellia
Dry Notes: Patchouli, Sandalwood, Vetiver, Vanilla, Musk
Direction for Use:-Add a generous amount to palm and smooth over skin
Ingredients: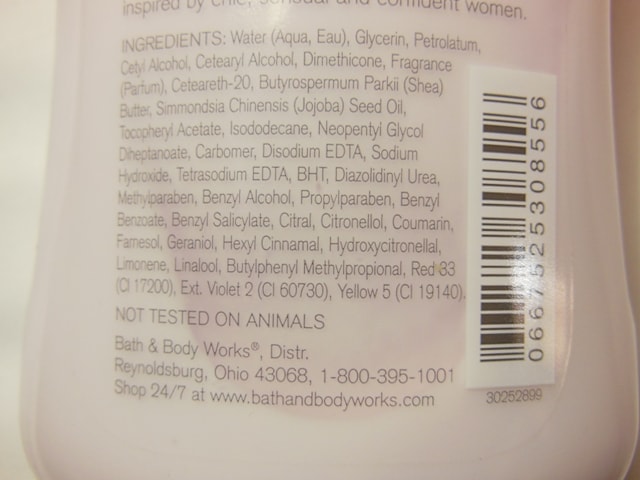 Price:- $11 for 237ml
Packaging:- The body lotion comes in a transparent plastic bottle with a metallic finish cap. It has a press-to-open kind's cap but it can also be unscrewed to reach the mouth of the bottle. There are engraved lines on the sides of the bottle which provides nice grip, hence no accidental slipping during application.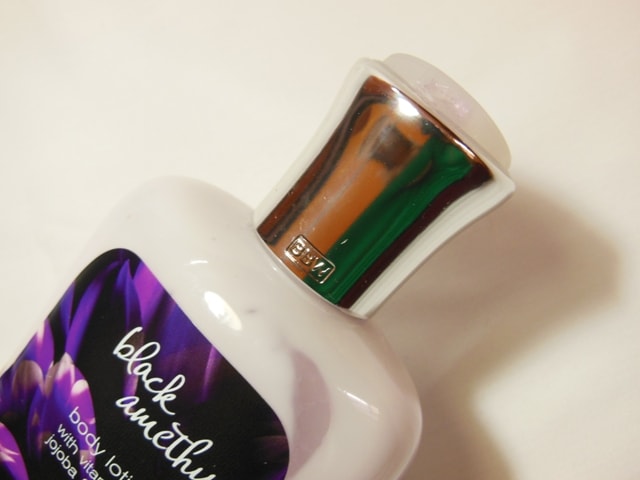 My experience with Bath and Body Works Black Amethyst Body Lotion:
Black Amethyst has spicy mysterious sort of fragrance with dash of sweetness in the base notes. It is mostly floral and spicy at first but settles down to a sweet berry scent. These body lotions are not just lotion but are intensely aromatic moisturizers which keep your skin fragrant for long. I am not into deodorants at all, one reason is their alcohol content and second must be that these heavily scented Bath and Body Works body lotions doesn't makes me feel the need of one.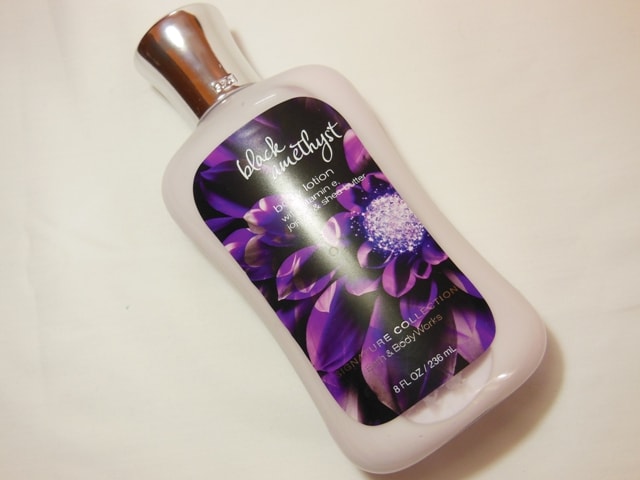 The creamy white lotion with medium thin consistency spreads out with ease and absorbs completely into the skin making it soft and supple. The texture doesn't feel heavy on skin even on the hottest summer days and it's non-greasy formula is a bliss. The lotion claims to have some ingredients like Shea Butter, Jojoba Oil and Vitamin E for added skin benefits. But one thing that I dislike is the presence of alcohols and parabens in the list.
The lotions might not suffice my dry skin requirements in winters but they are good enough to nourish my skin in summers without feeling greasy and their beautiful fragrance is a big plus for me!
Pros of Bath and Body Works Black Amethyst Body Lotion:-
Rich Spicy fragrance
Moisturizes well
Spreads smoothly
Fats absorbing
Non greasy formula
Enriched with Vitamin E, Jojoba Oil and Shea Butter
Cruelty Free
Free from Parabens
Cons of Bath and Body Works Black Amethyst Body Lotion:-
Availability in India
If you like light fragrance than this may be overwhelming
Recommendation:- Bath and Body Works Black Amethyst Body Lotion has an obsessive spicy scent with a sweet side. The fragrance is a bit softer than the ultra spicy Dark Kiss but still quite strong to be liked by light fragrance lovers. The scent lasts a long time and along with the beautifully moisturizing formula works well on my dry skin. Once used, I bet you got to be addicted to these lotions based on your fragrance preferences. Recommended for strong Fragrance addicts.. 😉
Rating:- 4/5
Have you tried Bath and Body Works Black Amethyst Body Lotion? Which is your favorite fragrance Body Lotion?