Bath and Body Works Body Butter: Coconut Lime Breeze Review
Today, I am reviewing my first body butter from my Bath & Body Works collection. The winters have brought back the dryness with them and my dry skin started craving for nourishment even more. So, let's find out how I liked this Bath & Body Works Intense Moisture Body Butter in Coconut Lime Breeze.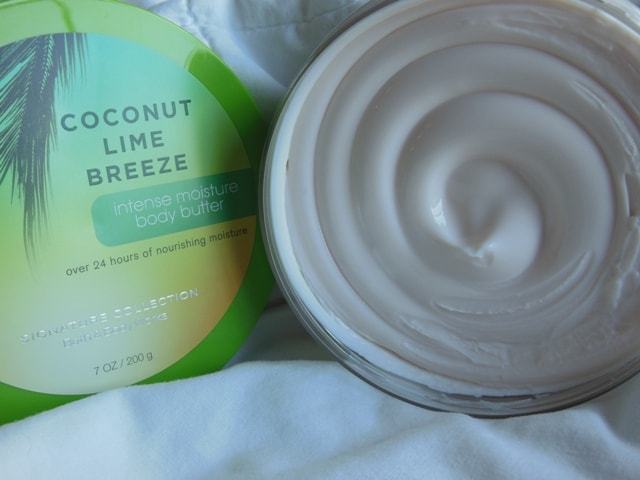 Product Claims: Our incredibly conditioning formula is supercharged with an intense Moisture complex, an advanced blend of Pro-Vitamins and antioxidants to guarantee moisture for over 24 hours, taking hydration to the extreme. Shea and Murumuru butters plus nourishing Coconut Oil leave skin noticeably softer and more smooth.
Our exclusive Coconut Lime Breeze is a fresh blend of coconut water, lime blossom and bergamot inspired by a tropical breeze of exotic fruits and luscious citrus
Massage into exceptionally dry spots like knees and elbows or all-over for ultimate moisture
Key Fragrance Notes:
Tropical With A Twist! Coconut Lime Breeze is a fresh mix of coconut water & lime blossom
Top Notes: Sparkling Tangerine, Lemon Italy Orpur, Neroli, Bergamot Italia Orpur, Zesty Lime Juice
Mid Notes: Watery Melon notes, Sheer Muget, Pineapple Juice, Jasmine Petals, Lime Blossom
Dry Notes: Sheer Coconut Water, Sandalwood, Musk, Madagascar Vanilla
Ingredients:-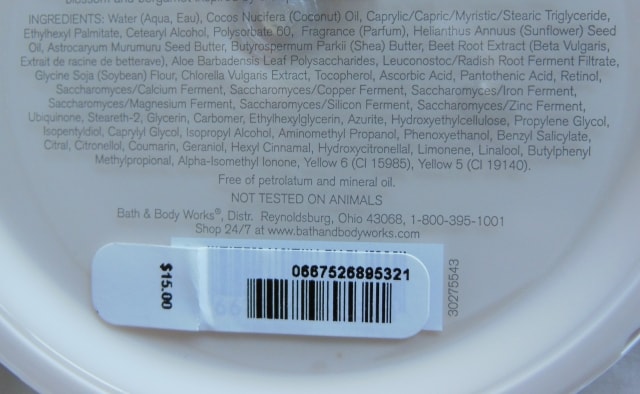 Price:- $15 for 200gm
Packaging:- The body butter comes in large round tub type packaging, similar to The Body Shop Body Butters, just that they are a bit wider than TBS ones. The base is transparent with a colored/themed screw cap with the name and other details. The packaging is study and easy to carry
My experience with Bath & Body Works Body Butter – Coconut Lime Breeze:-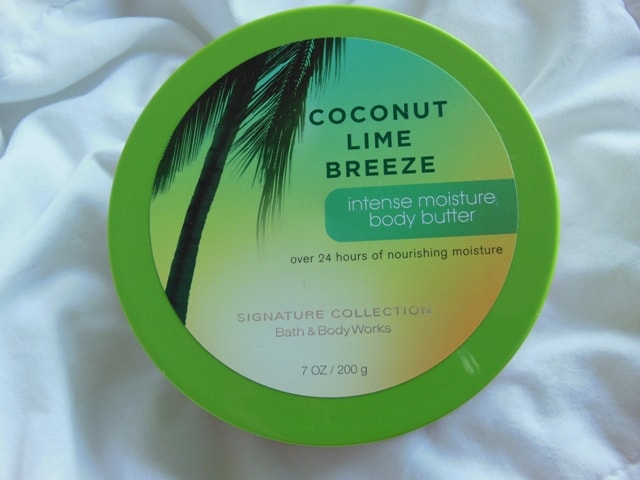 Coconut Lime Breeze has a beautiful mix of fresh coconut notes with a tangy lemon twist. The fragrance isn't similar to any of the coconut smelling products I own, including the Organix Brazillian Shampoo. I like the unique refreshing smell of this body butter which doesn't resemble the usual strong unwanted coconut scent.. I can't stand such fragrances for long! There is subtle sweetness in the notes but that lightens up even more on application and turns to a lovely wearable fragrance.
It is super thick buttery texture which gives a slight rubbery feel as I had to dig my fingers deep into the jar to scoop out the amount I want to use. The thick consistency of the body butter doesn't help in the application either and needs a lot of upward-circular motions to sink completely into the skin. But I like that it doesn't feel oily or leave any greasy residue behind that I faced sometimes with The Body Shop Body Butters.
They are decently moisturizing for my dry skin and keeps it soft and smooth but need to apply it generously to avoid re-application.
Don't Miss to Checkout:
Pros of Bath & Body Works Body Butter – Coconut Lime Breeze:-
Pleasant fragrance that lingers on for long
Doesn't feel greasy or oily
Doesn't require reapplication
Nourishes my dry skin well in winters
Goes affordable under offer
Coconut Oil is the main ingredient along with Shea butter and other natural butters.
Free of Petrolatum and Mineral oils
Doesn't contain Parabens
Cruelty Free
Available in numerous fragrances and products.
Cons of Bath & Body Works Body Butter – Coconut Lime Breeze:-
Texture is slightly thick for my liking
Takes time to get absorbed
Require a generous amount for single application (I have super dry skin)
Recommendation:- Bath & Body Works Coconut Lime Breeze Body Butter has quite an endearing fragrance which stands out and is mild enough to be liked by everyone. The fragrance part worked for me really well. Apart from it thick texture that takes time to sink into the skin I like it for its non-greasy feel and the moisturizing ability. Makes a good body butter for my dry skin in winters.
Compared to The Body Shop Body Butters : The texture is much thicker and takes lot more time and effort to get absorbed into the skin but the good thing is they doesn't feel greasy like them even if you go overboard.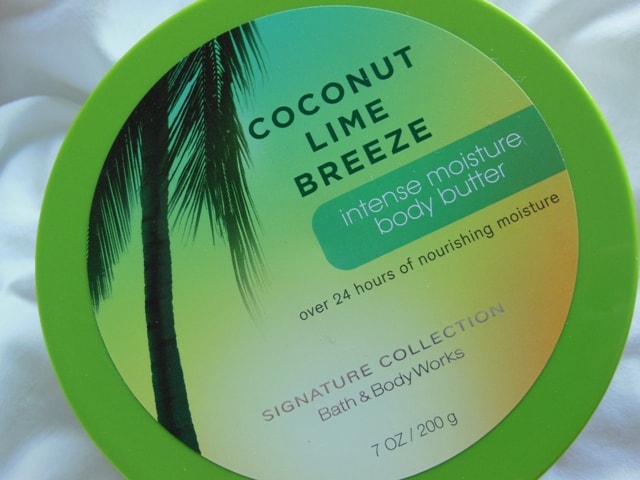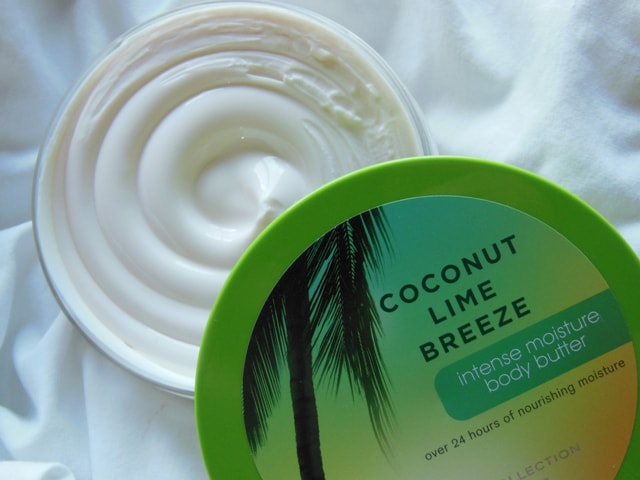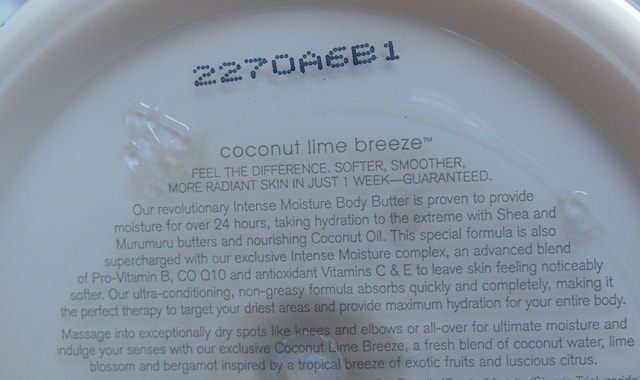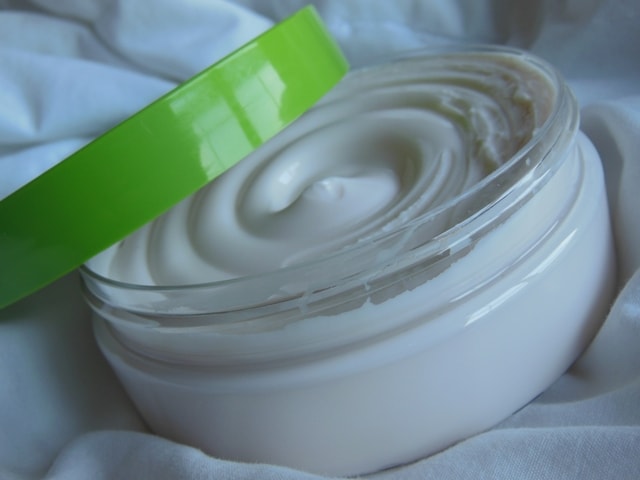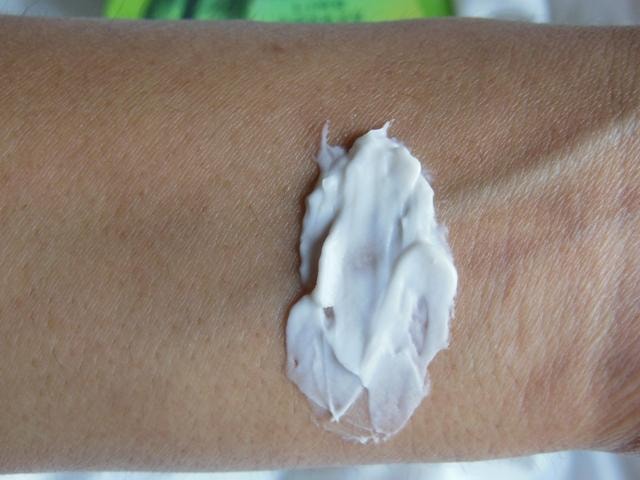 Rating:- 3.8/5
Have you tried Bath & Body Works Body Butter – Coconut Lime Breeze? Do you Body Butters or Body Lotions in Winters?