Banana and Lime Juice Face Pack – Do It Yourself
Hello All,
Enjoying chilly winters!!! Hihihi 🙂 . I like winters over summers for two reasons. One is that I am not sweating any more and second that it puts an end to all the sand storms and dusty winds which I totally hate. But winters doesn't fare that well with my skin and leaves it dry and flaky. I have super-dry facial skin and apart from regular moisturizers it does need special attention every now and then.
Even though I have been moisturizing my facial skin daily, it turned all dull and lifeless so gave it a Banana treat . So, here is my recipe for Banana Pack to nourish dry skin in winters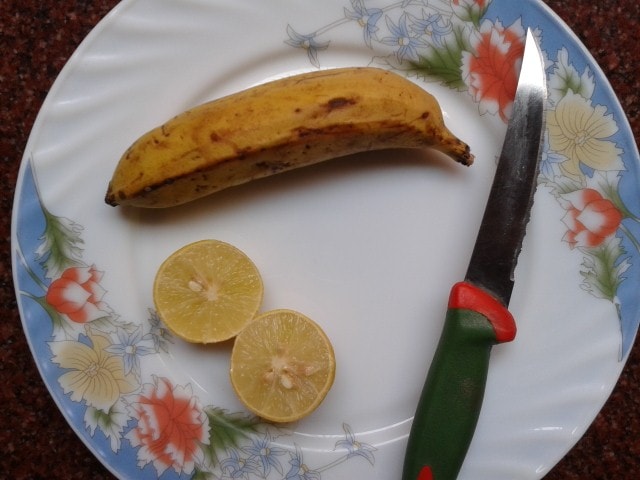 Ingredients:-
Banana
Lemon
MIxer Grinder
Steps to Prepare:-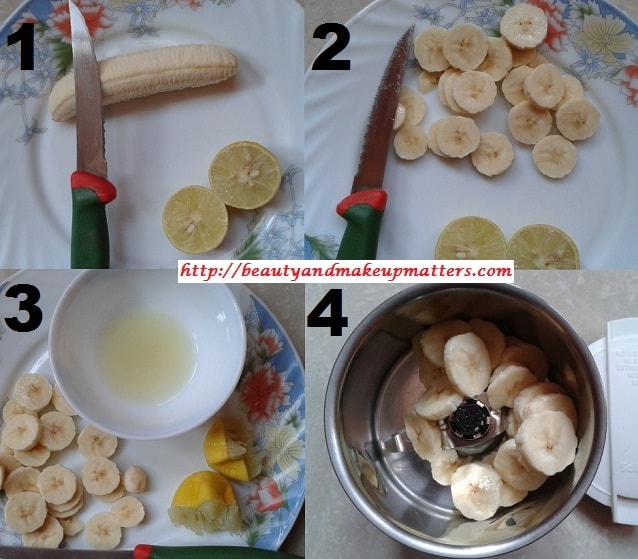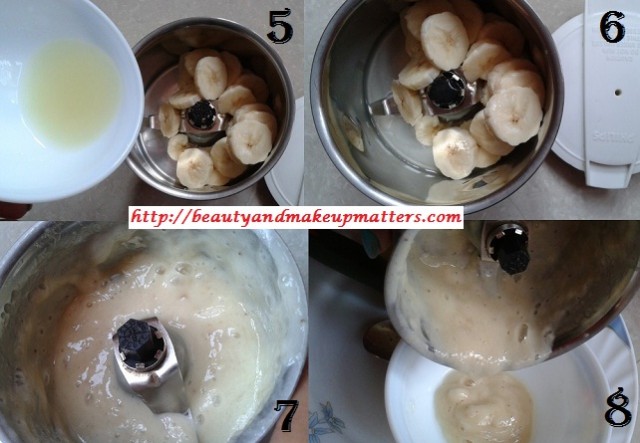 Take a ripen banana and peel off the cover.
Cut the banana into small slices using a knife
Squeeze the complete lemon and keep its juice in a small bowl
Banana doesn't mash completely with hands so, used the smallet jar you have for this purpose otherwise banana pieces with stick to the walls of jar and wouldn't grind.
Pour the lime juice from the Bowl to grinder which will help in blending and also gets mixed up well
Blend the pieces into the Mixer Grinder
Grind till you get a smooth paste.
Pour the Banana paste into a bowl.
The pack is ready now apply the mixture on your face using fingers or a brush as you prefer.  I found three different applications of this Banana and Lime Juice Pack.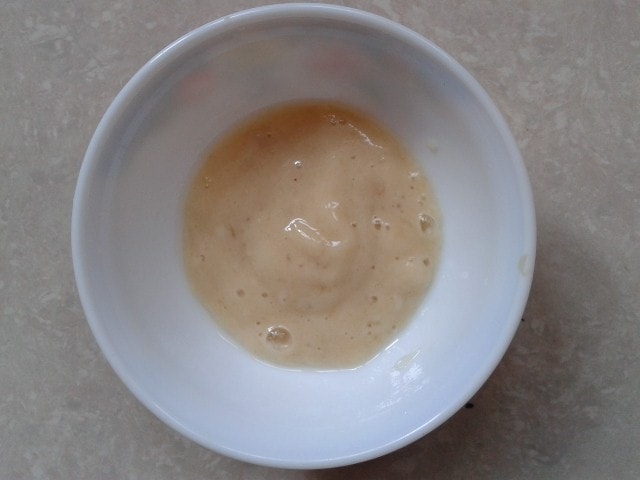 Face Pack – Leave it for 20 min or more till it becomes dry. Wash it off with tap water.
Facial – It can also be used for facial, Just rub the paste over the face with gentle finger strokes for 10-15 min and wash off with running water
Facial cum Face Pack – Massage the paste gently for few minutes and then leave it to dry for 10-15 more minutes and then wash off.
Don't Miss to Checckout:
This single preparation would be enough for 3-4 times but as banana decomposes very fast and turns black so store this pack in the freezer (not refrigerator) for re-use. Take out the bowl out of freezer 20-30 minutes before re-application to let the pack melt down. Put the pack back into the freezer after usage. The pack is suitable to be used on every single day.
The pack leaves my skin soft and smooth to touch. Bananas which are rich in vitamin A, B and E works also as an anti-aging agent and lime juice helps in lightening the skin tone and also helps in diminishing acne scars. Those who have Honey can also add it to the mixture for extra nourishment. My skin regained it glow and looked healthy and nourished with this Facial cum face pack.
Hope you like this super-easy home made face pack. Do share your thoughts through comments!