Baba Ramdev Patanjali Divya Kanti Lep Review
I have been trying and testing Baba Ramdev Patanjali products and today I am back with review of one of the most popular Patanjali Product, Patanjali Divya Kanti Lep. Patanjali Divya Kanti Lep is a face pack which is meant to address skin problems like pimples, acne scars and more. Let's checkout if this natural, herbal face pack works for me.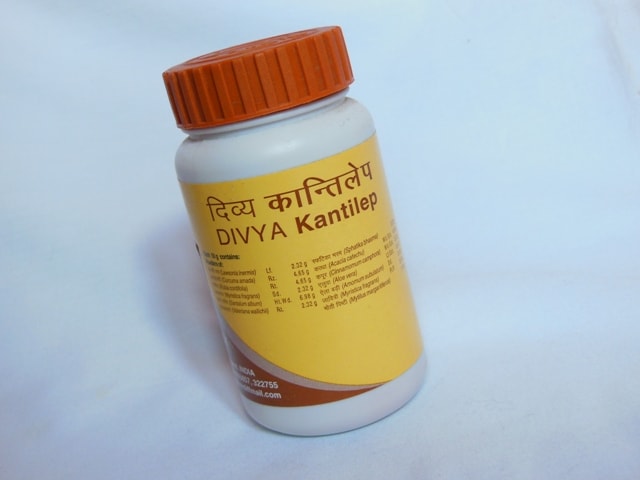 The Video Review is now live!
Product Claims:
Divya Kanti Lep Instantaneously cures skin-disorders, viz. pimples, acne, wrinkles on face, loss of shining and luster, darkness, etc.
Divya Kanti Lep – Application of this paste absorbs all the complaints of the skin, as a result of which the skin again becomes healthy; the natural beauty of the face reappears; it also promotes splendor, shining and luster on the face.
Ingredients: Shown in pic below!
Direction of use: Take one teaspoonful of Divya Kanti Lep powder, make a paste by adding either rose-water or un-boiled milk, then apply on the face, allow it to remain for 3 to 4 hours and wash the face with luke-warm water
Price: Rs 70 for 50gms
My experience with Patanjali Divya Kanti Lep:
Patanjali Divya Kanti Lep is one the most popular Patajali Product. It comes in a simple plastic jar with a screw orange colored cap. It is a rusty brown colored powder which need to be mixed with rose water, mild or water to form a paste for application. The powder is finely milled and the texture is really smooth. It takes some time to get completely dissolved to form a paste.
Kanti Lep actually means " Glow Pack" which means it is a glowing face pack but it also claims to work on acne, scars and other skin issues.
This Patanjali Divya Kanti Lep has a super strong scent and it is just way too strong for me to handle. I guess it is because of the cow dung but its really aweful.
Application: I make a medium thin paste with this Kanti lep and apply it all over my face. I am not sure if my pack is a bad one but it smelled horrible since day 1. I do get a mild cooling sensation post application because of camphor in the ingredients list but nothing bothersome.
Results: I have a dry skin and have to deal with acnes only once in a while. I tried it while I wasn't having any major skin issues or acne problems and it just worked well.  It doesn't make my skin feel dry or oily after using it. I do have few acne scars on my face but I didn't see any major difference in single application.
The Patanjali Kanti Lep is prepared from natural herbs and is absolutely natural and safe. It helps in treating skin diseases and is the best natural treatment for acne, pimples, dark spots and other skin problems.
It seems to be more effective and useful for problematic skin but on my normal to dry skin I don't see much of a difference in terms of skin texture and glow.
I would have loved to use this face pack even more but the smell is a bummer and I just cant convince myself to bear that torture again.
Also, it's a bit difficult to remove once its dried out on face owing to its smooth texture and makes a mess in the washing area but if you have a skin with issues this could be a life savor,
Recommendation: Patanjali Divya Kanti Lep is a natural face pack which is made with herbs and natural ingredients that work wonders for acne prone skin. This face pack comes in powder form so needs to be mixed with a liquid to form a paste. Also, the pack is very affordable and gives the quantity it will last long. It doesn't leave any blemishes or any acne scars and evens out my skin tone. The face pack is completely herbal and chemical free but has an aweful scent that is really difficult to handle. Also, do feel my skin appears much more yellow after washing it off. I don't see much of a glow in my skin after using it but it is a wonderful remedy for chronic skin problems such as urticaria, eczema, psoriasis, etc. Not, very impressive on my normal, dry skin through! Recommended, if you are facing any skin issues.
Don't Miss to Checkout:
Rating: 2.5/5
Have you tried Patanjali Divya Kanti Lep? Which is your favorite face pack?