Avon Simply Pretty Nail Paint- Mango Mania Review, NOTD

Today I am going to review one of my first nail-paints from AVON. Last month I ordered few Avon products which include these cute bottles aka nail paints. These small bottles are very tempting and a must buy as these were available on offer and had so many colors to choose from. I have already also reviewed Avon Simply Pretty -Pretty Plum Nail Paint.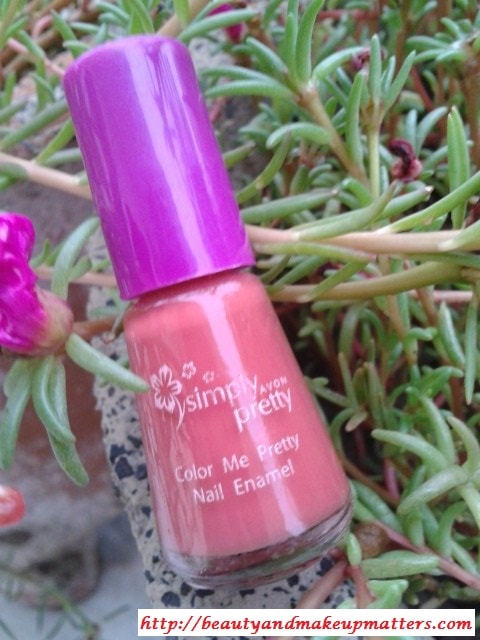 Product Claims:-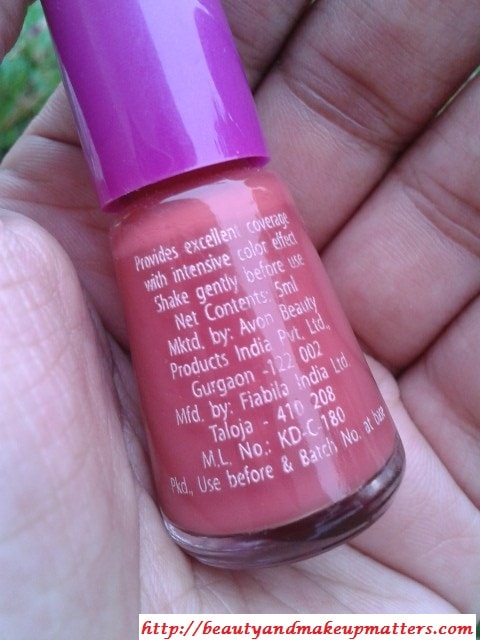 Price:- Rs.49 for 5ml
My experience with Avon Simply Pretty Nail Paint- Mango Mania:-
The Avon Simply Pretty Nail Paint comes in a small cone shaped bottle with a small round handle. I find it a bit difficult to work with its short handle but the applicator brush is of decent quality.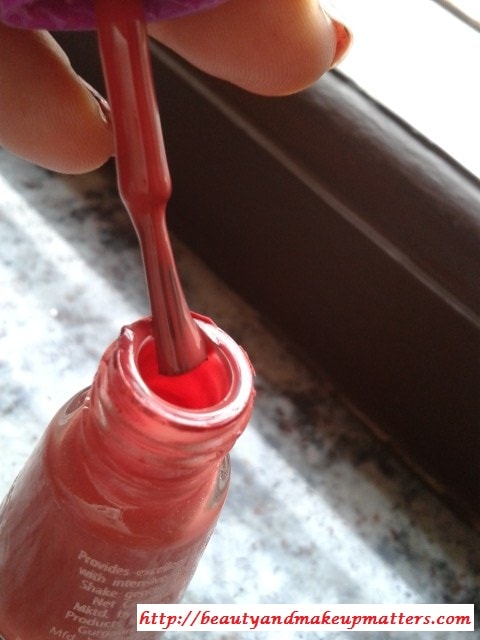 The color appears more orangish-pink shade in the bottle but on application it gives a beautiful brick red shade with pink tones to it. The nail paint goes streaky in first coat and for full coverage and neater application you need at least 2 coats of it. It tends to get darker and looks more maroon if followed with another coat.
The formula is slightly thick which gives a patchy and uneven color on more than 2 coats. So limit yourself to 2 coats to get that perfect color on your nails.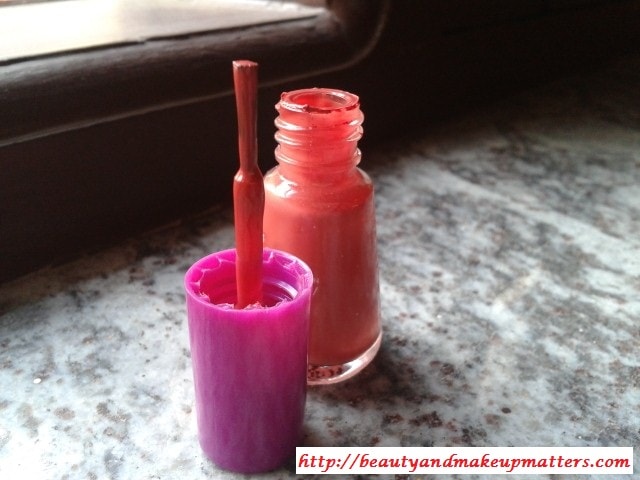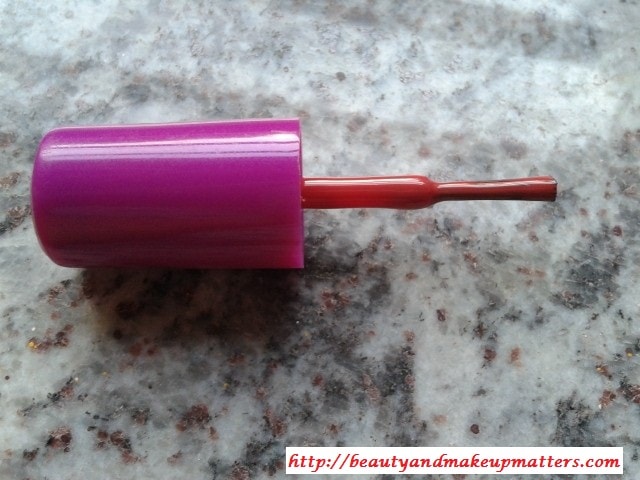 The nail paint dries quickly but requires few more minutes to settle down completely. It is a plain color, free from shimmers or glitters and gives a creamy glossy finish to nails on application. However, the glossiness reduces somewhat after the nail paint is completely set or dried out.
Don't Miss to Checkout: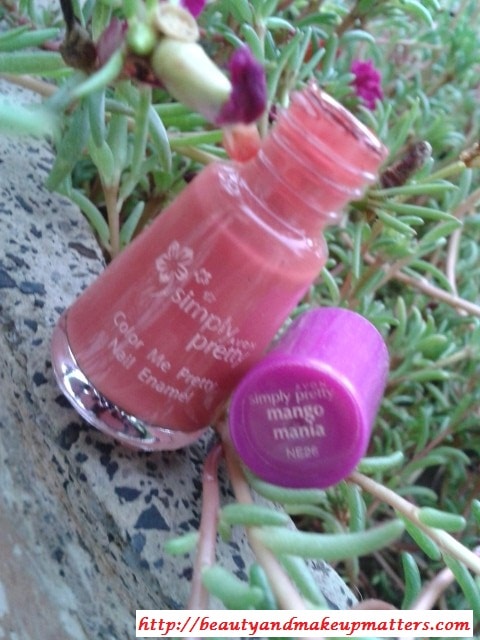 Coming to the best thing about this pretty nail paint is its amazing staying power.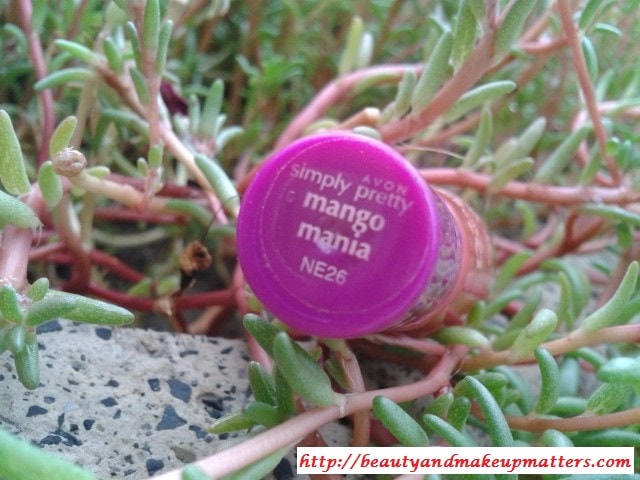 The nail paint took me for surprise when it refused to budge or chip or fade even after 3 days of application. It stayed on my nails as is without any top coat (yes.. you read it right) for good 3 days.
NOTD: In White Light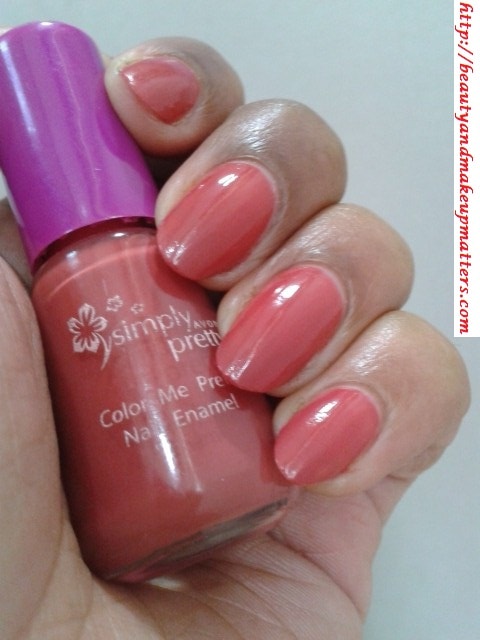 In Natural Light: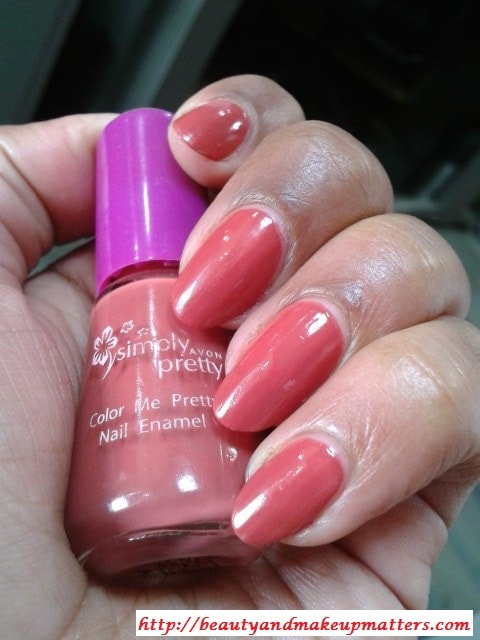 With Flash:-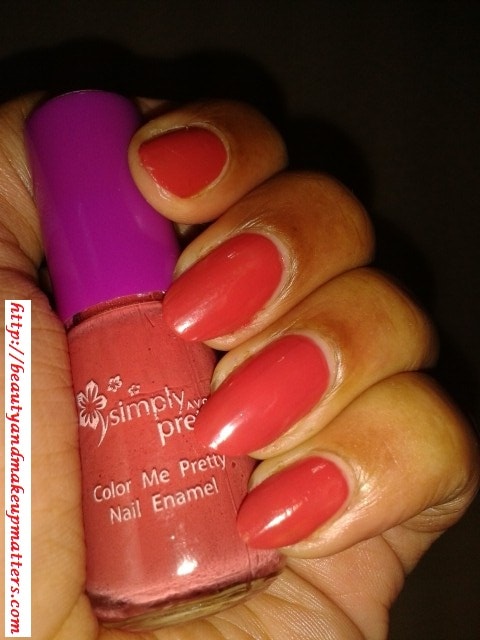 Pros of Avon Simply Pretty Nail Paint- Mango Mania:-
Matte shade without any shimmers or frosts.
Comes at an amazing price.
Decent quality brush
Doesn't stained my nails
Impressed with its staying power.
Stays for 3 days straight with minimum fading and absolutely no chipping without any top coat.
Can be bought at a steal away price during offers.
Wide range of colors to choose from with a mix of matte and shimmery shades.
Cons of Avon Simply Pretty Nail Paint- Mango Mania:
Handle could have been a little longer.
Formula is slightly thick which gives uneven color after 2 coats.
Need extra 5-10 min to settle down completely else it will result in undesired impression look on nails.
Have a strong nail paint kinds smell.
Recommendation:- Mango Mania is a beautiful rusty orangish red shade which I would love to wear in fall winter season. Avon Simply Pretty nail enamels comes at a cute price so won't hurt your pockets/wallets and can have these even if you are running under budget. Overall a great buy at Rs.65 or less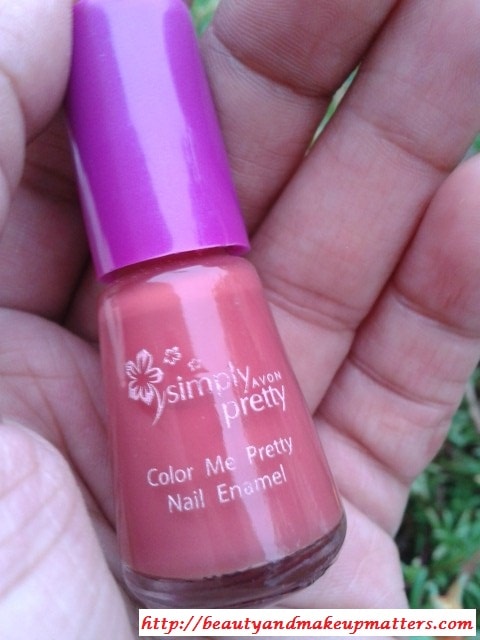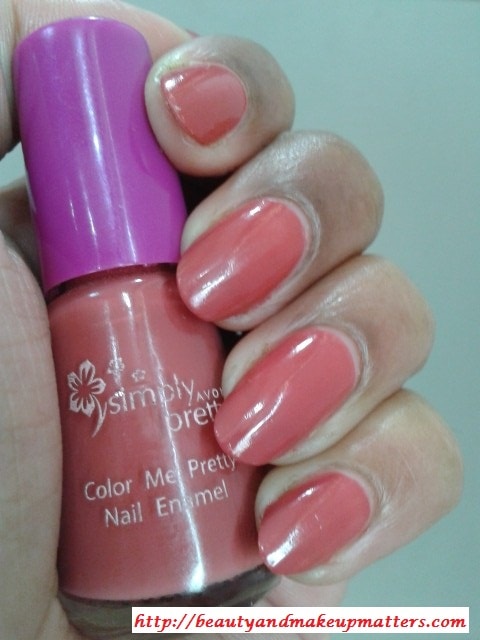 Rating:- 3.5/5
Have you tried Avon-Mango Mania Shade? Which is your favourite simply pretty shade?