Avon Simply Pretty Nail Enamel-Pretty Plum Review, NOTD
Today I am going to review another shade from Avon Simply pretty range "Pretty Plum". I am going to review Avon Simply Pretty Nail Enamel Mango Mania next which is a lovely rusty orangish red shade.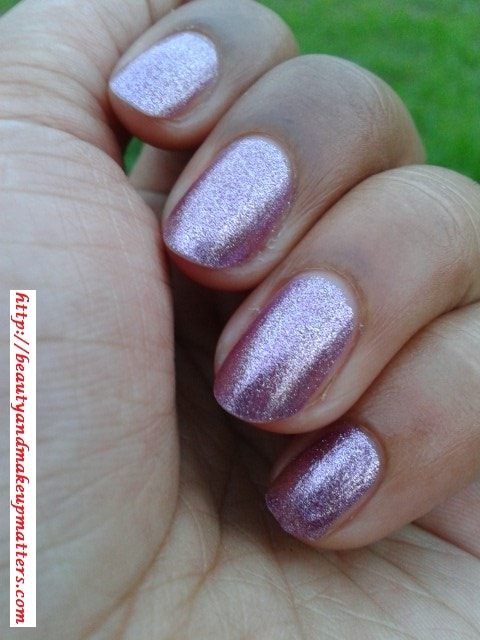 Product Claims:
Provides excellent covering power and has intensive color effect.
Nail looks smooth after application.
Available in 24 Shades –Mango mania, Glitter Gold(review coming up), Pretty Plum (Under review), Pink crush, Frosty Blue, sweet pink( These 3 are next on my list), Sand Mist, Pink passion, Choco love, Lovely Brown, Maroon Magic, passionate purple, sizzling silver, ballerina pink, Champagne Shimmer, Coffee Bean, Pink Fantasy, Cool Coral, Cherry red, True rose, cranberry, Luscious cherry, Truly Maroon, Black beauty
Price:- Rs.65 for 5ml
Shelf Life:- 2 years from the Mfg date.
My experience with Avon Simply Pretty Nail Enamel-Pretty Plum:-
Packaging:- The Simply Pretty nail enamels comes in small bottle packaging's with a purple applicator handle. The length of the handle and the applicator is a bit small but the applicator bristles are longer and better too. They are nicely packed and aren't frizzy or flared which gives a smooth application of the nail enamel.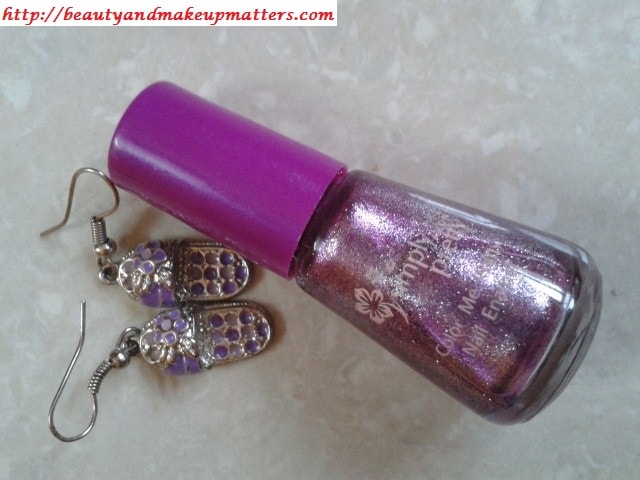 Shade:- Pretty Plum is a purple-plum shade with an excessive silver shimmers. It sometimes gives an illusion of pink or purple shimmers in the liquid but couldn't detect any. It isn't a dark purple shade but a beautiful lighter purple shade with lavender undertones and lots of silver shimmers. The obvious shimmers are not ultra smooth and gives a fabulous glazy metallic finish to nail enamel.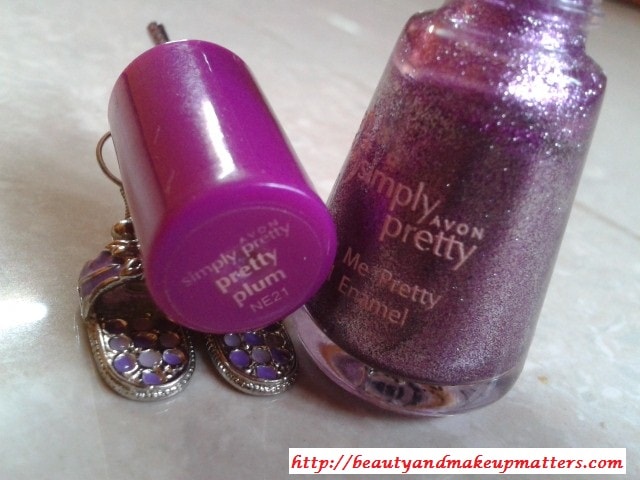 Coverage/Finish:-The nail enamel goes a bit sheer in first coat but in 2-3 coats the color builds up to a soft purple/ plum shade with opaque coverage which is slightly lighter than the color in the bottle.
Formula:-The consistency of the nail enamel is thin which spreads smoothly over the nail. The flat brush applicator also does a good job in distributing the nail enamel evenly over the nails.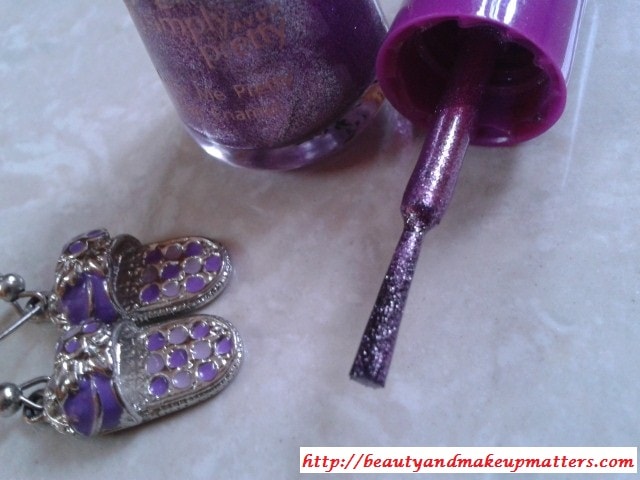 It dries fast and doesn't get thickened at the nails tips with multiple coats. The nail enamel dries to a stunning metallic finish which is the real show stopper for me. The nail enamel stayed for almost 4-5 days on my nails with negligible chipping.
I didn't touch this nail enamel for more than a month just because I had a little doubt about the shimmers in it as I am not a shimmery person and like matte nail enamels better but Pretty Plum truly surprised me. I pretty much liked the sparkly shimmery look on my nails and now, I can't stop staring them. Simply pretty nail enamels are unexpectedly better than any other nail enamel in the similar price range and are my latest crush.
NOTD: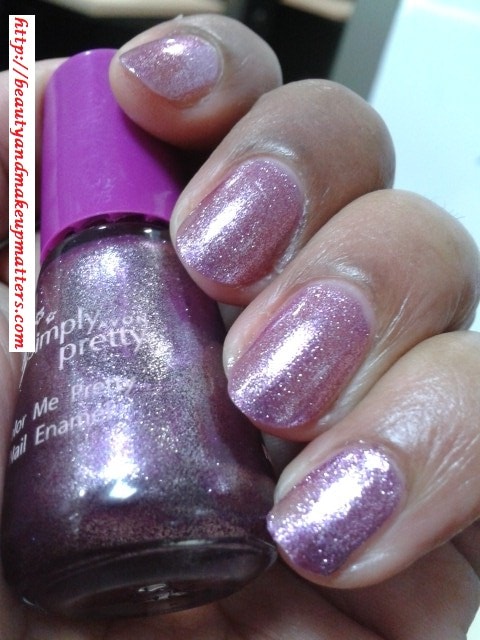 With Flash:-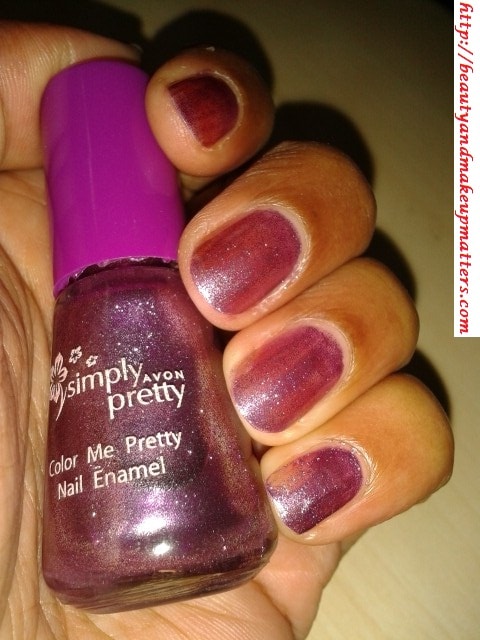 Pros of Avon Simply Pretty Nail Enamel-Pretty Plum:-
Gorgeous plum-purple shade flooded with silver shimmers.
Dazzling metallic finish
Non-streaky application
Chip resistant formula
Pocket friendly price
Good quality brush
Superb colors available in the range in various finishes.
Cons of Avon Simply Pretty Nail Enamel-Pretty Plum:-
Availability is an issue
It takes time to dry with multiple thick coats which can ruin the application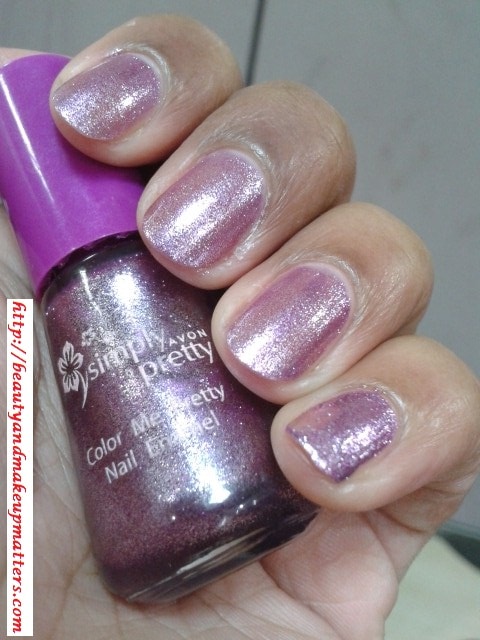 Recommendation:-  Avon Simply Pretty Nail Enamel-Pretty Plum has made a surprising wildcard entry in my Favorites Shimmery/Plum nail enamels list. The reflecting metallic finish just looks awesome. The streak-free formula combined with a good brush which distributes the color evenly adds another star to these affordable nail enamels. These are available at a nominal price and also can be availed under offers/discounts throughAvon representatives. I am definitely going to grab more shade from this range.(the list is ready with me for the next 3 nail enamels.)

In low budget nail enamels Avon Simply Pretty is a good option to try. Pretty Plum is a lovely shimmery plum shade to have in your nail paint collection. Highly recommended!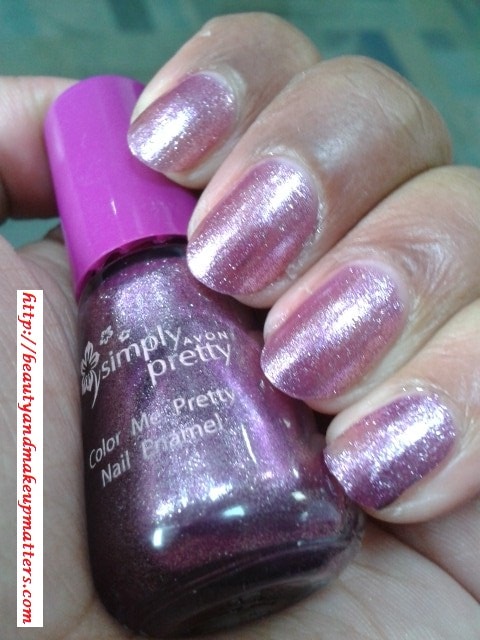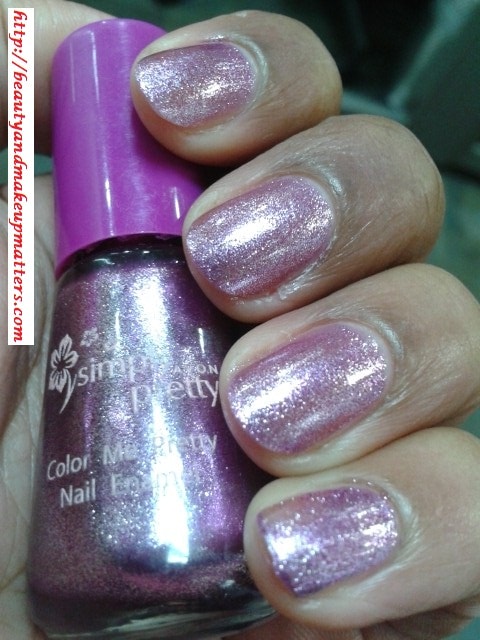 Rating:- 4/5
Have you tried Avon Simply Pretty Nail Enamel-Pretty Plum?