Avon Simply Pretty Nail Enamel – Glitter Gold Review, NOTD
I have already reviewed Pretty Plum and Mango Mania from Avon Simply Pretty Nail Enamel range and today I am going to review the last nail enamel from my first Avon purchase the Avon Simply Pretty Nail Enamel- Glitter Gold.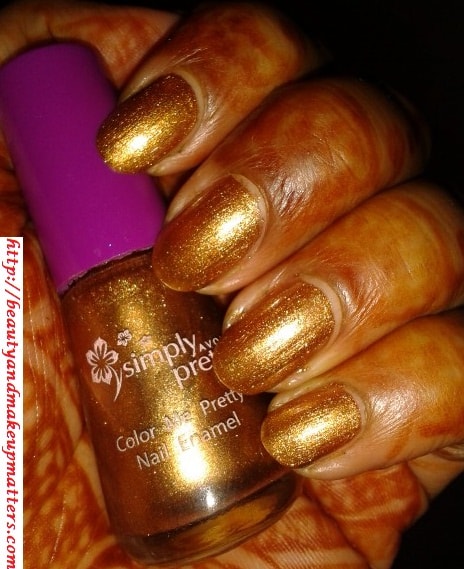 Product Claims:
Provides excellent covering power and has intensive color effect.
Nail looks smooth after application.
Available in 24 Shades – Mango mania, Glitter Gold, Pretty Plum, Pink crush, Frosty Blue, sweet pink( These 3 are next on my list), Sand Mist, Pink passion, Choco love, Lovely Brown, Maroon Magic, passionate purple, sizzling silver, ballerina pink, Champagne Shimmer, Coffee Bean, Pink Fantasy, Cool Coral, Cherry red, True rose, cranberry, Luscious cherry, Truly Maroon, Black beauty
Price:- Rs.65 for 5ml
Shelf Life:- 2 years from the Mfg date.
My experience with Avon Simply Pretty Nail Enamel – Glitter Gold:-
I already had a bad experience with a Lotus Herbals Color Dew Nail Enamel-Gold Mist shade and getting this one was a risk but at Rs.65 I was ready to take a risk. Actually I really wanted to own a nice gold shade along with silver. Silver rarely fails on anyone and is such an easy to find shade which is available across brands but trying gold nail enamel is a challenge but I happily took it and started my hunt for good gold nail enamel.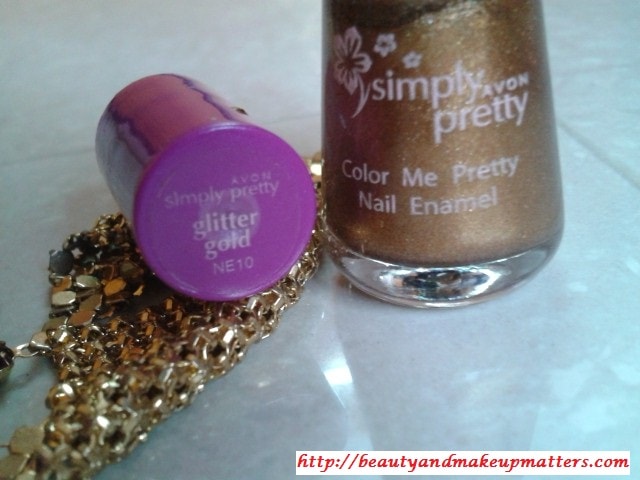 Glitter Gold has smooth golden and green shimmers which give a rich metallic golden finish to the nail paint. The color is much deeper and metallic than Gold Mist and looks better than that on my hands. This one doesn't make me look pale or awful like Gold Mist.
The consistency of the nail enamel is medium which spreads nicely over the nail with the superb quality brush. The long bristles do a good job at providing a smooth application. Simply Pretty Nail Enamel shows its true color in 2 coats and dries really quick. I love creamy finish of the nail paint and couldn't ignore its long staying power.
Don't Miss to Checkout:
NOTD:-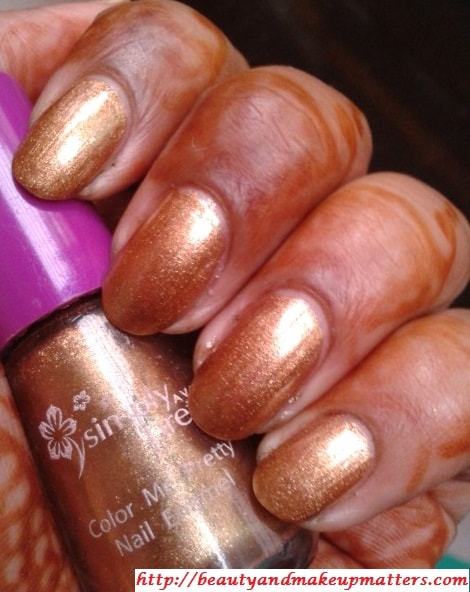 Pros of Avon Simply Pretty Nail Enamel – Glitter Gold:-
Thin consistency spreads smoothly
Well pigmented
The fine shimmers adds beautiful metallic finish to the nail enamel
Doesn't turn to a matte or semi matte finish unlike Gold Mist but the shiny creamy finish can be turned to glossy by topping up with a top coat
Sturdy and flat bristles brush
Great color for Nail art junkies
Extremely affordable
Available in large array of shades
Cons of Avon Simply Pretty Nail Enamel – Glitter Gold:-
I think I can finish this bottle soon , sooner than any other nail enamel. But I really don't like finish up any color. I would love to have them forever and ever in my box.
Recommendation:-  Avon Simply Pretty Nail Enamel – Glitter Gold is a rich metallic deep copperish golden shade. I am really happy with these inexpensive but superb nail enamels. I had doubts about their pigmentation, finish and quality but I am amazed to see how better they perform at this price range. I like their thin consistency, streak-free formula, excellent brush for neat and clean application; also they dry up fast and stay long. I couldn't have asked for more at this price. I have prepared my list for another set of 3 colors, will order them soon
Rating:- 3.7/5
Have you tried Avon Simply Pretty Nail Enamel – Glitter Gold? Which is your favorite Golden nail paint ?