Avon Little Black Dress – Eau Da Parfum Spray Review
Avon Little Black Dress – Eau Da Parfum is one fragrance that was suggested to me by my cousin who is a hordaer of perfumes and doesn't generally pile up common or not so good smells. So, when she suggested me this I had to get it. Avon Little Black Dress was also available on a discounted price in that month's catalogue so placed my order immediately.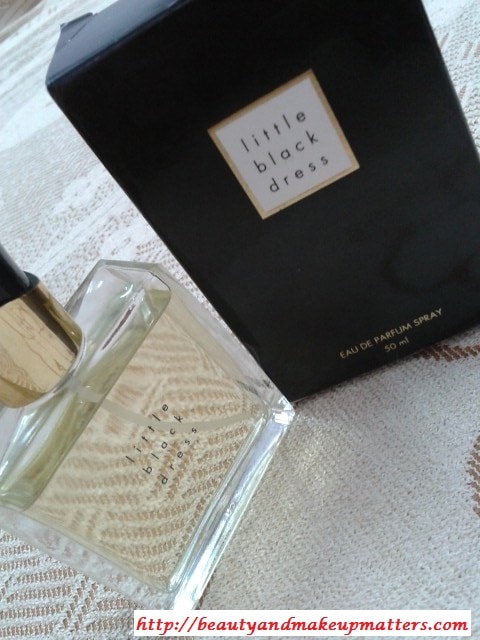 Product Claims: Perfect for every occasion. This timeless classic never goes out of fashion! Sparkling notes of honey suckle, gardenia, jasmine, sandalwood and cashmere musk make this one a must-have on your beauty rack.
Notes:-
Top notes:- cyclamen, coriander, African ginger, jasmine and apricot blossom
Middle notes:- gardenia, , ylang-ylang and pink peony
Base notes:- sandalwood, Tonka bean, musk and Japanese plum.
Fragrance is available in following products:-
Eau De Parfum Spray (EDP)
Perfumed Body Spray
Shower Gel
Skin Softener
Body Powder
Perfumed Roll-On-Deodorant
Ingredients:- Ethyl Alcohol, Fragrance, Water, Benzophenone-2,Glycerin, CI19140, CI 60730, CI 14700
Alcohol Content:- 78.96%v/v (with 1 % Diethylpthalate)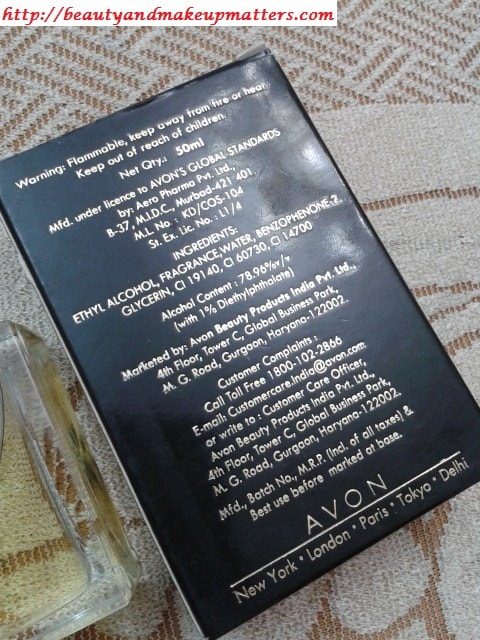 Price:- Rs.799 for 50 ml
Shelf Life:- 3 years from the Mfg date.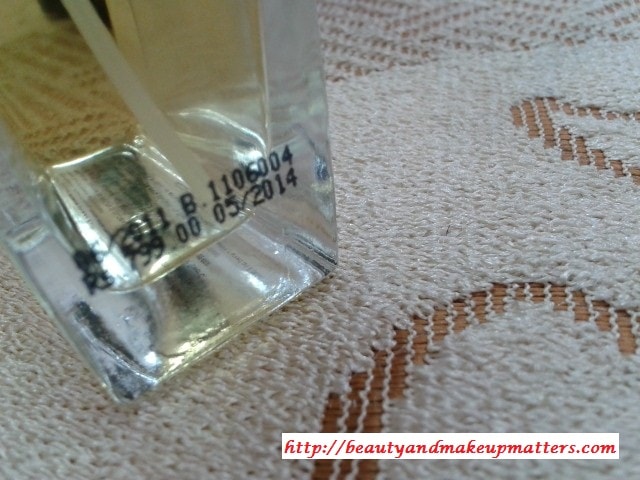 Packaging:- The perfume comes in a simple rectangular black cardboard box packaging. It is a plain see through rectangular glass bottle with well defined cuts. The bottle is designed in a simple but classy way. The small size of the bottle is handy and easy to use. The bottle looks really cute and will nicely fit into my handbags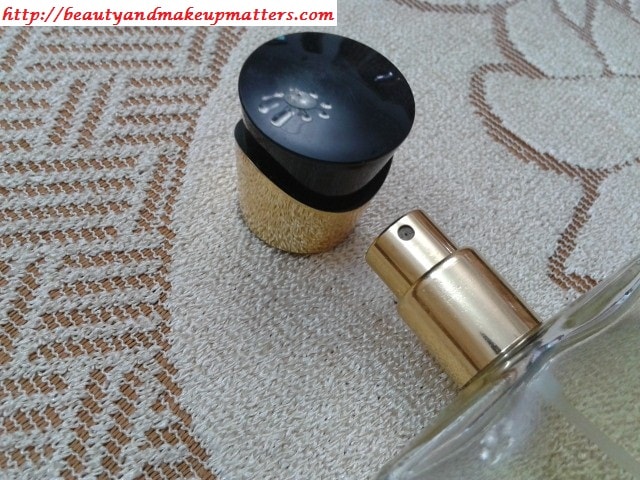 My experience with Avon Little Black Dress – Eau Da Parfum:-
Little Black Dress is a fresh floral fragrance which settles down to light woody notes.. I am not a fan of sweet smells rather dislike utterly sweet smells but it has the right combination of floral and sweet notes which is not overwhelming. It is a lovely fragrance which is neither too strong nor weak. It couldn't detect any musky notes in it rather it is pretty classy feminine fragrance. It is a light, pleasant fragrance which can be worn everyday. LBD can be easily carried by almost everybody be it a small girl or a mature woman.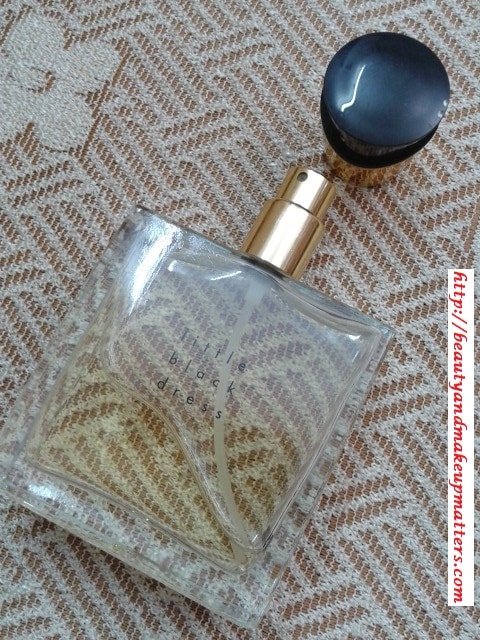 It is not an expensive perfume so don't expect it to last long. I enjoy this fragrance and would have loved it to last day long but it goes off in 4-5 hours on me. Though the staying power of the perfume is not great but I don't mind reapplying it.
I would suggest keeping the bottle handy for reapplication.
Don't Miss to Checkout:
Pros of Avon Little Black Dress – Eau Da Parfum:-
Small sweet bottle which can be easily carried in the hand bag
Feminine scent
Good budget buy and can also be bought under offer.
Sweet and floral notes are perfectly balanced
Light refreshing fragrance
Can be used as a daily wear scent
Suitable for all age-groups
Cons of Avon Little Black Dress – Eau Da Parfum:-
Doesn't last long
Only available through Avon representatives
Recommendation:- Little Black Dress has a fresh flowery scent with sweet top notes and nice woody base notes. It is very feminine and is appropriate for all age groups.  The fragrance is light and not at all overpowering which makes an excellent daily wear perfume. Avon Little Black Dress – Eau Da Parfum is an affordable perfume which can be bought on discount. The only disappointing thing is the lasting power of the perfume which is not more than 5 hours on me. The packaging of the perfume is simple yet elegant. The size is very convenient to use and carry along.

Overall, it is a lovely smell which won't disappoint you. I would definitely recommend this.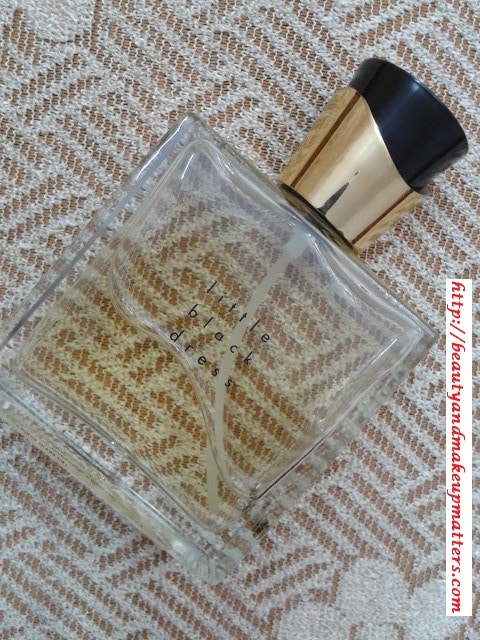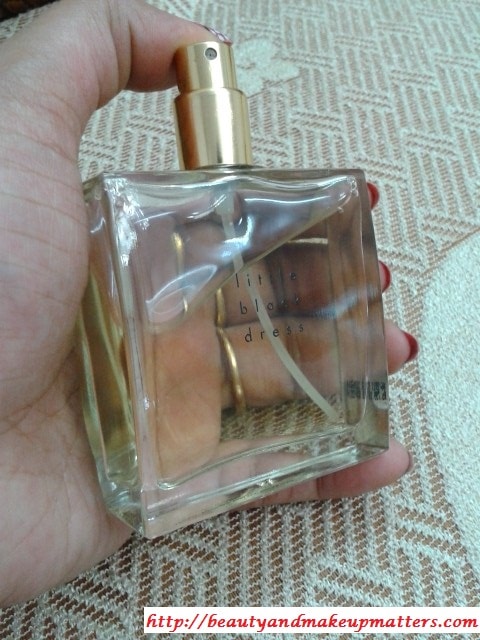 Rating:- 3.5/5
Have you tried Avon Little Black Dress – Eau Da Parfum?