August Fab Bag 2016: What The Chic!
It's my birthday Month… Yayy!! And everything I receive this month will be considered a gift and the first one in the list is What The Chic! -August Fab Bag 2016. I  received the bag today, 1st week of the month and it indeed feels great because now I can cherish the products for whole month.
August Fab Bag is the pretty blue colored bag with pink pouts printed all over.. so chic and sassy!! Absolutely love it.. because its all about Pouts honey :D. I am absolutely loving how Fab Bag Team is coming up with beautiful designs of the monthly fab bag each time.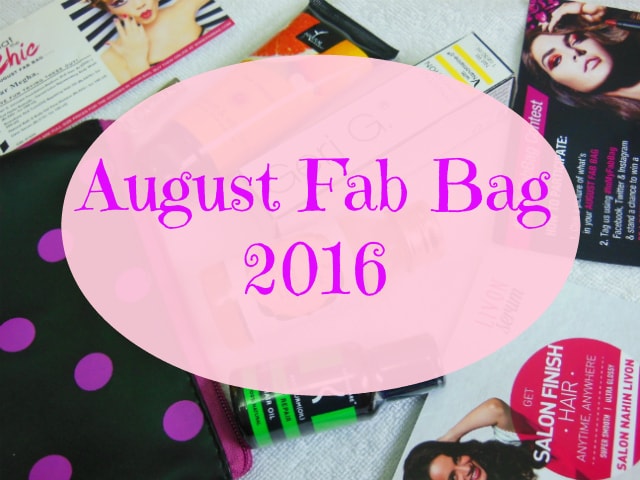 Video is now live:
August Month's Makeup Choice:
This month, Fab Bag is pampering their subscribers – from head to toe! And as part of the 'What The Chic' August Fab Bag, they have curated a selection of Makeup best sellers from 'Geri G.' a range created by makeup artist to Hollywood stars – Geri Giagnorio – for their subscribers to choose from!
More Geri G. Makeup in your August Fab Bag:
Geri's philosophy is simple. Women wear makeup for long hours. Shouldn't it be doing something for the skin ? That's why when Geri set out to make a cosmetic line she had to make it nutritious for the skin and healthy enough to be on all day long! That separates Geri G. from other cosmetic lines who claim to have skin supporting ingredients. It's the formula that makes the difference!
Every product in this collection features Geri G's proprietary Nanomarine-5 ingredient mix of omegas, antioxidants, aloe vera, proteins, and retinyl palmitate for your most radiant skin ever. All products are vegan and cruelty-free.
Subscribers can choose from any ONE of these as their August Makeup: hydrating lip gloss, volumizing mascara, weightless foundation OR multi-purpose blending eye & cheek duo! Choice is available on first-come-first-served basis, till stocks last. Wooohhoo!!
Let's just quickly see what all you can expect in this months Fab bag.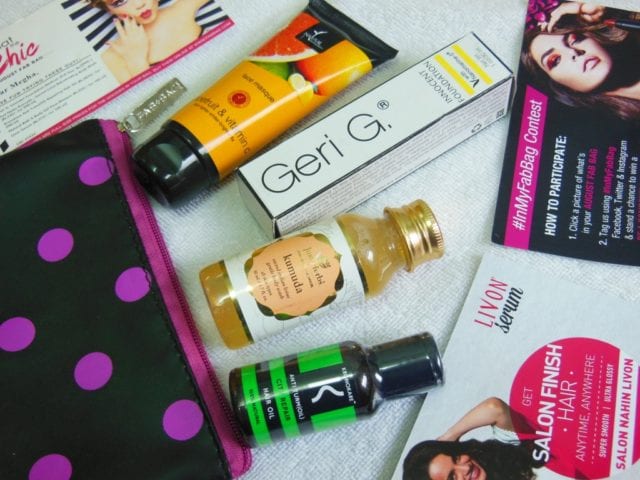 Products in August Fab Bag 2016:
Geri G. Innocent Foundation- Medium:Rs 2500 (Full size)
Just Herbs Kumuda- Sacred Lotus Rejuvenating Body Wash: Rs 545 for 200 gms (50 ml Sample)
Kronokare Anti Turm(Oil) Repairing Hair Oil – Rs 2875 for 500ml (30 ml Sample)
Natural Bath & Body Gel Face Masque– Rs 325 for 100gms (50 ml Sample)
Livon Serum – Rs 215 for 100ml (3 samples)
Product Details:
Geri G. Innocent Foundation- Medium: I really liked the texture of the foundation, its thin and easily blendable. The foundation looks heavy initially but it settles down giving a light-medium finish. It gives a satin matte finish to the skin which is great. Also, the foundation contains skin friendly ingredients which helps in making skin healthy and radiant. The only downside is the foundation oxidizes a little bit, though it works beautifully for me. I also liked the clean pump packaging!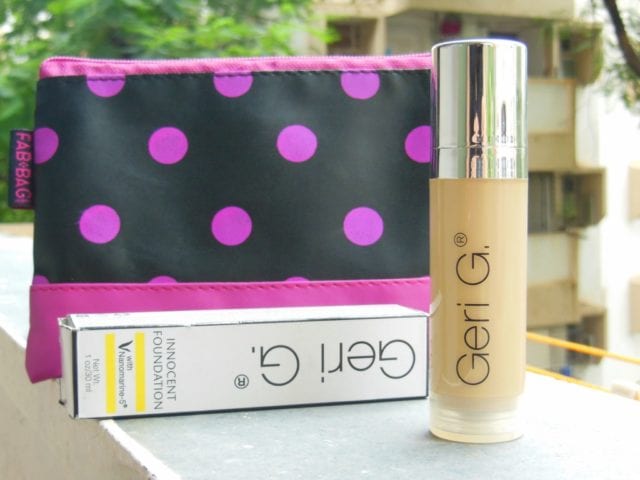 Just Herbs Kumuda- Sacred Lotus Rejuvenating Body Wash: I have been hoarding body washes lately and have been eyeing to grab this one from the brand.  I love Just Herbs Skincare products because they are made with natural ingredients and work wonderfully for me. I cant wait to try out this body wash.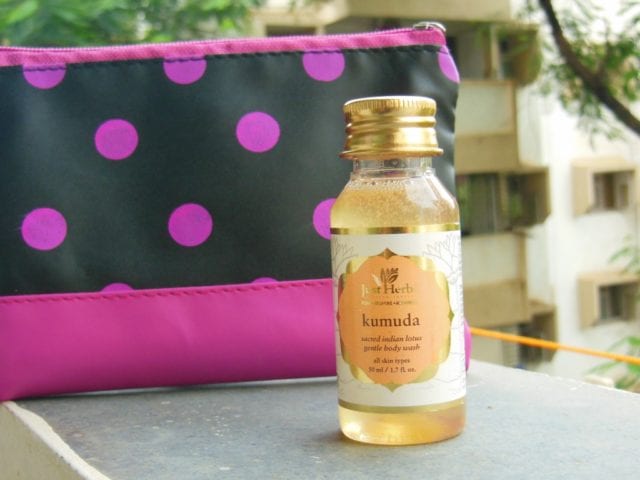 Kronokare Anti Turm(Oil) Repairing Hair Oil: Kronokare is another skincare brand but I havent tried many products from the brand. I have tried a few Shampoo and body wash samples but they werent impressive. Will see how this oil works for me.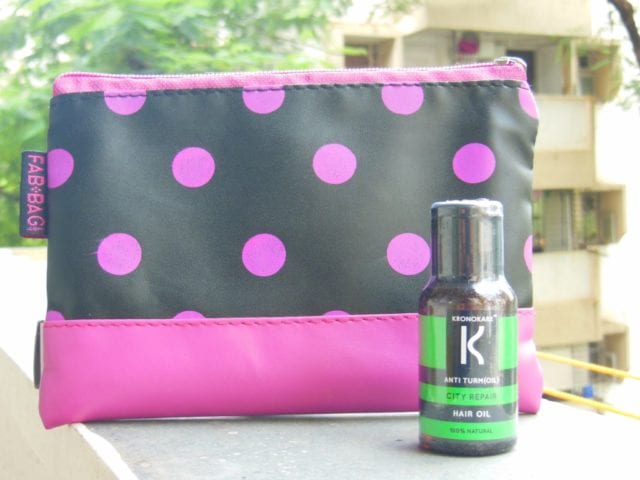 Natural Bath & Body Gel Face Masque: After Geri G foundation this is my favorite product from the bag. I love face masks and already have a collection of them. It is a gel based masque so it is going to be very hydrating and nourishing for my dry skin. Will put it to test today. Catch me on Snapchat to see how it works.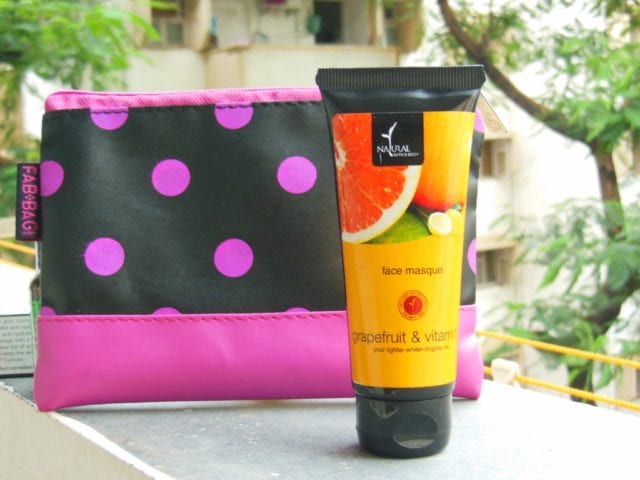 Livon Serum: This is kinda bonus for this month's bag. I got 3 samples of Livon Serum that will help in controlling frizz this monsoon!
Overall:
So, these are the 5 products I received in this month's Fab Bag, with Livon Serum Satchels as bonus. I loved that we got 1 full sized makeup and 2 deluxe samples from Skincare. The quality of the products is great and I love that skincare product are from natural/herbal brands. Though there could have been more makeup.. but with a full sized foundation I am not complaining.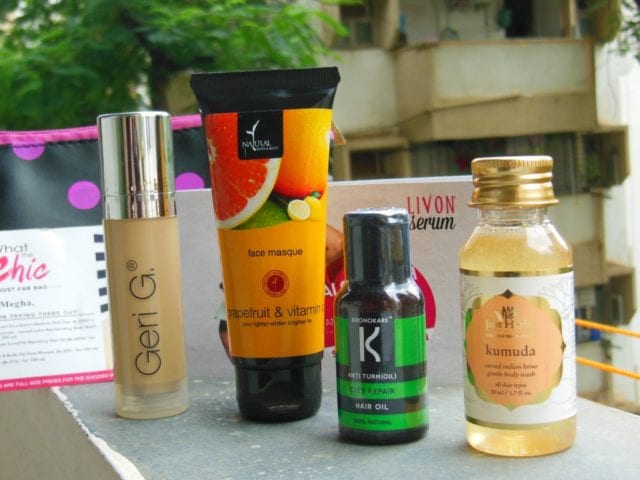 The Fab bag is worth around Rs 3000 which is amazing.
Have you tried any of these products? Which one is your favorite here?
PS: Bag sent by brand for consideration but honest and unbiased opinion.