Aroma Magic Brightening Beauty Pack Review, Swatch
Hello Everyone,
I have been missing on ready made face packs for quite long and due to freezing winters I feel lazy to prepare my favorite DIY face pack so I planned to get one of the easily available ready to use face packs again. I haven't used any of the Aromamagic products since the launch of their new packaging's, so I was tempted to pick one from them and I chose Aroma Magic Brightening Beauty Pack.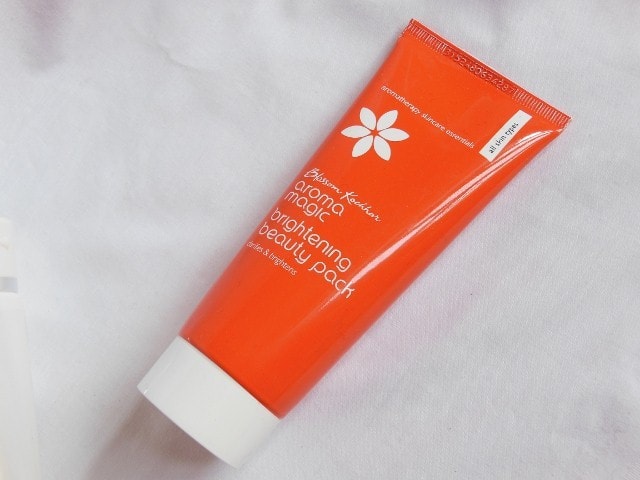 Directions for Use: Apply a layer evenly on face and neck, and leave on for 15-20 minutes. Wipe or rinse off gently with water. For best results, use twice a week.
Price: Rs. 375 for 100gms
Shelf Life : 36 months from the Mfg. date
Packaging: Aroma Magic Brightening Beauty Pack comes in a bright orange squeeze tube type packaging with a white colored screw lid. The packaging is simple and fuss free but a flip top would have been a better option.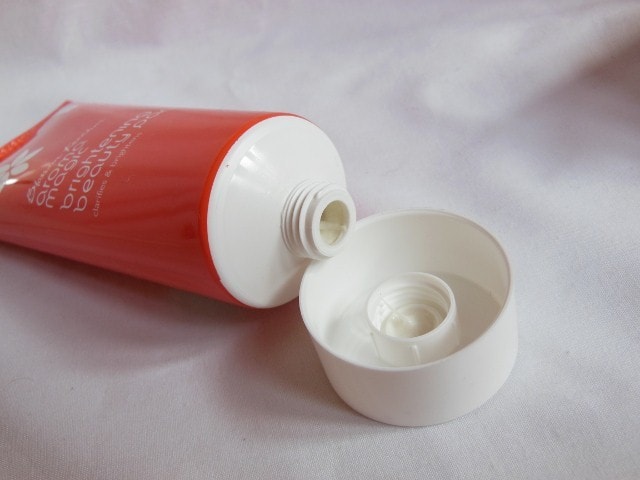 My experience with Aroma Magic Brightening Beauty Pack:
Aroma Magic Brightening Beauty Pack is actually is a thick white colored cream with rich creamy texture. It doesn't feels like any pack I have used in the past which were much thicker and took time for an even application.
It has a weird chemical fragrance which is quite a turnoff. I wish it had a better scent or even a fragrance free formula would still have been fine with me as I highly detest artificial chemical scents in skincare. Thankfully, the scent doesn't last long but still it is something I totally hate.
This Brightening Beauty Pack has soft creamy texture which spreads like a moisturizer on face with just a difference that it doesn't get absorbed. You can go for thicker or thinner application depending how you like. Due to its creamy formula it takes time to dry. I let the pack on my face for good 30 -45 minutes but on some of the portions like nose it stays wet even after that. That's the case in winters and I highly doubt if it will dry up in summers at all. 😛
This Beauty pack doesn't peel or flake off while washing but rather emulsifies with water which gives a chance to massage the product on my face before rinsing off. I keep the mask on face
I have dry skin which turns super dry in winters, so I prefer non drying face packs that doesn't suck out moisture from skin but it is not drying at all and I never get that stretchy feel even after the wash. I could feel that my skin is beautifully hydrated and I can skip on the moisturizer for long
Results: As claimed, Aroma Magic Brightening Beauty Pack does brighten up the complexion but one needs microscopic vision to spot the difference , why I am saying this because I used it on one half on my face for 3 days continuously and still there is barely any difference in my skin tone and brightness. The effect doesn't last long, and I think it vanishes even before 24 hours which doesn't actually makes me happy. It makes my skin smooth and soft but nothing major in terms of texture improvement or brightness
 Don't Miss to Checkout:
Pros of Aroma Magic Brightening Beauty Pack:
Creamy texture that spreads easily
Easy on Pocket
Brightens up complexion for few hours
Doesn't dry out the skin
Hydrating formula
No breakout
Leaves skin soft and smooth
Doesn't irritate my skin
Hygienic and travel friendly packaging
Paraben-free formula
Cons of Aroma Magic Brightening Beauty Pack:
Has a weird chemical fragrance
Causes sensation when it starts drying
Results are not impressive
No tightening of pores
Doesn't reveal full ingredients
Recommendation: Aroma Magic Brightening Beauty Pack is a simple creamy, hydrating face pack which adds a barely there glow to your skin but doesn't expect dramatic results. It is good for dry skin but Oily skin will find it hard to get it dry on face, so not a great pack for them. It is my first experience with aroma magic face packs but I am not highly impressed with the job. I was expecting better results and fragrance for sure from this herbal product. Skippable!
Rating: 3/5
Have you tried Aroma Magic Brightening Beauty Pack? Which is your favourite face pack?