Aroma Magic Almond Under Eye Cream Review
Hello friends,
I haven't faced dark circle issues in my school/college life or even few months back and had a perception that dark circles are not going to haunt me any time soon. But now, my not so healthy lifestyle, spectacles and hours on laptop has really taken a toll on my eyes and proved me wrong, when I noticed slight pigmentation under my eyes and the fine lines that have started to make their appearance.
There are various home remedies like putting Cucumber or Potato slices to keep dark circles and wrinkles under control. But I am all the more lazy to make an effort to do so and also I am always short of time to go to kitchen and cut the slices and put them on eyes and relax. So, I finally convinced myself to get an under eye cream and decided to start with Aroma Magic Almond under eye cream.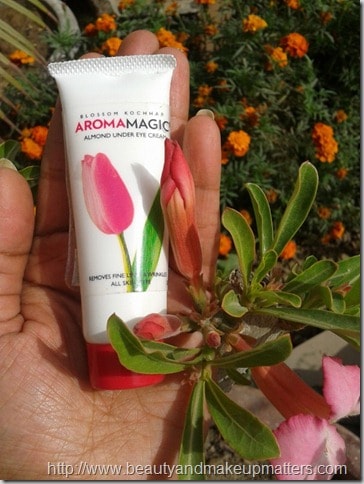 Product Claims:- Vitamin A & C give excellent tone nourishment, suppleness, minimize wrinkles & rings around the eyes.
Directions for Use:- Gently pat the cream around the eyes with finger tips & wipe off with damp cotton after 20 minutes.
Active Ingredients:-Extracts of almond, Lemon Peel, Bach and Pure essential oils of Rose, Carrot.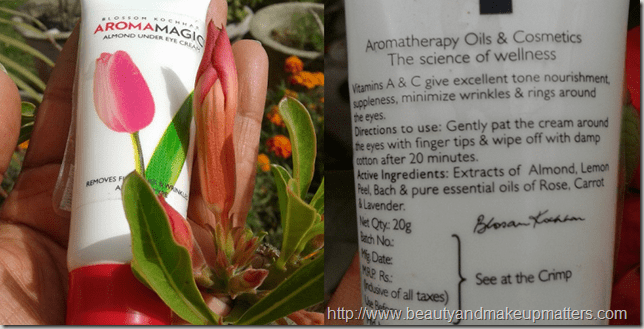 Significance and Skin-benefits of Ingredients:-
Almond:- Almond oil makes skin smooth and soft. It helps to soften and repair the skin and reduce the appearance of dark circles under the eyes.
Lemon Peel:– Lemon peel may help to enhance the clarity, glow and softness of the skin
It contains citric and plant acids that work to cleanse, lighten and brighten the skin; remove dead skin; and stimulate new skin growth.
Bach:- Sorry couldn't find any info about this or even what this exactly is.
Essential Oil of Rose:- Rose Oil good anti-oxidant. It is a pretty also has a positive effect on broken superficial capillaries and is thus ideal for mature, dry or sensitive skin. It has soothing properties and also works on moisturising, firming, smoothing and repairing the skin
Essential Oil of Carrot:– Carrot oil contains high amounts of Vitamin A and beta carotene which helps in preventing premature aging. It boosts the tone on the skin color. It helps in toning the skin and also escalating elasticity and firmness.
Price:- Rs.115 for 20 gm
Shelf Life:- 3 years from the Mfg date.
Packaging:-Aroma Magic Almond Under Eye Cream comes in small white tube with a red coloured screw cap. The packaging is way too simple but easy to use. The tube is opaque so I can't see the amount left in it. The tube is so small that it looks like a baby tube sitting beside my lotions and creams on the shelf. The tube is convenient to use and travel friendly.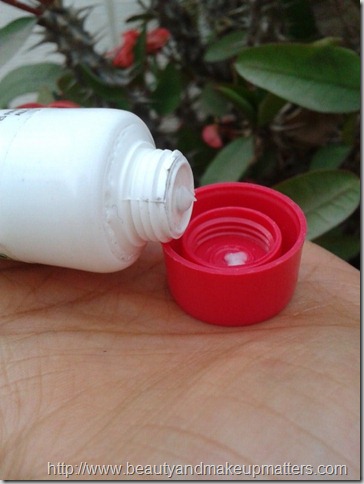 My experience with Aroma Magic Almond Under Eye Cream:-
Aroma Magic Almond Under Eye Cream is white in colour. The cream is thick but spreads easily on the under eye area. Normally, I end up squeezing out more than the required amount and it took me 4-5 days to learn that just a small drop (half the pea- size) is enough for each eye. The cream is very moisturising and gets absorbed with a little massage.
However, it leaves a slightly oily film on the skin. I have a dry skin but even then I prefer to use this cream at night only as it may make the under eye slightly greasy/oily during day.  The cream has a fragrance which I didn't notice until I smelled it for review purpose. It has a mild herbal smell but I didn't liked it much.
According to the directions to use, wipe off the cream with damp cotton after 20 min. But I prefer not to do this and let the cream stay on my under eye area and do wonders(;). The cream has started to show its effect in 3-4 weeks with regular usage. It has reduced my under-eye pigmentation and also made my dull under-eye area look slightly brighter and healthier. However, I couldn't see its effect on few fine lines that I have.
Don't Miss to Checkout:
Pros of Aroma Magic Almond Under Eye Cream:-
It gives a slight cooling effect to under eye area just after application.
Reduced the appearance of dark circles with regular usage.
It has thick creamy texture but spreads easily.
The cream gets absorbed quickly into the skin with a few finger strokes
It keeps my under eye- area well-moisturized and made it soft and smooth.
It hasn't caused me any irritation or breakout.
The tube will last 3-4 months used daily at night as a little amount is required for single usage.
Suitable for all skin types
Free from harmful chemicals as it is claims to contain only vegetarian ingredients.
Quite inexpensive compared to the other under eye creams available in the market.
Cruelty free as Aroma Magic doesn't test on animals.
Cons of Aroma Magic Almond Under Eye Cream:-
The cream leaves a slightly oily film on the skin so might not be suitable for people with oily skin and for daytime application as it might make the under eye area look greasy.
It may not be the best option for heavy dark circles and it also takes time to show its effect.
The packaging looks so average. Nothing fancy or eye catching.
The tube is opaque so doesn't get to see when it is going to finish.
Only active ingredients are mentioned on the tube
Didn't notice any major difference in wrinkles and fine lines.
Recommendation:- Aroma Magic Almond Under Eye Cream is an affordable and effective under-eye cream. I would recommend this to all who are looking for an affordable moisturising under eye cream that also works on dark circles and under eye pigmentation. But this is meant for fine lines and wrinkles problem.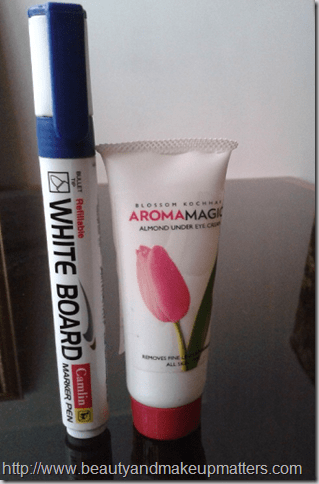 Rating:- 3.5/5
Are you using any under-eye cream? Have you used Aroma Magic Almond under-eye cream?