Are they Worth the Hype: SIGMA 3DHD Kabuki and Precision Brushes
Hello everyone,
Today I am going to review the much raved about newly launched SIGMA brushes from their 3DHD range… doesn't that sound dramatic!! Like I am talking about some latest technology and actually I am, the newest one in brushes because to get that perfect application which wouldn't be possible without the best of the tools, so yes it is a fusion of makeup and technology!! You got me?? No.. confused ?? Let's leave it here and look at these beautiful brushes from SIGMA beauty the SIGMA 3DHD Kabuki brush and SIGMA 3DHD Precision Brush.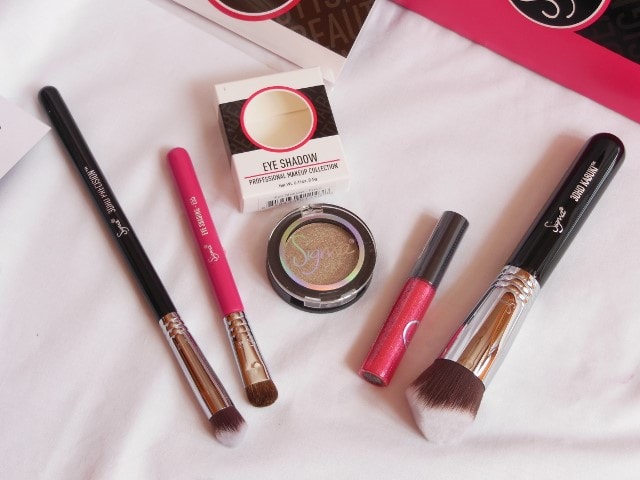 Product Claims: The 3DHD™ Kabuki is a multifunctional brush engineered to perfection. It was uniquely designed for all areas of the face to apply liquid, cream and powder products uniformly on every curve, crease and angle.
Ridge: The functional ridge at the top of the brush has the perfect angle to apply liquid, cream or powder products reaching every curve, crease and angle. Designed with a structure that is effortlessly multifunctional, 3DHD™ will do all the work for you, without having to move a single muscle of the face.
Double wedge flat surface: Allows application of liquid, cream or powder products on flat or slightly curved areas of the face in two simple steps. First, apply product using one side of the wedge, then use the second (clean) side of the brush to smooth the surface and eliminate any streaks.
Point: The sharp point of the brush can be used for highly precise application of cream, liquid and powder products. The point allows products to be perfectly applied in the under eye area and around the mouth.
Dimensions and density of fibers: The dimensions of the brush head were developed to provide fast product application, while the density of the fibers allow for buffing products onto the skin. The fine fibers allow for coverage of skin pores.
Price:
$24 for Kabuki Brush
$19 for Precision Brush
My Experience with SIGMA 3DHD Brushes :
As you already know that I love SIGMA brushes, I have a lot of SIGMA Eye Makeup Brushes but the only one for face that is none other that SIGMA F80 Kabuki Brush. I love SIGMA F80 and is my must have for foundation application. I haven't used any other brush foundation since I had this in my vanity. I used F80 for liquid foundations but it can also be used for powder and cream formulas.
Well today's review is not about SIGMA F80 but the new SIGMA 3DHD brushes which are supposed to be enhancement of F80. I swear by SIGMA F80 and couldn't think of anything better than that (FYI: I have not used beauty blenders as of yet!! ) but do this newer and fancy 3DHD brushes do it for me? Lets see…
SIGMA 3DHD brushes has a similar duo fibre bristles which are super soft and are as densely packed as in the Original F80 Kabuki brush. .
The precision brush is the smaller version of kabuki brush which makes it suitable for under eye area application.
These 3DHD brushes have a fancy shape with a pointed centre and with tapered bristles at both sides. This shape divides the brush in two equal parts and each one can be used separately like you have 2 brushes in one
The bigger one i.e. 3DHD F80 works wonderfully as a foundation brush as it  buffs it in really nice giving me a nice flawless finish with no streaks or patchiness similar to F80 but is more precise
The smaller one works nicely on under eye area for blending in the concealer/brightener.
Both can be used for either of the purposes. Precision brush can be used for foundation application but is just a bit small for that and Kabuki brush can be used for blending in under eye concealer
How to Use SIGMA 3DHD Brushes:
The best way to use these brushes is to use them at an angle unlike SIGMA F80 which has to be used flat on face owing to it straight cut bristles but as in SIGMA 3DHD bristles are tapered so make use of that shape and use it with a little bend so only one of the surface comes in contact of your face. The other side will remain clean and can be used for makeup application the other day.
Don't Miss to Checkout:
How SIGMA 3DHD Brushes are better than SIGMA F80:
Precise Application: The new 3DHD brushes give more control over application especially if you like to apply foundation after doing your eye makeup as those pointed tips will help you.
Eye Makeup Safe: Be rest assured about your eye makeup with these as they won't mess around. The pointed tips help you blend in without touching the eye makeup on lower lash line of the winges of your cat eye makeup. Eye your eyebrows are safe with these as it glides in easy between brows.
No Funny Faces: You don't have to make faces while applying foundation on hard to reach areas like sides of nose, upper lips and chin area
Multi-purpose: The ridge of these brushes works nicely to apply highlighter on bridge of the nose and place contouring color on the hollow of cheek bones
Double Dabble: I don't need to wash my brush every single use as there is a 2nd side which can be used again, so yay!! I save on time and energy with these.
Lets Flaunt: The brushes look super fancy like you have some high end gadget in your hand.. so go flaunt these.. 😀
Recommendation: SIGMA 3DHD Brushes have super soft densely packed bristles which blend foundation/ concealer really well and can be used with powder, liquid or creamy formulas. These are truly multi purpose as they work well for all over your face and you don't need to grab another brush for hard to reach areas on face.

The brushes not only look advanced but are also available in peppy colors like pink and white which adds on to the style quotient. The brushes are a bit pricier but the quality speaks for them.

Lastly, are these 3DHD better than SIGMA F80.. Yes they are!! I love SIGMA F80 too but these brushes got the ball rolling for me with their precise application. They definitely made the Makeup Application a lot better ( with lesser mistakes and corrections).
Rating:- 4.5/5
Have you tried SIGMA 3DHD Brushes? Which is your favorite Makeup Brushes brand?
PS: Product sent by brand for consideration