April Fab Bag 2016: It's A Spring Thing
Hello Gorgeous,
This is the fastest ever I have ever received the Fab Bag because I got it on the 1st of the Month itself.. isnt it awesome. I am sure Fab Bag team isn't fooling around to get these bags delivered so soon! :D.
This months Fab Bag is a beautiful pink colored pouch in matte finish with a jute textured look and feel. I really liked the look and quality of the fab bag.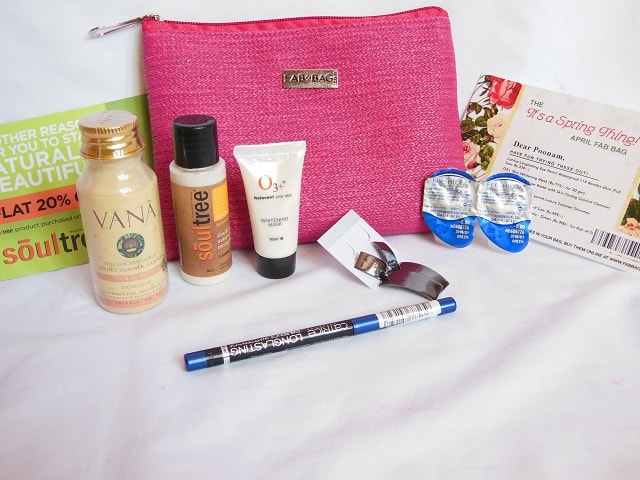 Video Unboxing and Review is Live..
Products in April Fab Bag 2016:
1. Catrice Long Lasting Eye Pencil Waterproof 110 Rendez-Blue – Rs 330 ( Full Size)
2. O3+ Skin Whitening Mask – Rs 775 for 50gm (10gm Sample)
3. SoulTree Aloe & Rose Water with Skin tOning Licorice Cleanser – Rs 295 for 120ml (30ml Sample)
4. Vana Vidhi Italian Bergamot Luxury Summer Shimmer – Rs 1250 for 60ml (Full size)
5. Style Fiesta Accessory – Rs 499 ( Full size)
6. Freshlook 1 Day Color Lens – Green – Rs 900 for pair of 5 (1 Pair)
We got to choose one product for this months fab bag and I opted for this Catrice Long Lasting Eye Pencil Rendez-Blue. I have tried Catrice Lip Liner which wasn't that good so I decided to try their eye liners and I must say that I am impressed. The formula is super creamy and it glides on beautifully giving a rich color payoff. Though it isnt smudge proof but can be made to last long by setting eye with powder first. It is bright navy blue liner with slight metallic sheen.. I love this color.
Next I got this tiny little sample of O3+ Skin Whitening Mask. I haven't tried this yet but I am not into whitening masks so I am little apprehensive about trying it. Also, the sample is just 10 gm so It will just last me one application which isn't enough to make an opinion on the product.
Third product is this deluxe sample of SoulTree Aloe & Rose Water with Skin Toning Licorice Cleanser which has a super runny texture. It has a strong scent which definitely is not of Aloe or Rose but I am excited to try it.
I am receiving it for the third time in the Fab Bag and its the Vana Vidhi Italian Bergamot Luxury Summer Shimmer sunscreen. It is full sized product which is nice but I already have it with me. The formula is nice which gets absorbed quickly but it has a strong scent and tiny gold particles in the formula which I am not a fan of.
Giving a break to makeup and skincare, I got these metallic Earrings from StyleFiesta in the fab Bag which will go well with any western wear.
We got a bonus stuff this month and its these Freshlook 1 day contact lenses. I opted for Green shade but they are available in 12 different shades.
So, I got 6 products in April Fab Bag with 1 full sized products from makeup and skincare category with some deluxe samples to pamper me this month and a Freshlook lens to flaunt green eyes. The fab bag is worth around Rs.2500 which is good but we have seen better bags from Fab Bag in the past months!!
Have you tried any of these products? Which one is your favorite here?
PS: Bag sent by brand for consideration