Anne French Shea Surprise Convenience Hair Remover Kit Review
Hello Girls,
Winters are almost gone and its time to shed all the load and be back comfy tees and shorts. Thinking of summers, the first thing that comes to my mind is waxing. yeah!! 😛 😛 .. Its weird but I need one session badly. I had this big excuse of freezing temperatures in north India to not get them waxed on time but simply saying I just don't have the courage to bring out arms out of cozy, warm clothes for anything but waxing. Now when Its time to flaunt silky smooth hands and legs, i decided to give this Anne French Tender Care Hair Remover Convenience kit a shot!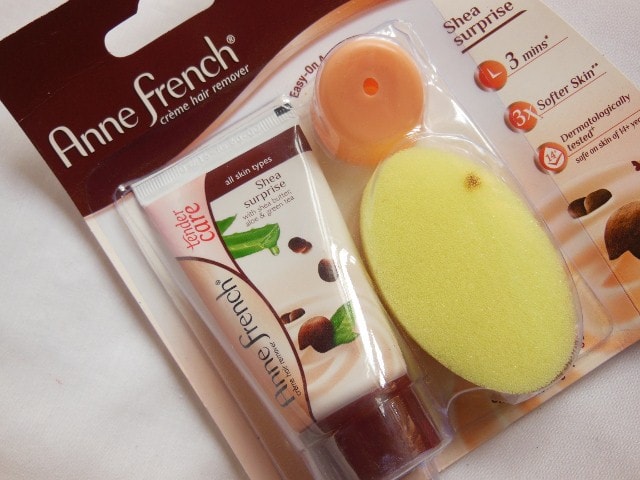 Product Claims: Anne French tender care is a gentle depilatory cream with the goodness of real shea butter and aloe vera known for their skin benefits. This gentle formulation will make your skin upto 3 times softer after depilation. What's more, it is so safe that it can be even used on the tender skin of a 14 year old girl. The fresh and soothing aroma of green tea will uplift your senses to make it a memorable experience.
Ingredients: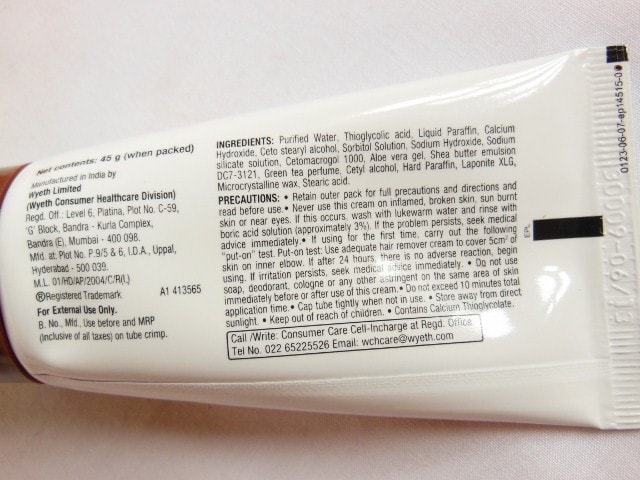 Price: Rs. 60
Packaging: The kit comes with a small plastic squeeze tube, a slanted plastic nozzle as applicator and a sponge for wiping away the cream. The usage instruction are mentioned on the pack with other details.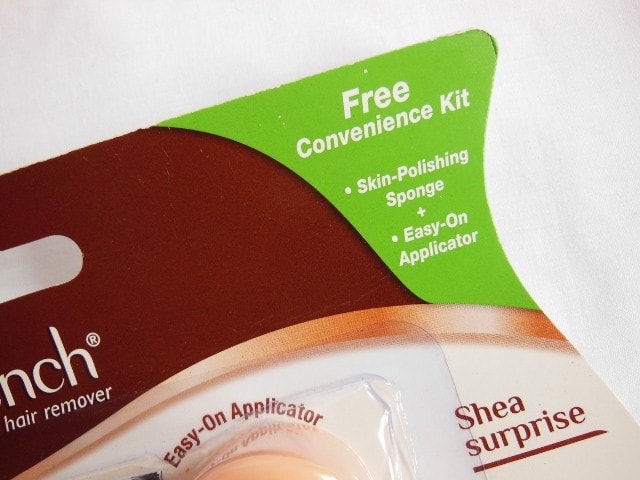 My Experience with Anne French Shea Surprise Convenience Hair Remover Kit:
Anne French is the first brand I came to know for the Hair removal business and it has been here for years but guess it paid heed to the women's pleas of inventing an easy to use hair removal kit and it came up with this convenience kit.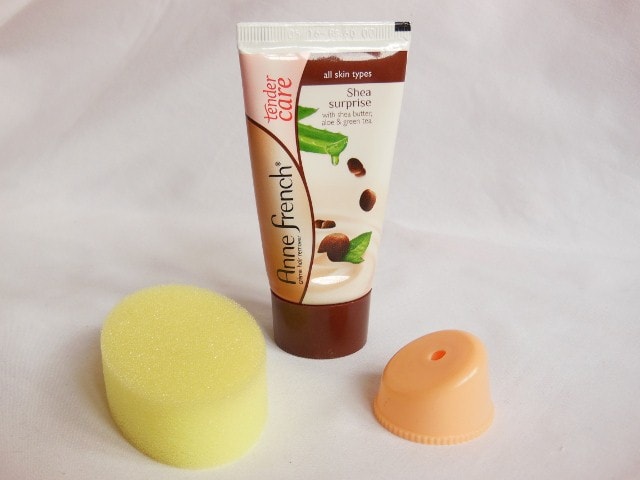 The removal cream is white in color and has a rich creamy texture which spreads with ease. The cream is packaged in a tiny plastic tube and I just need to replace the cap with the easy-on applicator and apply the product where ever required. The slanted shape of the applicator spread the cream evenly on the application area and doesn't requires involvement of fingers at all. Let the cream sit on your skin for 5-10 min and then wipe it off with sponge provided with the packaging which will also take away removed hair and you are left with smooth hairless legs. Yess it is that easy!
Swatch: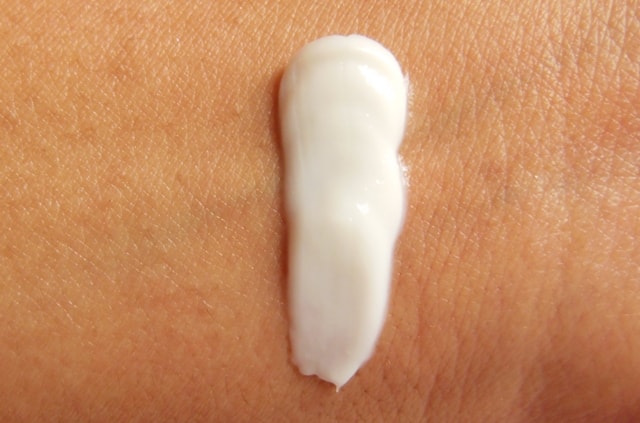 The cream removes hair really quick.I swatched it on my hands for clicking pictures and I took hair away from that area within that short duration. The cream do smell like the regular hair removal creams with a pungent chemical scent which is nauseating, though it isn't too strong but strong enough to be ignored. I used it on arms, legs and underarms and it didn't caused any irritation or burning sensation after use, though I would recommend to do a patch test before application especially if you sensitive skin or going to apply to sensitive areas like underarms. The cream claims to contain Shea Butter and Aloe Vera which are known for their soothing and moisturizing properties.
It give me hassle-free and mess free application, while taking away all the unwanted hair and leaving me with soft and smooth skin.
Pros of Anne French Shea Surprise Convenience Hair Remover Kit :
Convenient to use
Trouble free application with applicator and form
Does a great job at removing hair
Shows results in 5-10 minutes
Skin feels smooth
Great for emergencies
Contains goodness of Shea Butter
Affordably priced
Hygienic and Travel friendly packaging.
Dermatologically tested.
Cons of Anne French Shea Surprise Convenience Hair Remover Kit:
Doesn't remove hair from roots so they grow back quickly
The smell bothers me a bit
Doesn't replace regular waxing or epilating but great for hurried situations 😉
Recommendation: Anne French Shea Surprise Convenience Hair Remover Kit is great option to flaunt hairless lags and hands when you have missed your waxing appointment and no time for waxing at home but now have to leave for a party in an hour. This hair removal kit seems to be perfect solution for such situations. A quick, convenient and painless process to remove unwanted hair on your own.For regular use I would still suggest epilation or waxing based on your preference but one must keep at least one of this for emergency use which can prove to be a life save in such situations .
Rating: 4/5
PS: I won this kit in a giveaway hosted by Jyoti on her blog"Everythingthat-Matters" in collaboration with Anne French 🙂 but views expressed are based on my personal experience.
Have you tried Anne French Tender Care Hair Remover Crème? Do you prefer Waxing , Epilating or Use hair removal creams?