Aloe Veda Sweet Lemon Moisturising Handwash with Orange oil Review
Product Claims:- This soap-free moisturizing hand cleanser contains a tangy citrus lend of Sweet Lemon and Orange Oil combined with Aloe Vera and Glycerine that is uplifting, yet relaxing and leaves your hand feeling clean and Velvet soft.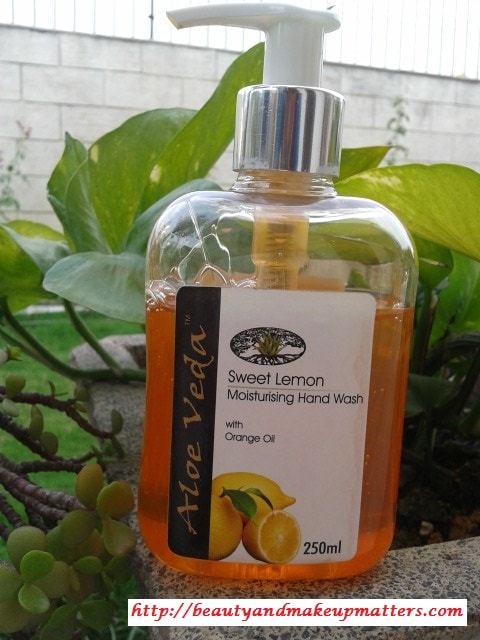 Directions for use:- Press the pump to allow ready rich foam fall on your palm. Apply over & above the palms & rinse with water. Foam rinses faster leaving skin soft, clean & supple.
Key Ingredients:- SLES-45%, Coco Mono Ethanolamide – 2%, Coco-Di Ethanolamide-1%, Kathon CG, Ethylene Glycol Mono Stereate- 2.5%, Tea tree oil, Aloe Vera Gel-2.5%, Sandalwood Oil, CedarWood Oil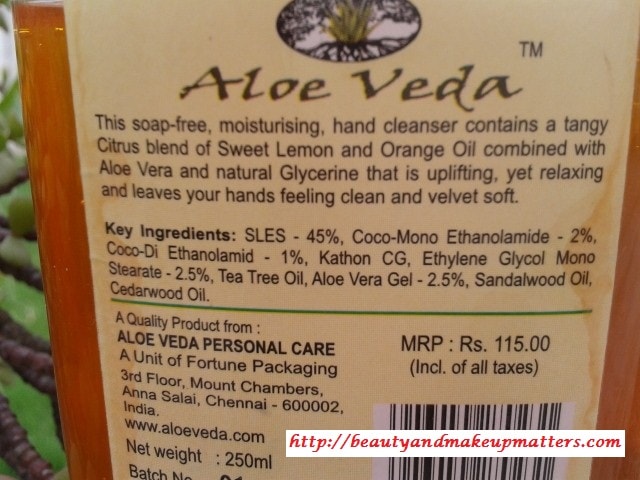 Price:- Rs.115 for 250ml. Also available in Tea-Tree Oil.
Shelf Life:- 3 years from the Mfg date.
Packaging:- It comes in a see through plastic bottle with a pump dispenser. I like pump dispenser packaging as it provides better control on the amount of the product to be dispensed. As the bottle is transparent, you can easily see how much of the product is left inside.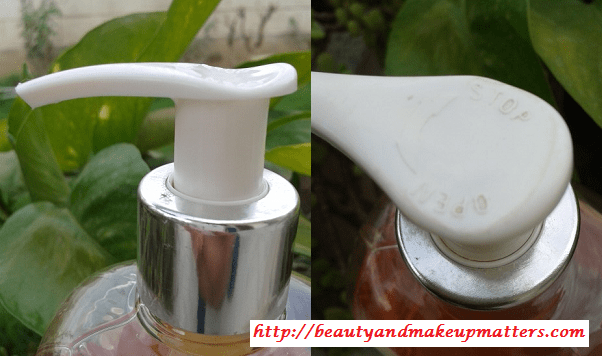 My experience with Aloe Veda Sweet Lemon Moisturising Handwash with Orange Oil:-
Aloe Veda Sweet Lemon Moisturising Handwash is an orange colored semi-solid liquid almost gel like which spreads evenly.  It has gel like consistency which is neither thick nor runny. It has a strong smell of lemon+oranges mixed. I find its  tangy citrusy smell a little bit overwhelming to my nerves.
The fragrance lingers for few minutes after the hand wash. It gives a rich lather and removes all the dirt in a single wash. Hands feel clean and soft. The not so good thing about this hand wash is that it does strip off moisture from my skin. It doesn't leave hands overtly dry and I immediately moisturize my hands after washing.
It also takes some effort to come off  but doesn't leaves any trace or residue behind. Half the pump is sufficient for the hands, so the hand wash is going to last long.
Don't Miss to Checkout: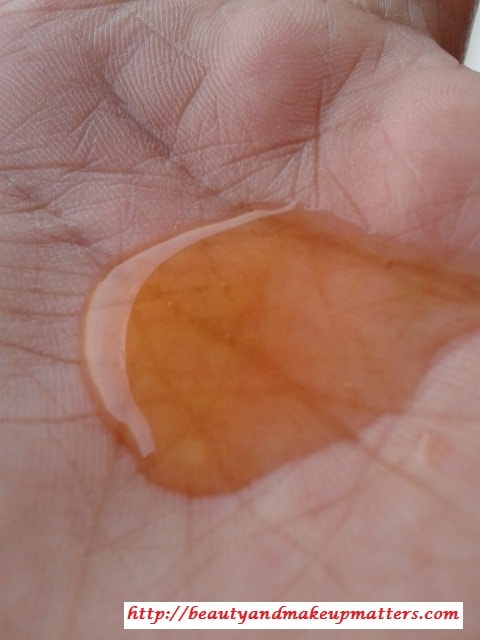 Pros of Aloe Veda Sweet Lemon Moisturising Handwash:-
Lathers well.
Rinses off easily and leaves no slippery feeling after wash.
Does the job of cleaning quite effectively.
Little amount is enough to give good lather and clean your hands thoroughly
Contains Aloe Vera Gel and natural oils like Tea Tree, Sandalwood, Cedarwood which are good for skin.
Hygienic packaging. The see through bottle let me know the amount of the product left.
Soap-free.
Cons of Aloe Veda Sweet Lemon Moisturising Handwash:-
It has strong citrusy fruity smell which may not liked by everyone
Leave hands slightly dry and have to moisturise them instantly
Only key ingredients are mentioned.
Availability is an issue. 
Recommendation:- Aloe Veda Sweet Lemon Moisturising Handwash is a soap-free hand wash with loads of natural oils. It is quite gentle on hands but does leave them dry and must be followed by moisturizer. Overall, a nice herbal handwash which can be given a try.
Rating:- 3/5
Have your tried Aloe Veda Sweet Lemon Handwash with Orange oil?