All Natural: Medimix Ayurvedic Female Intimate Hygiene Wash 
Hello Everyone,
I am sure you will also agree with me on importance of Intimate Hygiene but there were days that we barely had any Feminine washes in the market. Even till today I know just a few brands who offer Feminine washes to maintain personal hygiene but I am excited that more brands understand the importance of it and coming up with Intimate washes. The latest one is from our own Ayurvedic brand "Medimix", Medimix Ayurvedic Intimate Hygiene wash.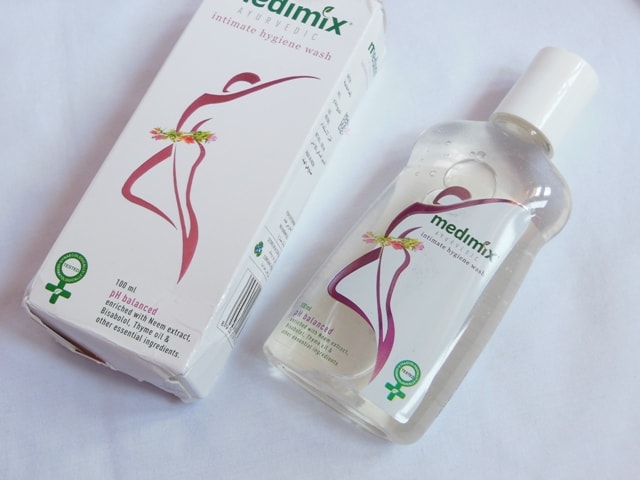 Product Description: Medimix Ayurvedic Intimate Hygiene wash is a safe and effective personal hygiene formulation enriched with smoothing and emollient substances. It keeps you fresh and fragrant while reducing itching, irritation and other skin infection
Price: Rs 150 for 100 ml( Buy from Snapdeal, Ebay, Paytm, Indiatimes)
Shelf Life:-  24 months from the Mfg date.
Packaging:- Medimix Ayurvedic Intimate Hygiene wash comes in a transparent plastic bottle packaging with a white colored flip top cap. The bottle is packed in a white colored cardboard box carrying all the details about the wash. The cap closes tightly and hence makes the packaging travel-friendly but I personally prefer using pump dispensers more over these flip-top packaging as they provide better control over the amount to be dispensed.
The packaging comes with a leaflet with the details regarding advantages of using a intimate wash and directions to apply and some tips to maintain vaginal hygiene.
My Experience with Medimix Ayurvedic Intimate Hygiene wash
Medimix Ayurvedic Intimate Hygiene wash is a clear gel with super thin runny consistency. I just need a little bit of it for each application but I tend to squeeze out more because of the packaging.
This intimate wash has a lovely floral fragrance which is very subtle but gives that fresh feeling and smells pleasing to the senses. The formula is made with only natural ingredients like Lime, Rosemary, Neem, Sage, Aloe and more which have natural anti-bacterial and hydrating properties. It also contains Lactic Acid which helps in maintaining the pH level on intimate area. It is a chemical-free formulation and is free from Soap, Parabens, SLES so it feels very gentle on the intimate area. It gives a good lather and gently cleanses away the infection causing bacteria's.
I have been using it for weeks now and haven't experienced any itching or burning sensation. The formula is very mild and is safe and helps to protect against dryness, itching, irritation, unpleasant odor and infections. It is gynaecologists and dermatologically tested so you can be rest assured that you are getting the gentlest care.
Recommendation: Medimix Ayurvedic Intimate Hygiene wash is an Ayurvedic formulation with all natural ingredients like Lime, Rosemary, Neem, Aloe and doesn't have any synthetic components or harmful chemicals like  Parabens, SLES which makes it a perfect pick to maintain intimate hygience. It has pH balancing formula to keep the area fresh all day. Its soft floral fragrance gives that refreshing feel and soothes senses. If you are looking for an intimate wash, do give this #MedimixAyurvedicIntimateHygieneWash a try. Highly Recommended!
Rating: 5/5
Have you tried Medimix Ayurvedic Intimate Hygiene wash? Which is your favourite feminine wash?
PS: Product sent by brand for consideration but honest review.