All Good Scents Flirty EDT Review
Hello everyone,
Fragrances are like a gamble, because not only the investment is high but there are chances that I might end up not liking it all and this where you fail and the whole amount goes down the drain. So, isn't it better to find something affordable for this game. Lets look at these new fragrance brand at pocket friendly price, "All Good Scents" and I will be reviewing the scent named "Flirty".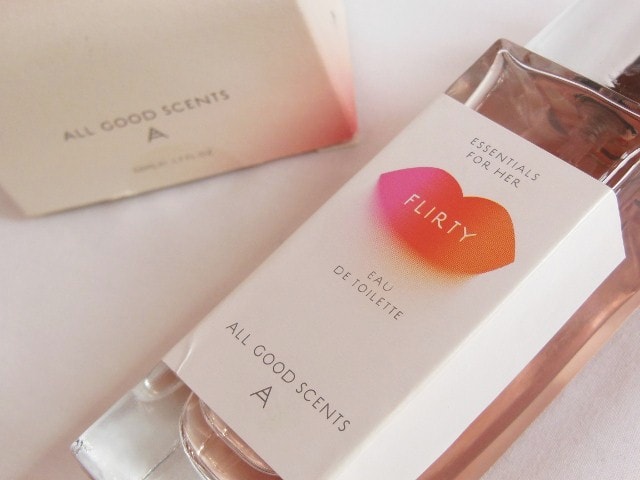 Product Claims: Flamboyant and coy, an unusual mixture with panache of black current and softness of white roses and lilies. Girly and naughty. Persuasive and yet playful. For the one who is at once fresh and innocent, elegant and graceful but also provocative and flirty.
Top notes: Lily of the valley, Bergamot, Blackcurrant
Heart notes: Rose, Gardenia, Orange blossoms
Base notes: Heliotrope, vanilla, Iris
Direction for Use:- Spray on pulse points after moisturizing skin
Price:- Rs.750 for 50 ml
Shelf Life:- 4 years from the Mfg date.
Packaging:- All Good Scents EDT's come in classy rectangular shaped glass bottles with a shining silver cap. The cap fixes nicely over the nozzle and makes the perfume easy to carry in bags. Also, the packaging is pretty simple which makes it safe to carry along.
My experience with All Good Scents Flirty EDT:-
Flirty is a light rosey-pink colored liquid with a beautiful floral scent. Just one sniff of the EDT and I am sold. Really, the smell overpowers my senses and brings me closer to a blooming garden, where I am strolling down on a dewy fresh winter morning.
The fragrance isn't strong that feels overwhelming but isn't so mild that goes unnoticed.
I can smell the citrusy sweet fruity notes initially which quickly transform to more of a rosey floral one and then its just the sensuous woody, vanilla notes lingers on for hours on me. I am bad at describing fragrances but I hope you can make out that this is an amazing one!!
I have spent thousands of bucks on fragrances that doesn't last more than 2-3 hours, so this one makes a great pick for the price and quality provided.
I would recommend these scents over body mists which are mostly sweet scented and lasts just an hour so and even deodorants who lasts less than an hour with too much of gas filled in;)
 Don't Miss to Checkout:
Pros of All Good Scents Flirty EDT:
Lovely floral scent
Not overpowering
Lasts for 5-6 hours
Great budget option
Doesn't cause any skin rashes/irritation
Easy to carry in bags
Wide range of fragrances
Cons of All Good Scents Flirty EDT:-
Wish it had lasted longer but for the price I don't mind
Simple packaging
Recommendation:- All Good Scents Flirty EDT is a lovely refreshing floral fragrance with subtle sweetness in top notes but settles quickly to a woody oriental scent that is my favorite. I am in love with this fragrance, soothing to my senses and lasts for good 5-6 hours before it disappears. I don't have to shell out a bomb to get this great quality product. I cannot stop raving about it and already planning to add more to my collection. If you like long lasting scents and don't want to pay heavy for it, do give them a try. Recommended!
Rating:- 4/5
Have you tried All Good Scents Flirty EDT? Which is your favorite fragrance in EDT's?
PS: Product sent by brand for consideration