Sedona Lace 12 Piece Synthetic Professional Brush Set
Hello Everyone,
It is going to be all about brushes today!! Lately I have been a little obsessed with makeup brushes which are doubt the most essentials but also most underrated part of makeup process. In Indian drugstore we don't much options to choose from – in Makeup brushes category but there are brands out there that ships to India and today I will be introducing one such brand.. "Sedona Lace". Apart from brushes they have a wide selection of eye liners, Eye shadow palettes, mineral foundations, concealers and blushes.
So, lets see how good their brushes are, Sedona Lace 12 Piece Synthetic Professional Brush Set.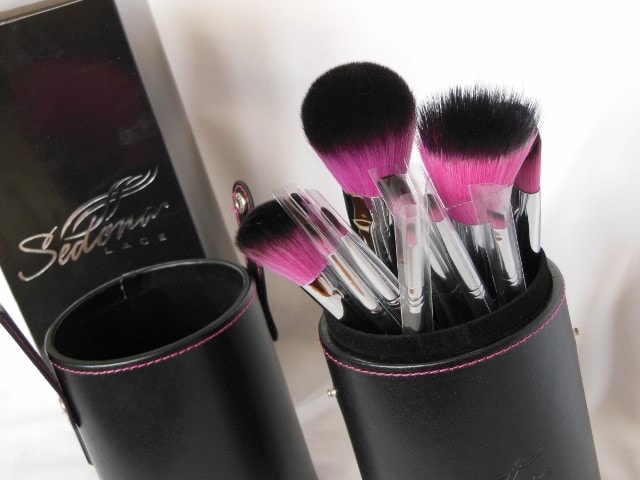 Product Claims: Sedona Lace's newest 12 piece set is crafted out of state of the art, incredibly soft, synthetic bristles.
It is an animal-friendly line that works equally as great as natural haired brushes
Synthetic bristles offer superior application for, not only powder products, but especially for cream and liquid formulas.
Since these brushes absorb very little product, waste is greatly reduced.
The pink and black colors on the bristles is a registered trademark of Sedona Lace. They are practical in camouflaging any makeup staining.
This complete set offers everything you need to achieve a full makeover with a binary mix of essential and advanced makeup brushes.
Better yet, it is housed in a sleek Brush Cup Holder that is able to be separated into two cups to hold this set of brushes and then some! When you are on the go, simply clip the sides back together and you have a portable brush container that protects and safely stores your tools.
Cup holder dimensions: 24 cm x 9 cm.
Ingredients: Synthetic bristles
Price:- $99.95  Use  beautyandmakeup coupon code and get $4 off
 Packaging: Sedona Lace 12 Piece Synthetic Professional Brush Set comes in a sturdy black leather cup holder which opens up to two cases and can be used to store brushes around the desk. It is meant to carry brushes along during travels but I find it a little bulky and also there is suede lining inside which will get dirty over time and might also destroy brush shades during travel if they are not safe guarded with shapers :P.
The brushes has a lovely matte black handles with details engraves in silver holograohic ink which is fade-proof and the best part is their bristles.. fuchsia pink with black tips. I love them and theu look pretty on the desk and also wont stain like white bristles over time like Zoeva brushes or some of the Sigma Brushes.
 My Experience with Sedona Lace 12 Piece Synthetic Professional Brush Set:
Sedona Lace 12 Piece Synthetic Professional Brush Set has a mix of face and eye makeup brushes which seems to be quite good for doing an all glam makeup look. The brushes are made of synthetic fiber and are quite soft, fluffy. Most of them serve their purpose well with picking up color and packing it on face except a few of the eye makeup brushes which we will see in a minute.
I liked that they retain their shape and doesn't shed bristles during application or washing as that is the case with most of the drugstore brushes but wish they have their purpose written on the brush itself than just the numbers as it would have made the task a lot easier to remember 😀
Don't  Miss to Checkout:
Sedona Lace 12 Piece Synthetic Professional Brush Set:
 Face Makeup Brushes: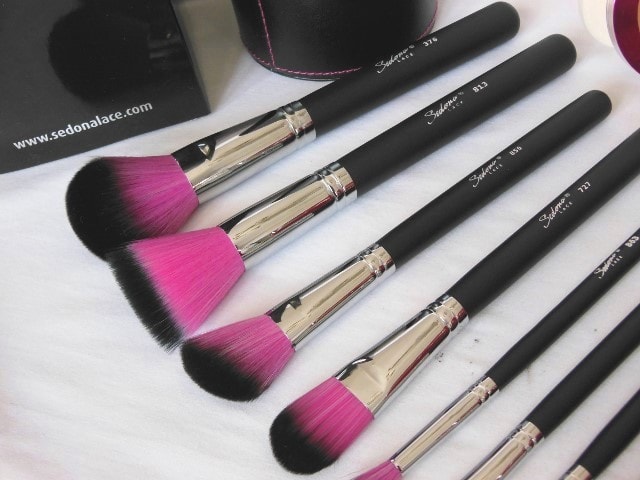 Eye Makeup Brushes:
Concealer Brush 954: It is a flat brush with bristles slightly longer and fluffier than a flat shadow brush. It can be used for blending concealer or applying eye shadow on lids but I like it best for applying concealer/highlighter on the brow area for some definition.
Large Shader Brush 941: It is longer, bigger and fluffier than the concealer 954 brush and I find it more apt for concealing and applying eye shadow base than as an eye shadow brush but if you have bigger lids, you might like to use it for packing color on the lids.
Medium Angled Shading Brush 407: It looks like a minitature or angles blush brush. It has fluffy shape which makes it good for blending the colors in crease depending how would you like to go for it. It is also a good brush for nose contouring
Small Angled Brush 561: It is an angled liner brush but I find the bristle longer and not so firm for eye liner application, so I prefer to use it for blending in the color on lower lash line or smudging liner with powder eye shadows.
Eye Shading Brush 305: The brush shape is quite similar to SIGMA E55 just a tad bit slimmer. Great for packing color on lids precisely.
Tapered Blending Brush 863: This is a dome shaped fluffy blending brush with slightly tapered edges and is my favorite of all. It is great for diffusing the color in the crease if you went overboard or working with darker colors. It gives a seamless finish and I like it even better than my Sigma E40 Tapered one.
Pencil Brush 904: Brush has a rounder tip compared to SIGMA Pencil brush which is a bit more pointed. I like to use this for applying highlighter in my inner eye corners or even smudging eye liners on lash liner. I also find it quite useful to be used as lip brush to fill in the lip as for lining it could have been more pointed. 😛
Eyeliner Brush 772: It is slimmer version of Pencil brush 904 but I find it too thick for eye liner application and also it doesn't have a sharp tip for precise application. I will be using it for lip lining I guess 🙂
Recommendation: Sedona Lace 12 Piece Synthetic Professional Brush Set is a good option for someone who is starting with makeup and doesn't want to spend a fortune on makeup brushes but still want to get quality brushes which will last her a long time. The set consists of Face makeup and Eye Makeup brushes along with the cup holder for storing brushes, so don't have to buy any more brushes for the purpose. Brushes are soft, fluffy, good quality and good pick for the price. They are not super awesome like SIGMA ones (I like Real Techniques better too) as I feel bristles could have been finer but quite comparable in terms of shape and application. Overall, a great set with most of the brushes included in the set but I wish it had a fine liner brush, a flat straight cut eye shadow brush for applying liner close to lash line as well and it would have made it complete for me. Recommended!
Rating: 3.8/5
Have you tried Sedona Lace 12 Piece Synthetic Professional Brush Set? Which is your favorite drugstore brand for Makeup Brushes?
PS: Product sent by brand for consideration