Accessorize Eye Shadow Palette: You Are Everything Review, Swatch
When " Accessorize Eye Shadow Palette Exposed" created havoc in blogging world, I was completely ignorant of the brand and its pretty palettes. Later, when I saw the swatches as well as the palette, it barely interested me as it was devoid of any color and I am not a neutral person at all. Then came in sight another two beautiful palettes from Accessorize,  I planned to buy Lovely Day first because I was going through "Leopard print" obsession phase but the assortment of shades in You Are Everything palette made me ditch my love for leopard prints and pick up this truly colorful palette. So, let's see how good is this , Accessorize Eye Shadow Palette in You Are Everything.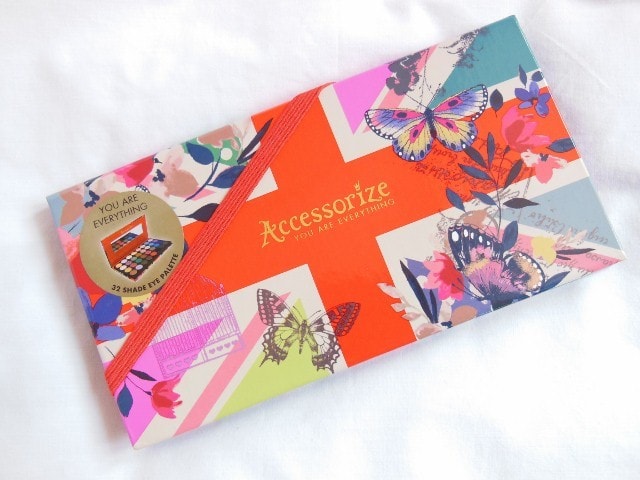 Product Claims: Accessorize gives you a chance to look glamorous every day, courtesy this 'Exposed' eye palette. Including eye shadows in various shades, it will help you sport a new look for different occasions. Here is the picture of the list of ingredients in it. Accessorize exposed palette basically an eye shadow palette that consists of all shades based on neutrals that you can use for your everyday look. The packaging of the palette is very cute, as you can see there is a small mirror inside the palette which is very helpful in case you need touch up.
Ingredients: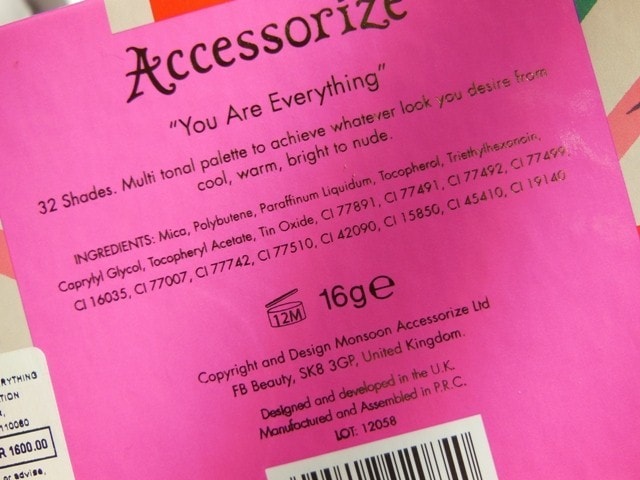 Price:- Rs.1600 for 16 gm (32 eye shadows)
Shelf Life:-3 years from the Mfg date.
Packaging:- The Accessorize Eye Shadow palettes comes in an eye candy packaging with beautiful butterfly print on the sleek cardboard case which is secured with an elastic band which holds the lid nicely and makes the palette travel friendly. It also has a mirror inside which comes handy for application. The palette comes with 32 tiny color filled with an amazing variety of shades in various finished
My experience with Accessorize You Are Everything Eye Shadow Palette: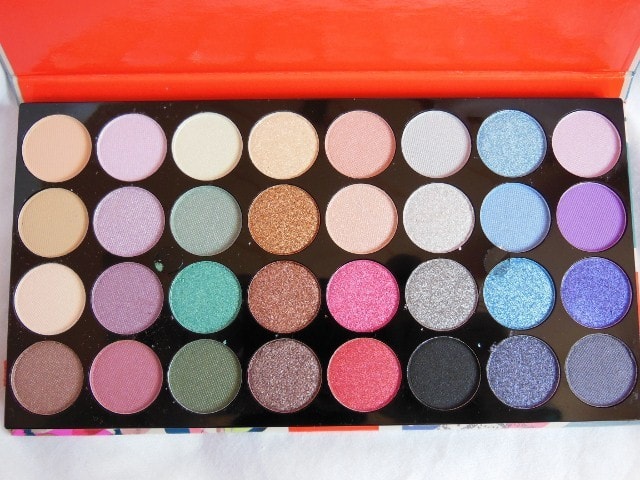 Row 1: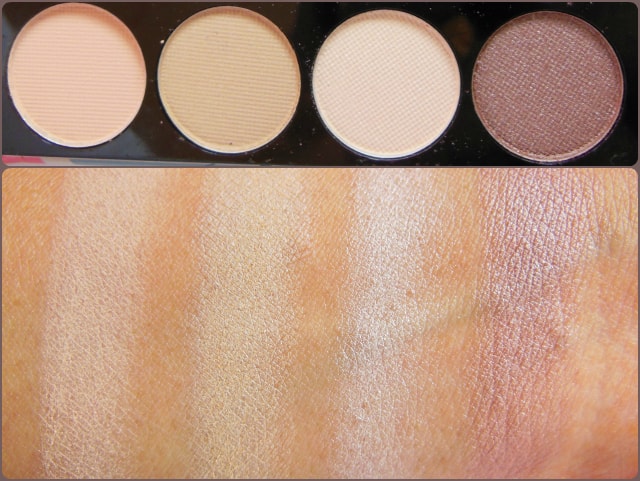 Peach with orange undertones in matte finish. Color pay off isn't good as it require multiple layers, texture is hard but has smooth feel.
Dusty apricot shade with peachy undertones in soft pearl finish. Color pay-off is average; texture is on the softer side but not powdery. Looks almost silverish peach on eyes.
Creamish white with peachy hint in metallic pearl finish and silver shimmers. Goes shimmery silvery white on lids. Decently pigmented and easy to work with texture
Light Taupe bronzy brown shade with gray undertones in soft metallic pearly finish. Nicely pigmented and has creamy texture which imparts a soft pearly sheen, look pinkish/brown on lids
Row 2: Works well when patted directly and not blended.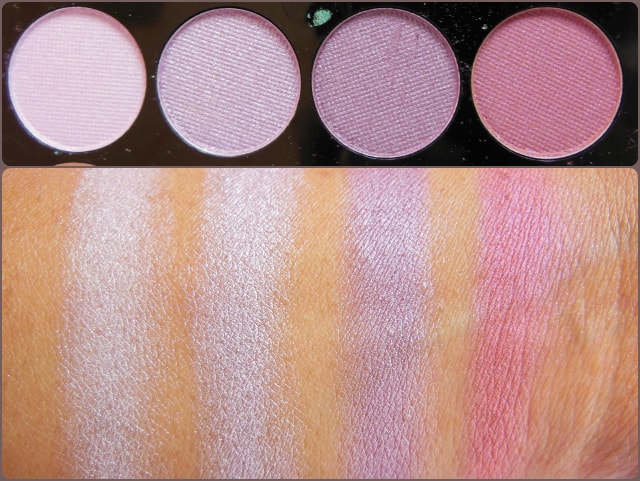 Light lavender shade with a pearly sheen, softer creamy texture. Color pay off is good but if blended turns all silvery white
It is mid toned Purplish Lavender shade in metallic finish with soft-creamy texture and is quite nicely pigmented goes pale lavender on lids.
It is a medium dark purple shade with pink undertones and pearly sheen, smooth, silky texture. Decently pigmented and can be built up for more intensity. It is gorgeous color.
It is a pink shade with purple pearly sheen. The texture is silky smooth and with buildable pigmentation.
Row 3: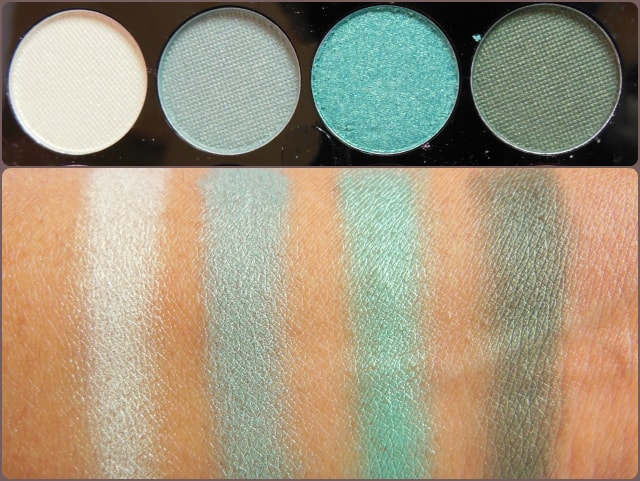 Light Minty green shade with yellow undertones and gold shimmers which are finely milled in the formula giving a beautiful pearly sheen.Soft, smooth texture and well pigmented. Like its duo-chrome effect on lids.
It is a light dusty/dull teal colored shade in semi-pearl sheen with slightly hard texture. It has subtle golden shimmers, barely noticeable but has average pigmentation owing to its hard texture.
Bright teal green shade with super shiny metallic foil finish. Pigmentation is brilliant and is buildable too. Texture is silky smooth just like creamy eye shadows. I liked this duo chorme golden teal green shade.
It is a dark forest green eye shadow with gold shimmers. Super stiff texture and Poor color pay off.  One of the worst shade, barely gives any color.
Row 4: Shades with all the bright metallic sheen finish.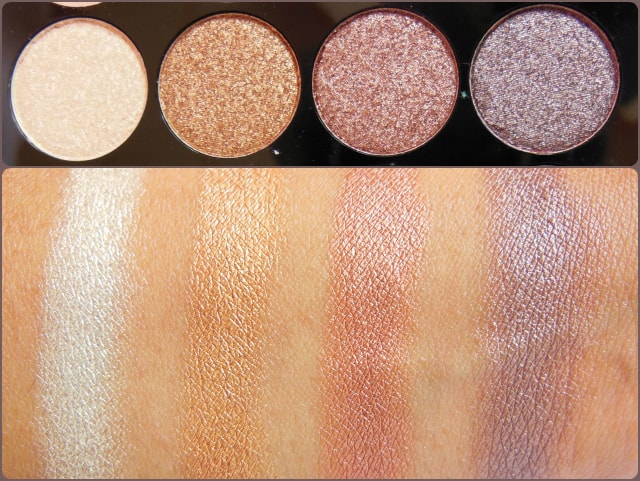 It is a light yellow shade with golden metallic sheen. It has a silky smooth texture like creamy eye shadows. It doesn't come smoothly and give a bit powdery feel but works well as highlighter shade.
Gorgeous dark metallic golden brown shade with yellow undertones. The creamy formula is intensely pigmented and goes on smoothly.
Medium dark copperish bronze shade with warm peachy undertones. Texture is similar to the rest, very pigmented and can be layered easily.
Dark taupe brown shade with gray undertones. Color can be built up and is best applied with fingers.
Row 5: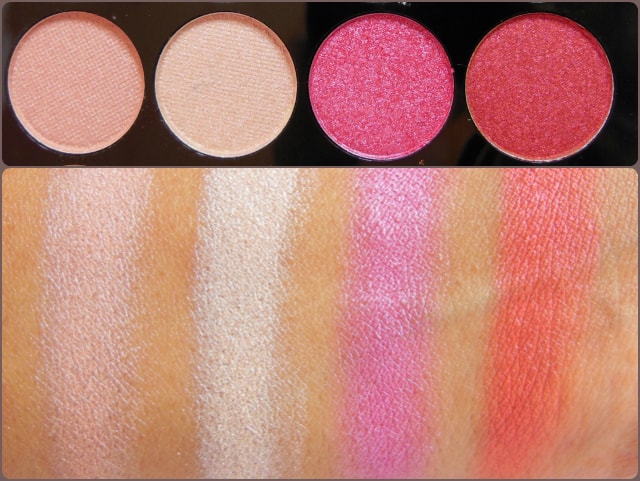 Bright orangey peach shade with silver pearly sheen. Creamy soft texture, very pigmented. Super pretty Shade
Soft creamy peach shade with silver metallic pearly sheen. Feathery soft texture and goes on smoothly, color payoff is good but looks quite silvery on lids.
Bright fuchsia pink shade with blue undertones in strong metallic pearly sheen. Buildable pigmented and smooth creamy texture
Red toned pink shade in metallic sheen which can be layered for desired pigmentation.
Row 6: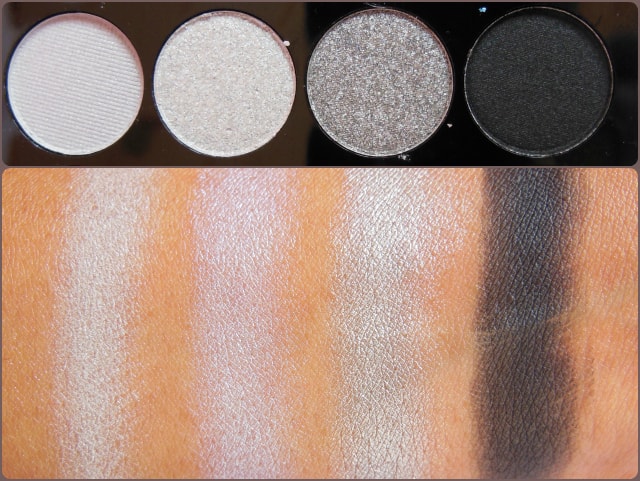 Blue toned dull gray shade with a soft shimmery finish. Slightly powdery but hard texture, color payoff isn't good.
Similar to the above grayish silver but with bluish metallic finish.  Color payoff isn't great and gives a light pearly blue sheen on lids.
Dark asphalt gray shade with metallic silver sheen. Color payoff is good but comes up as a bright silver gray on lids.
Dark black shade with some barley noticeable shimmers, looks almost matte. Extremely pigmented and a buttery smooth and soft texture. Comes up really well on lids but I need to build up the shade.
Row 7: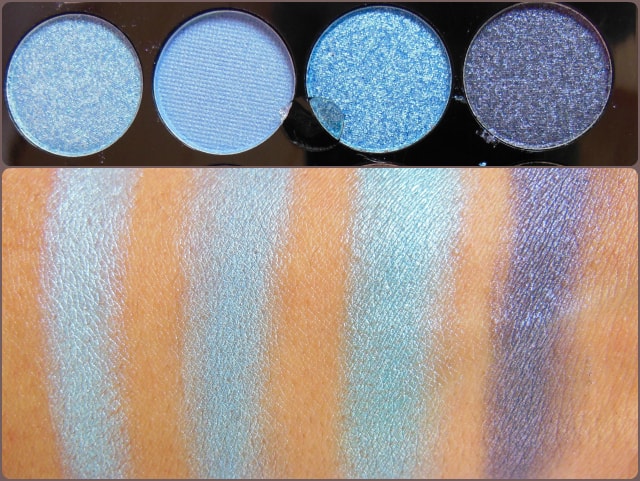 Light blue shade with lavender undertones and metallic sheen. Not very pigmented and imparts just a blue sheen on lids
Indigo blue shade with pearly sheen. Soft smooth texture, color payoff is good.
Medium dark blue shade in metallic finish. Creamy smooth texture and has a decent color pay off
It is a dark blackish violet shade with purple shimmers in metallic shimmery finish. Very pigmented and has soft buttery texture but needs to be layered.
Row 8: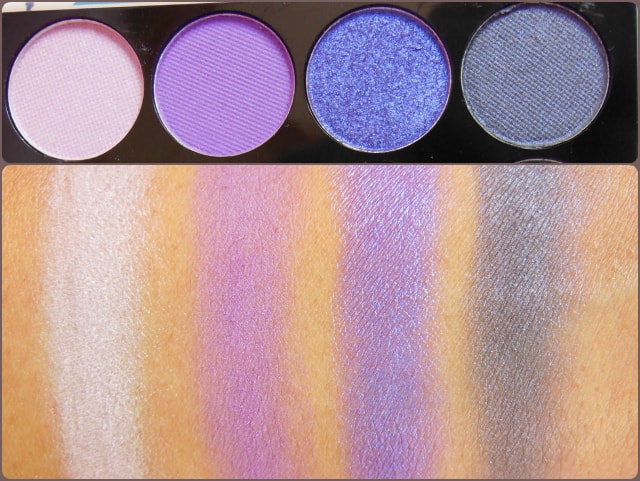 Light pink shade with semi pearly finish, ultra smooth and soft texture. Looks pigmented and comes up well on lids.
Almost matte purple shade with hard texture. Color pay off is extremely poor.
Blue toned purple shade with a metallic sheen. Very pigmented and has smooth creamy texture
Dark blackish gray shade with purple sheen. Soft texture but averagely pigmented. Looks quite matte on lids as it has a subtle sheen.
Overall, the quality is quite good- especially of the creamy metallic eye shadows, the stain finish ones are slightly less pigmented but some of the completely matte eye shadows have super hard texture and have barely and color payoff. The eye shadows creases easily on oily lids so a good eye makeup base is a much to accentuate the color and make it last longer on lids.
It is more of a colorful palette with shade on hues of blue, purple, orange but has plenty of neutral and pastel shades too to make up for your subtle moods.
Don't Miss to Checkout:
Pros of Accessorize You Are Everything Eye Shadow Palette:-
Nice mix of matte, pearl and metallic finishes
Beautiful and travel friendly packaging
Comes with a decent sized mirror
Shimmers are finely milled in the formula
Metallic pearly eye shadows have rich color payoff
Last pretty longer when worn over an eye shadow base
Great for colored/neutral/smokey eye makeup looks
Affordable
Cons of Accessorize You Are Everything Eye Shadow Palette:-
Few of the matte Eye shadows have hard texture.
Not all of gives good color payoff
Doesn't come with any brush applicator (but I don't mind 😉 )
Has a horrible fragrance ( I have developed this weird habit of smelling everything)
Recommendation:- Accessorize You Are Everything Eye Shadow Palette is gorgeous palette with a stunning of mix of shades in beautiful finishes like matte, satin, pearly and metallic making it perfect for colorful and smoky eye makeup lovers. Matte and satin finishes needs layering and have slightly hard texture but metallic ones are full of colorful pigments and have smooth creamy texture. They wear less when worn directly but stay easily for 7-8 hours when worn over an eye makeup base. It is a real bargain to get whopping 32 eye shadows at this affordable price tag but yes the quality of the eye shadows can't be compared to my favorite INGLOT ones. Recommended for makeup beginners or those looking for affordable eye shadow palettes.
Rating:- 3.5/5
Have you tried Accessorize Eye Shadow Palettes? Which one is your favorite palette?