9 Makeup Products in Radiant Orchid!
Orchids are the only flowers that have given tough competition to the Symbol of Love "Red Roses". If I have to decide between the two may be I will go for orchids just for a change.. 😛 .. but guess he is not going to ask me either as it is considered as sheer waste of money and also I don't like it when its beauty fades in a day!! So, I just enjoy and adore their beauty from a distance. <3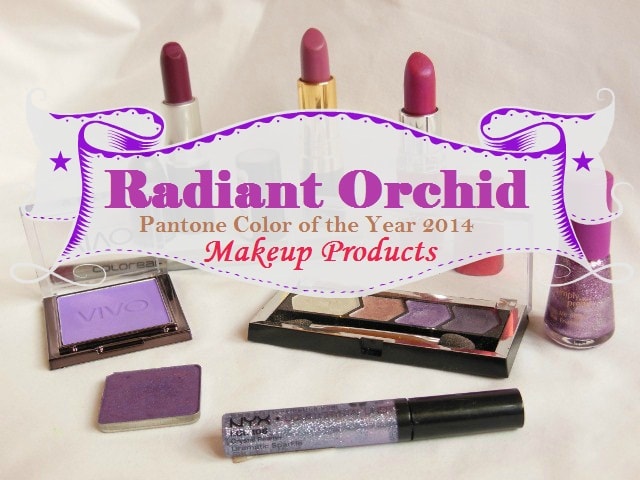 As Per Pantone "Radiant Orchid blooms with confidence and magical warmth that intrigues the eye and sparks the imagination. It is an expressive, creative and embracing purple—one that draws you in with its beguiling charm. A captivating harmony of fuchsia, purple and pink undertones, Radiant Orchid emanates great joy, love and health. "
Since the day I have known that Radiant Orchid, the gorgeous Bright Purple has been declared as the color of the year I have been busy identifying stuff from my makeup stash in similar hues. Some of these have been with me since years while few made it into my vanity just because of their shade… Okk they were in my wish list but I can't wait any longer to lay my hands on these. It is one such color other than Pink, Red and Orange that I found in lipsticks, nail paints, eye shadows and eye liners
So, here goes the list of products that you will see me flaunting more because they are in same the shade are the color of the year.. 🙂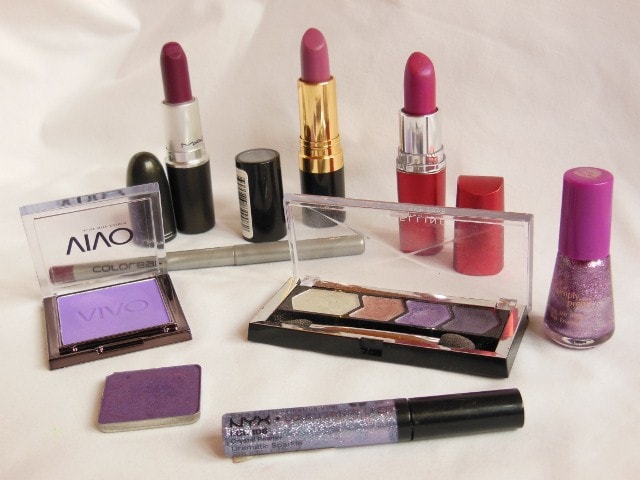 MAC Satin Lipstick – REBEL :

Rich plummy purple shade which screams fall and winters. Finally became my first MAC lippie!!

Revlon Superlustrous Lipstick Berry Haute – I have used this lipstick only once and I am determined to give its worth this year by faulting berry Hot Lips with this one! 🙂
Maybelline Moisture Extreme Lipstick – Iced Orchid :Bright magenta pink shade with plum tones. The lipstick has oozes of smooth purple shimmers that radiate rich purple color.
Colorbar lip Liner Plum: Deep plum shade lip liner which glides easily on lips and shapes lips perfectly.
VIVO Matte Eye Shadow Purple Passion

: 

 It is medium lavender toned purple eye shadow in matte finish.
INGLOT Eye Shadow Pearl # 439

: 

This qualifies to be called a true radiant orchid shade with it luminous pearly sheen. The deep pearl finished purple eye shadow with bluish purple sheen
Maybelline Eye Studio Quad:- Lilac Mauve: This is the oldest makeup item I own and have rarely used but now thinking of reinventing its beauty and let all those purple shimmers gleam on my eyes. Stay tuned for Purplr EOTD's.. 😉
NYX Liquid Crystal Liner : Crystal Pewter: Liquid liner full of multi-colored glitters with dominating purple shimmers
Avon Simply Pretty Nail Enamel-Pretty Plum: Beautiful medium purple shade with lavender undertones and lots of silver shimmers. The reflecting metallic finish just looks awesome.
My makeup is definitely going to be affected by this Pantone's Color of the year 2014 as this is such a vibrant shade that I would love to see it around the year, It is gonna be my inspiration for many makeup looks .
Tip: Use this purple color in moderation as it can easily ruin the look if overdone!
Apart from them I bought spectacle frame in purple just because of its color..it is beautiful purple!! 😀 :D.. loving it!!
What all makeup items you have in Purple shade? Have you made any purchase only because Radiant Orchid is the color of the Year?